If you're following a Keto Diet and growing zucchini in your garden, you'll love these easy keto zucchini recipes. With everything from my fan-favorite Paleo Chocolate Zucchini Bread to Zucchini Noodles, otherwise known as zoodles, my healthy, low-carb zucchini recipes will help you stay on top of your summer squash harvest when it really gets going!
Easy Keto Zucchini Recipes
Growing up, my Father had a huge garden in our back yard, so I started dealing with an abundance of zucchini at a young age. I loved my Dad's homegrown tomatoes, cucumbers, radishes, and herbs, and of course the incredible variety of summer squash that came out of our garden in all shapes, sizes, and colors.
What's The Difference Between Zucchini And Summer Squash?
Did you know that you can make zucchini bread and other zucchini dishes from any type of summer squash?! But let's back up a bit. First, what is the difference between zucchini and summer squash? Well, zucchini is a type of summer squash, but not all summer squash is zucchini. Glad we've got that straightened out. Take a look at this awesome image I found below.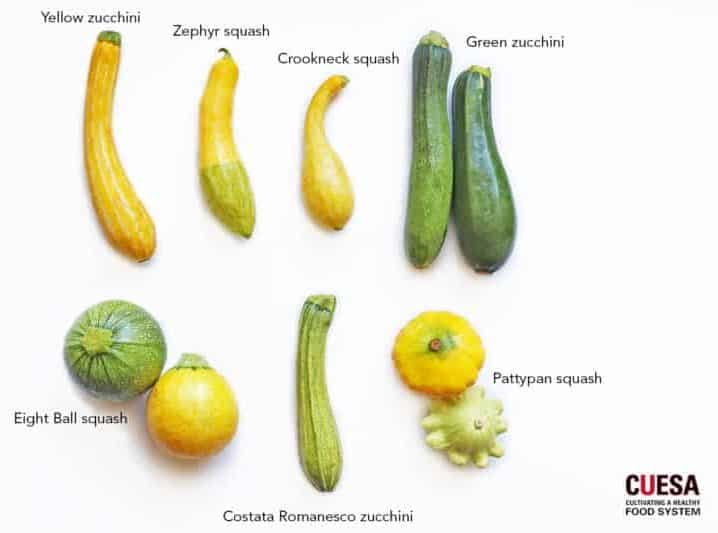 Zucchini Is A Type Of Summer Squash
Zucchini is green and grows in a long straight shape, while yellow summer squash comes in a variety of shapes. Crookneck squash has a fat bottom that narrows at the neck and pattypan has a round shape with scalloped edges.
What Can I Substitute For Zucchini?
Back in the 1970s, when I was growing up in Davis, CA, we made zucchini into muffins, stir-fries, and salads, all of which you'll find easy keto recipes for below! And yes, if you're wondering, what can I substitute for zucchini, I have an easy answer for you.
Can I Use Summer Squash In A Zucchini Recipe?
Growing up my mom taught me that when a recipe calls for zucchini other types of summer squash can be easily substituted.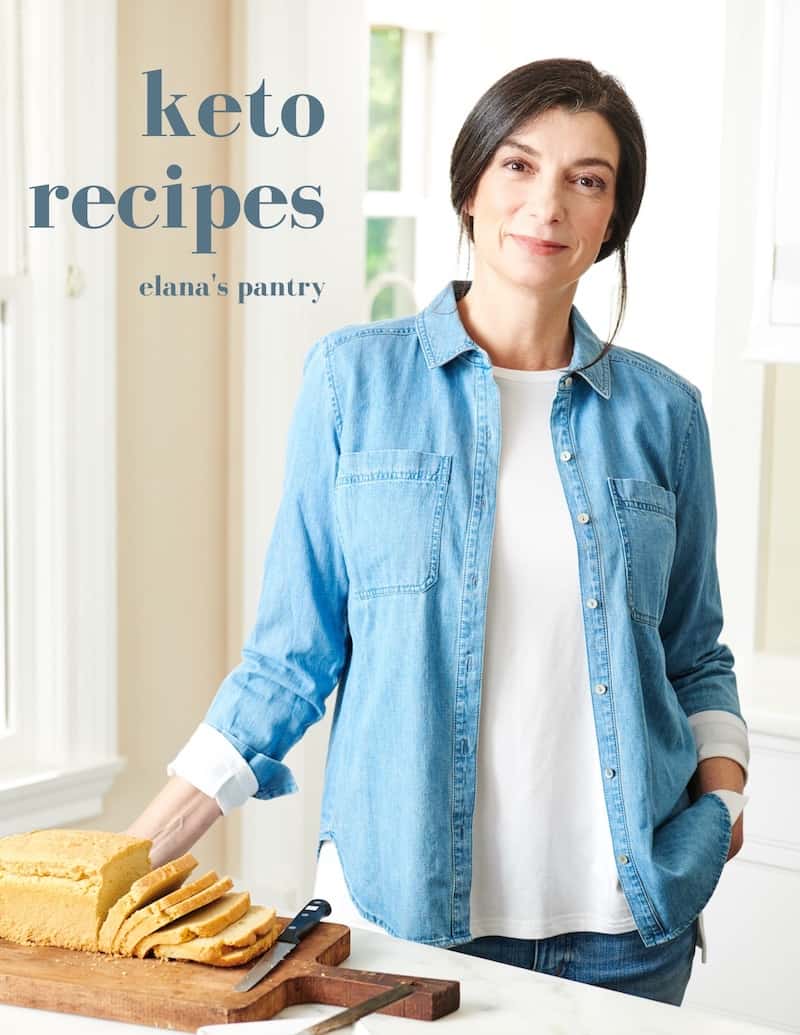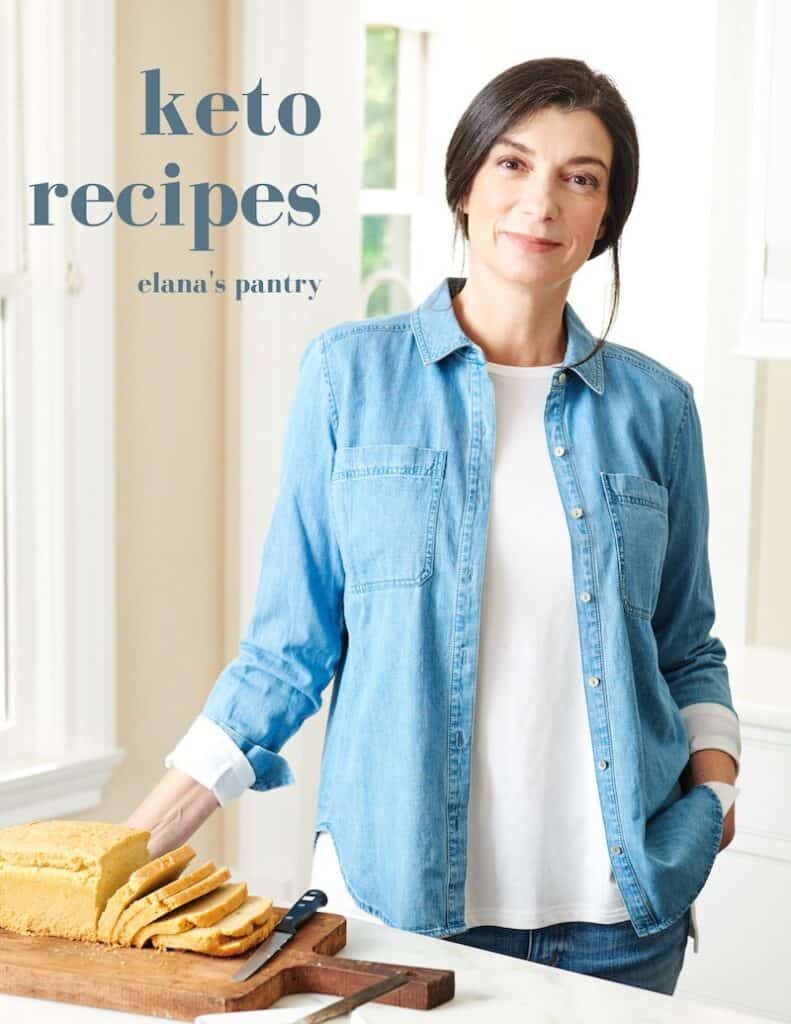 Get My Keto Recipes eBook
Free exclusive eBook, plus recipes and health tips, delivered to your inbox.
Is Zucchini Good For Weight Loss?
If you're wondering does zucchini help you lose weight, the answer is that it just might. Zucchini is an incredibly healthy food. Low-carb and low-calorie, zucchini has a high fiber content that leaves you with a feeling of fullness, so adding zucchini to dishes can create more satisfaction and satiation. With all of these advantages and only 30 calories per cup, zucchini is a fantastic vegetable to eat if you're trying to lose weight.
Is Zucchini Healthy?
Thankfully, since it is so easy to grow and incredibly prolific, zucchini is a superfood. Zucchini is an excellent source of potassium, phosphorus, vitamin C, and beta-carotene. Plus, zucchini and other types of summer squash are a heart-healthy food that can help lower cholesterol and reduce high blood pressure.
Zucchini Recipes In Paleo Cooking
I have some incredible zucchini recipes in my third cookbook, Paleo Cooking from Elana's Pantry. Check out my Greek Turkey Burgers on page 77. You can peruse the assortment of recipes here and I provide the nutrition information for the recipes in the book.
Keto Coconut Cream Pie Recipe In Paleo Cooking
You'll definitely want to make my Keto Coconut Cream Tart on page 96 of Paleo Cooking from Elana's Pantry. It's the ultimate keto recipe with some of the best keto macros you've ever seen. It also contains a not so secret ingredient!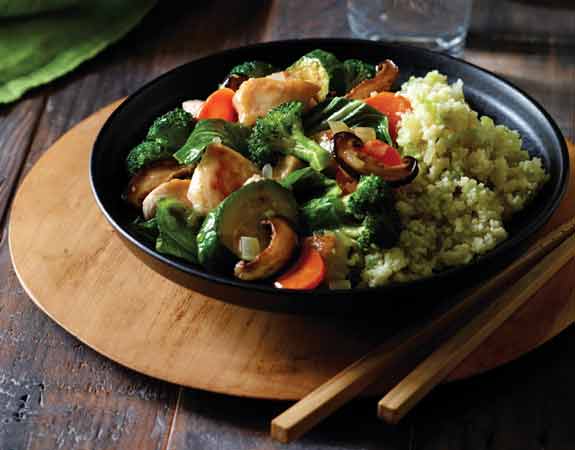 Asian Stir Fry with Chicken
If you have so much zucchini that you can't wait to buy my book you're in luck. I've shared the incredible Asian Stir Fry recipe from page 82 here on the blog in a very special exclusive for you.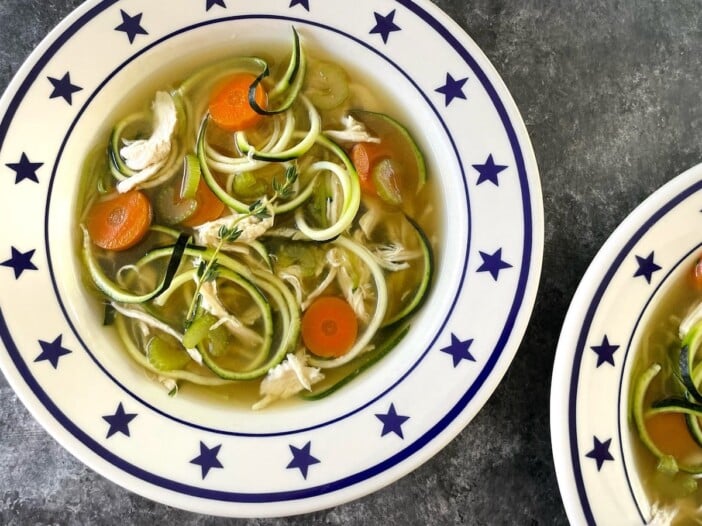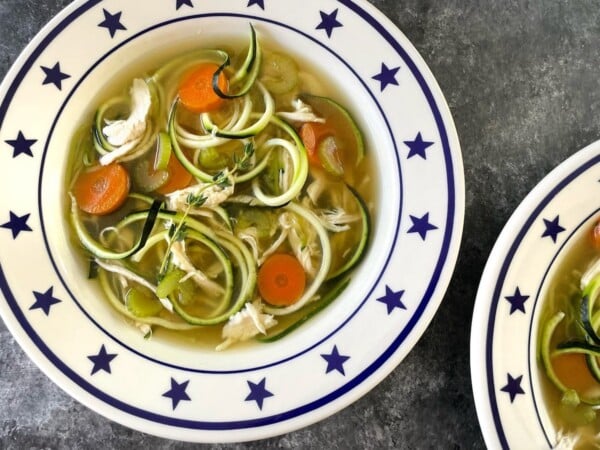 Chicken Noodle Soup
This is an amazing low-carb high-fat (LCHF) recipe and one my Bubby used to make for me growing up. Back then we could eat wheat-filled noodles that were high-carb and not all that nutrient-dense.
I've upgraded Bubby's incredible classic for my boys since one of them has Celiac Disease. Now it's truly a superfood Chicken Noodle Soup and every ingredient in it is full of healthy goodness. You can also try my Chicken Meatballs with Zucchini Noodles.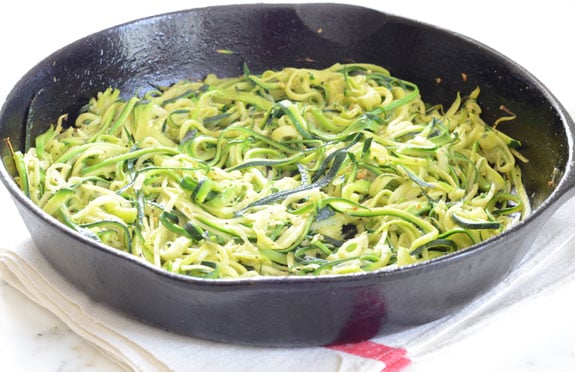 How to Make Zucchini Noodles
Learning How to Make Zucchini Noodles is key if you're going on a LCHF Keto Diet. Zucchini noodles taste great and will eliminate tons of carbs from your daily macros. My special method for making Zoodles eliminates the watery mess that can result when you use vegetables for pasta.
On that note, you're going to want to learn about all of the different types of Paleo Pasta made from veggie noodles. With everything from Kelp Noodles, to Spaghetti Squash Noodles and more you're in for a real low-carb treat. Oh, and by the way, don't forget to check out my incredible Keto Mac N Cheese recipe.
More Keto Zucchini Noodles Recipes
Here are some other fantastic keto zucchini noodles recipes from other bloggers: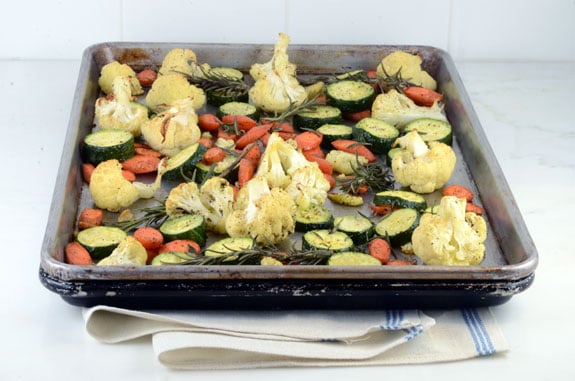 Roasted Cauliflower, Carrots, and Zucchini
Pizza With Summer Squash
I have an amazing recipe for keto pizza crust in The Gluten-Free Almond Flour Cookbook. During summer we make this low-carb almond flour pizza crust and load it up with summer vegetables, especially the zucchini from our garden, sauteed in onions. I think the best way though to use zucchini is in my favorite keto zucchini bread recipes.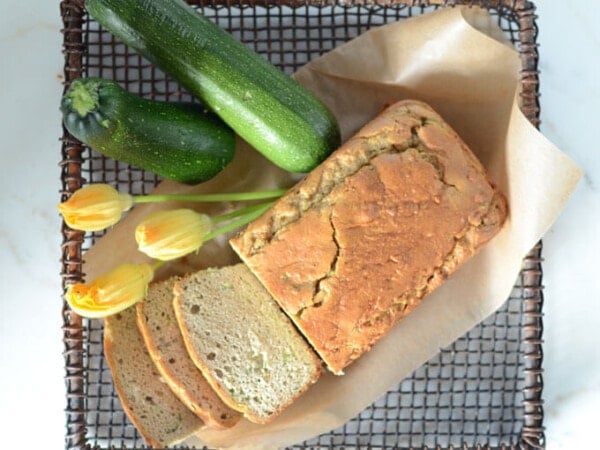 Classic Low Carb Zucchini Bread
I have so many recipes for keto zucchini bread that your head will spin. Try my family favorite Paleo Chocolate Zucchini Bread, or if you're not in a chocolate mood, go for my classic Low-Carb Zucchini Bread made with 8 ingredients TOTAL. Dump the ingredients in a food processor, mix, transfer to a pan and you're good to go. Kids young and old gobble up this incredibly satisfying low-carb dessert.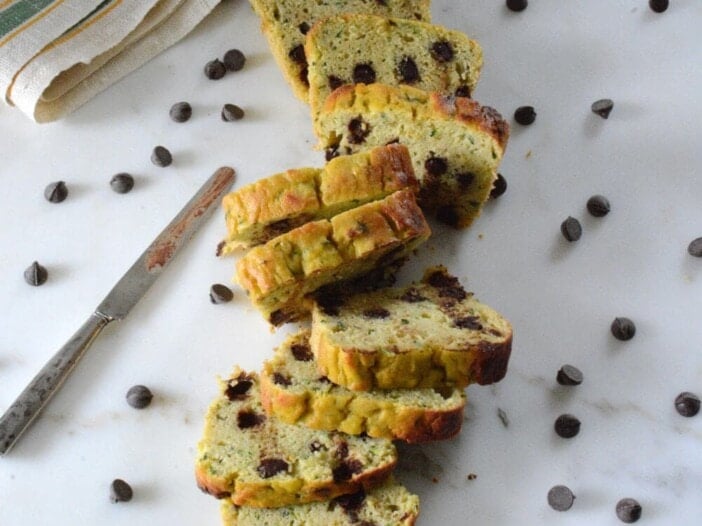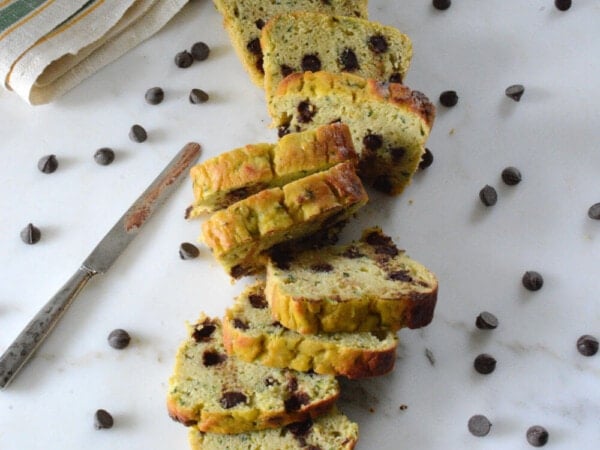 Nut Free Keto Chocolate Zucchini Bread
Lemon Rosemary Zucchini Bread
Pardon me for saying so, but Lemon Rosemary Zucchini Bread is the bomb. This unexpected, uniquely enticing flavor combination will knock your socks off.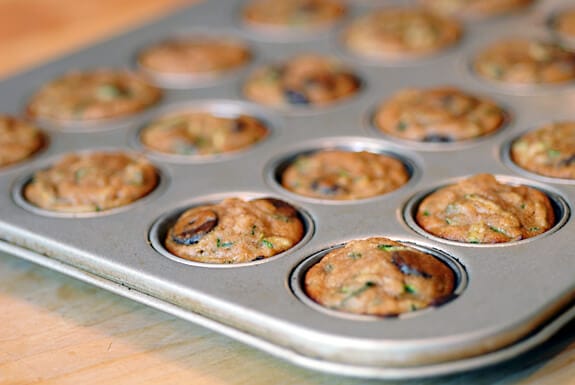 Zucchini Chocolate Chip Muffins
If you're on a Nut-Free Diet you'll fall in love with my Nut-Free Zucchini Chocolate Chip Muffins. Like all my recipes they're a cinch to make and a total crowd-pleaser. These darling mini-muffins have built-in portion control and you can freeze them for even more portion control.
The Best Easy Keto Zucchini Bread Recipes
Ok, confession. I love zucchini, but I love easy keto zucchini desserts recipes the best, and my favorite of everything listed here is my Paleo Chocolate Zucchini Bread. It's easy to make, tastes like a rich fudge brownie, and I can't keep it in the house for more than a few hours when I bake a batch of it.
Your Favorite Easy Keto Zucchini Recipe?
All of my easy keto zucchini recipes are healthy and gluten-free. Whether you're a gardener watching your zucchini grow at an exponential rate, or a shopper seeing an abundance of zucchini at your local market, my healthy zucchini recipes are here to help make your life with this prolific squash more productive. What's your favorite easy keto zucchini recipe and what will you make next?