Zucchini overload? I have the answer for you. Zucchini carpaccio. My husband loves this dish. I make it every summer just about this time when we are in zucchini overwhelm. It is quick and easy to make, with somewhat elegant results. And you don't need fancy equipment (no mandolins used here) just a sharp knife and decent cutting skills.
Here in zucchini-land we are enjoying the last days of summer vacation. The boys have been home and camp-free for a while now and running with a pack in the neighborhood. There are about 6 of them altogether, mine, plus Josh, his sister Zoe, Tyler and Dylan. These last two are the new kids on the block. Their house in Centennial was struck by lightening so they are here in Boulder shacking up with their grandparents for the time being, living almost across the street from us. This morning the children and I gathered in my kitchen and we baked cakes in dishes of varying sizes –one per child, 6 cakes in all; tomorrow we frost them.
When we're not baking, this small herd of children cruises the 'hood on their bikes or scooters, savoring the last days of summer and making quite a bit of trouble –I have had to apologize to several neighbors during the last two weeks on behalf of the pack. So if you're one of my neighbors, and reading this, I apologize again for the wilding. They will all be back in school 5 days from now. I promise.
Zucchini Carpaccio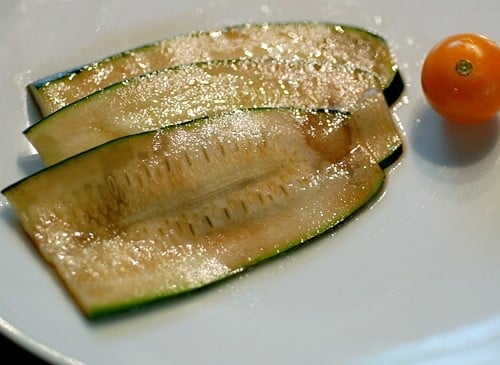 Print
Email
Pin Recipe
Instructions
Trim off the ends of the zucchini, then slice lengthwise as thin as possible

Place in refrigerator to marinate (1 hour to overnight)

Serve
Total Time
1

hour
10

minutes
We had this tonight with dinner; I served it with orange cherry tomatoes fresh from our garden –a hit all around.