I'm obsessed with this Keto Huevos Rancheros Skillet Casserole. It totally reminds me of the chile rellenos casseroles that showed up at the potlucks of my Northern California childhood in the hippy-dippy 1970's. Back in those days a lot more than THC-A appeared at parties, but that's a story for another blog post.
Keto Huevos Rancheros Skillet Casserole
This heavenly one-pot huevos rancheros style dish is super easy to make. Fry up an onion in olive oil, while that's happening, whisk eggs and combine them with salsa and cheese. Dump that stuff over the onion, then bake in the oven and you're good to go. When you take the casserole out of the oven be sure to use an oven mitt. That's something Mr. Pantry sometimes forgets when he's helping me in the kitchen. Don't do that!
One-Pot Keto Meal
This easy one-pot keto egg dish is fantastic for the Keto Diet. With only 7 ingredients total, including the salt and pepper, it's easy to throw together for breakfast, lunch, or dinner. We're big fans of one-pot egg dishes over here!
Keto Huevos Rancheros Skillet Casserole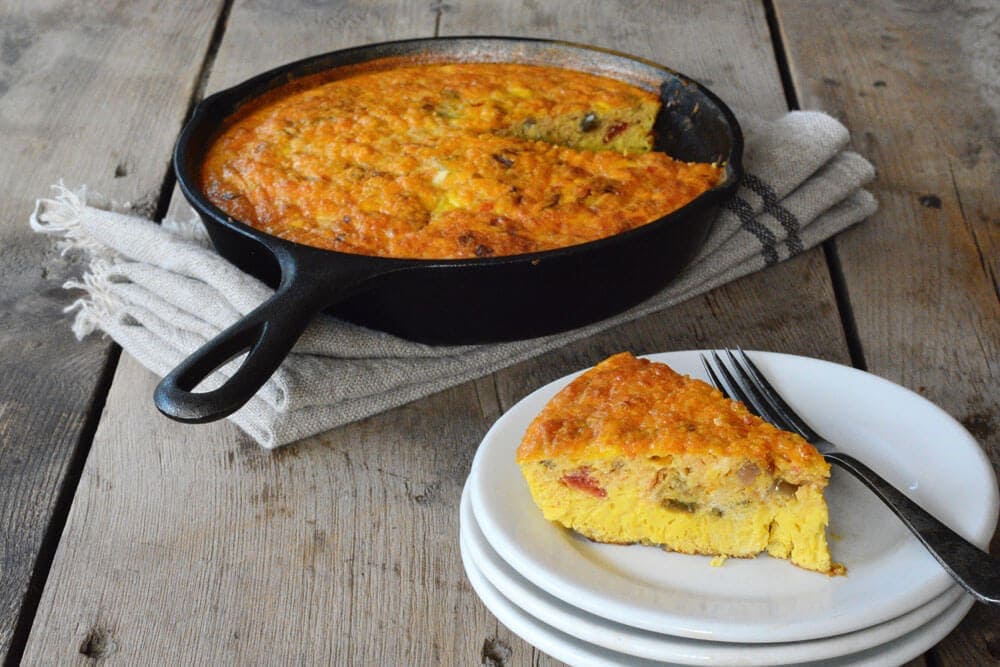 Print
Email
Pin Recipe
Preheat oven to 350°F

Heat oil in an

9 inch cast iron skillet

over medium heat

Sauté onion for 10 minutes until soft

Meanwhile, in a

large bowl

, combine eggs, salsa, cheese, salt, and pepper

Pour egg mixture over onions

Transfer to oven and bake for 30-40 minutes until set

Remove from oven and allow to cool for 10 minutes

Serve
Prep Time 20 mins
Cook Time 40 mins
Total Time 1 hr
Keto Crustless Quiche Recipe
Given that Keto Huevos Rancheros Skillet Casserole is made with eggs, cheese, and some awesome Picante flavoring it's basically a Keto Crustless Quiche. To take your Keto Diet game up a notch, serve this with sliced avocados and sour cream.
Father's Day Keto Brunch Recipe
I like to mix my ethnic flavors and serve Keto Huevos Rancheros Skillet Casserole with the Paleo Bagels recipe from my New York Times Best Selling book, Paleo Cooking from Elana's Pantry. I've provided a special sneak peek of that recipe on the website for you as well. That's what I'll be serving for Father's Day, but we love this combination so much that we have Keto Huevos and Bagels all year long!
Keto Pancake Recipe
Do you need a Keto Pancake recipe? Something super easy and fuss-free, like every single other recipe on my website? I've been working on one and will share it here on the blog is that's what your hearts desire! What other Keto Diet dishes would you like me to create for you? Leave a comment and let me know what you're craving right now!
---
Buy My Books!
---