My children love to have fruit salad as an after school snack. I often serve it to them with organic yogurt, adding a bit of vanilla and agave nectar to the yogurt.
It's just about fruit season here in Colorado and everything is starting to look luscious. We have strawberries ripening on the plants in the front yard and peaches (still green) on our peach tree in the back. Right now however, even though I'm harvesting mountains of kale and various salad greens from our front and back yard, I am still relegated to purchasing my fruit at the grocery store. We're not quite there yet. As in, summer.
To make your fruit salad more glamorous, splurge on fancy, expensive fruit, and use pineapple in place of the peaches for the recipe below. You also might like to add a bit of unsweetened shredded coconut, if you go tropical with your fruit salad.
I like to keep my fruit salads simple with 3 or 4 different fruits so that I can really taste each of the distinct flavors. Here's one (well actually two) of my favorite fruit combos.
Simple Fruit Salad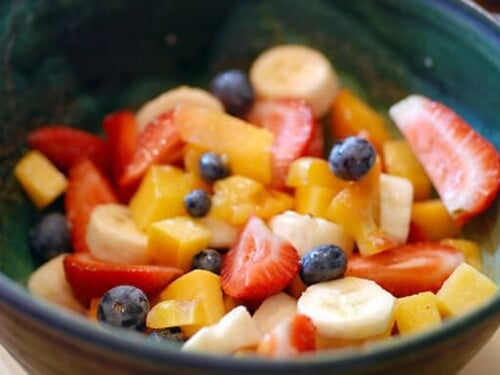 Print
Email
Pin Recipe
Ingredients
3

bananas,

sliced

4

medium peaches or 1 medium pineapple,

sliced

1

pint

strawberries,

hulled and sliced

1

pint

blueberries
Instructions
Refrigerate for 1 or 2 hours (not longer or the bananas might brown)

Serve
Total Time
1

hour
10

minutes
Equipment
When I put together my post for a Mother's Day Brunch, it was absolutely amazing to me, how dire the offerings were on the internet for a simple fruit salad. First, it was terribly difficult to find a fruit salad that did not have sugar added to it. I don't know about you, however, I don't actually eat a lot of fruit because it has so much sugar in it in the first place. Adding more sugar to all that sugar? Not a happy day for my body.
During my dissatisfying quest to find a simple fruit salad, I did find this simple fruit salad post on one of my favorite blogs, Mark's Daily Apple. Funny, he discussed the exact issue that I was running into. It was nice to know I was not alone.