Today I want to share a deliciously healthy recipe from my latest book Paleo Cooking from Elana's Pantry. I'd also like to thank all of you who let me know on Facebook and twitter that you found the book at both Costco and Target. It's great to see the Paleo and grain-free trends spreading. Everyone deserves healthy food.
This Asian Stir Fry is one of the numerous healthy entree recipes in Paleo Cooking from Elana's Pantry. It is a tempting combination of vegetables sauteed in coconut oil, along with chicken. I serve it over Cauliflower Rice for a low-carb super healthy, dinner. I love trading out high carb grains such as rice for superfood cruciferous vegetables such as cauliflower. This dish is also superb over Sesame Kelp Noodles.
Here's the recipe, and keep in mind that there are so many other delicious yet healthy entree dishes available to you in Paleo Cooking from Elana's Pantry just in case that's what you are looking for.
Asian Stir Fry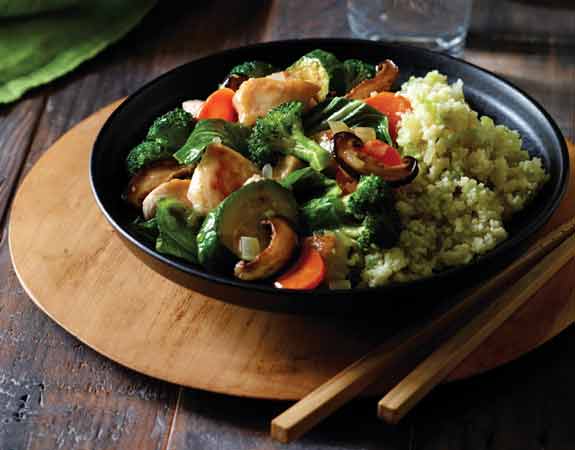 Print
Email
Pin Recipe
1 pound boneless, skinless chicken breast
2 tablespoons coconut oil
1 medium onion, finely chopped (about 1 cup)
2 heads broccoli, sliced into 3-inch spears (about 4 cups)
2 medium carrots, sliced (about 1 cup)
2 heads baby bok choy, sliced crosswise into 1-inch strips (about 1½ cups)
4 ounces shiitake mushrooms, stemmed and thinly sliced (about 1 cup)
1 small zucchini, sliced (about 1 cup)
½ teaspoon celtic sea salt
1½ cups water
2 tablespoons arrowroot powder
2 tablespoons toasted sesame oil
2 tablespoons ume plum vinegar
Rinse the chicken and pat dry

Cut into 1-inch cubes and transfer to a plate

Heat the coconut oil in a

very large frying pan

over medium heat

Sauté the onion for 8 to 10 minutes, until soft and translucent

Add the broccoli, carrots, and chicken and sauté for 10 minutes until almost tender

Add the bok choy, mushrooms, zucchini, and salt and sauté for 5 minutes

Add 1 cup of the water, cover the skillet, and cook for about 10 minutes, until the vegetables are wilted

In a

small bowl

, dissolve the arrowroot powder in the remaining ½ cup of water, stirring until thoroughly combined

Add the arrowroot mixture to the vegetables and cook for 2-3 minutes, stirring constantly, until the sauce thickens and becomes glossy

Stir in the sesame oil, and vinegar, then serve
Prep Time 20 mins
Cook Time 35 mins
Total Time 55 mins
For more information on Paleo Cooking from Elana's Pantry check out my cookbook page.
For healthy updates and daily food for thought, follow me on twitter and Facebook.