How to Use the Instant Pot
When I first got my Instant Pot a few years ago, I was in total overwhelm. The only thing I can say is that the settings on the front looked like the dashboard of a rocket ship.
Thankfully, you won't have to suffer through this because I've created the handy dandy chart above that will teach you how to use the Instant Pot.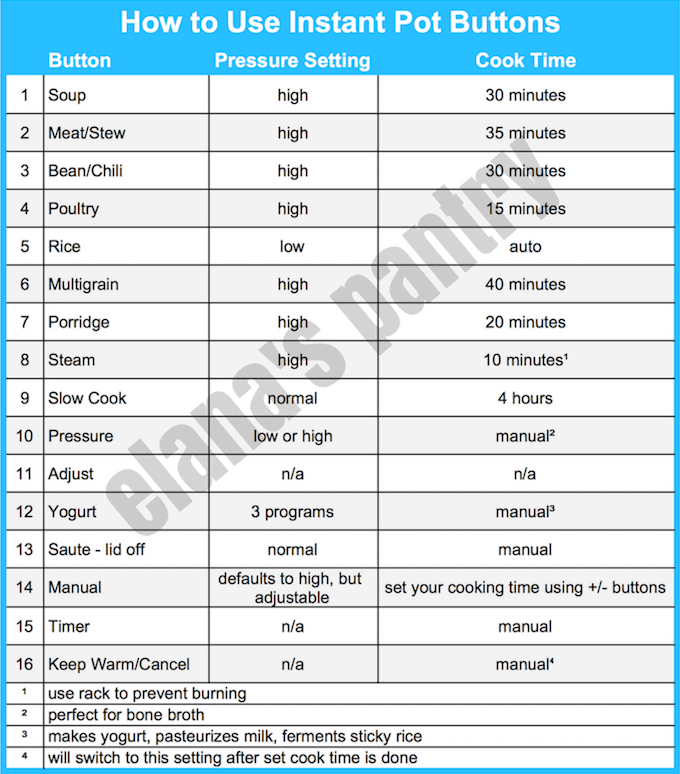 If you want to print out the chart go here and you can always read more on How to Use the Instant Pot and become a total expert here.
Stove Top White Bean Soup
If you don't want to go through the hassle of starting with dried beans and soaking them overnight, you can use canned beans instead.
The downside is that canned beans are much more expensive than dried beans. In any case, if you use canned beans you won't need to use the Instant Pot as this soup will cook up so fast that it's easy enough to make it on the stovetop.
Follow the directions for this recipe until you get to step 5, then bring everything to a boil and simmer for a few minutes. Use around two cans of white beans instead of the dried beans called for in the recipe.
Vegetarian White Bean Soup
I love this soup because it is full of protein from the beans and the beef bone broth. But heck people, beef is not for everyone. This is a fantastic vegan white bean soup if you use water instead of bone broth. Or, feel free to use homemade vegetable stock to up your flavor game. You can also use my homemade Chicken Stock recipe, or take a look at my How to Make Bone Broth in the Instant Pot recipe.
White Bean Soup One-Pot Meal
I'm pretty obsessed with one-pot meals right now and this Instant Pot White Bean Soup with Kale fits the bill perfectly. Beans are such a great source of cheap protein and a great source of fiber and they make this soup both healthy and filling.
White Bean Soup with Chicken
If you want to up your protein game a bit more this would be a fantastic white bean soup with chicken. Just add some leftover cooked chicken to the soup when you add the kale.
White Bean Soup with Bacon
You could do the same thing with bacon to make white bean soup with bacon. The list goes on! Try white bean soup with ham as well. And then there's sausage. The possibilities are seemingly endless, my darlings.
Recipes from an Ecological Kitchen
People, I need to tell you something. Everything I know about cooking beans, I learned from Lorna Sass and her truly great book Recipes from an Ecological Kitchen.
I know Lorna from my New York days when I lived on the Upper West Side of Manhattan.
We both practiced yoga at the same studio. She is an amazing teacher of the culinary arts, sharp as a whip, and one of the nicest people I know.
Alison Roman White Bean Stew with Broccoli Rabe
People rave about Alison Roman's White Bean Stew with Broccoli Rabe recipe. This unique white bean soup is made with fourteen ingredients and looks incredible. It starts with canned beans, and from there is flavored with exotic ingredients like harissa, preserved lemons, and feta cheese –a very sophisticated winner.

Ina Garten White Bean Soup
Ina Garten's Tuscan White Bean Soup looks every bit as good with fourteen classic ingredients ranging from pancetta to garlic and rosemary. Like mine, Garten's recipe calls for dried beans.
Smitten Kitchen White Bean Soup Recipe
I love the look of Deb Perelman's White Bean Soup with Crispy Kale and everything that comes out of her website is incredible. For this white bean soup, you'll need pancetta, potatoes, and parmesan. It sounds like a creamy winner if you ask me.
Fiber Fueled
Lately, I've been working to increase my fiber intake with wholesome plant-based meals like my Instant Pot White Bean Soup with Kale recipe.
A friend who's a Pelvic Floor Therapist told me she's getting into fiber too and recommended the book, Fiber Fueled.
I just bought Fiber Fueled and am digging into it! I'll let you know my thoughts on it after I finish reading it.
Your Healthy Food Habits?
What healthy food trends are you getting into these days? Leave a comment and let me know!
---
Buy My Books!
---