I have to give full credit for this photo of Thai Chicken Soup to my boys. They helped me stage the shot and then sat with me at the computer to crop and size the photo. They are becoming such little artists, having far surpassed me in this arena.
The delicious Thai soup above is based on a recipe from Cook's Illustrated. My friend Deb got me hooked on this magazine last year when she gave me a subscription. The recipes in Cook's use fresh interesting combination of ingredients and often are not overly complicated.
We ate this soup for dinner tonight; I downed the bowl in the photo above as soon as I finished snapping the pictures; it is sweet, rather spicy and very comforting. After he finished his, my younger son said, "it was good; this is a happy, happy, happy soup." That is a direct quote!
I am hoping that with more soup we can build more community. Many people have been leaving comments over here of late which is wonderful. I also want to take a moment to encourage people to respond to each others comments.
Jeanne, one of my regular readers, asked a question here. I hope that any of you who have experience in figuring out which foods work best for you will feel free to jump in and respond to her comment, it's great when we can support one another…Now, back to soup!
Thai Chicken Soup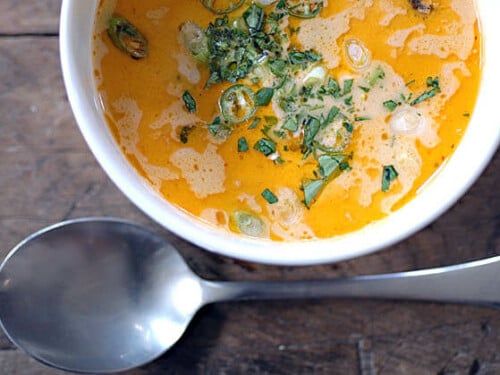 Print
Email
Pin Recipe
Instructions
Warm oil in a large saucepan over medium heat

Add shallots and cilantro, stirring frequently until softened 2 to 5 minutes

Stir in stock and coconut milk and bring to a simmer

Return broth to saucepan

Reduce heat to medium, add mushrooms and broccoli and cook until tender 2 to 3 minutes

Add chicken and cook, stirring constantly, until no longer pink 1 to 3 minutes

Combine lime juice, curry paste, and fish sauce in a

small bowl

then stir into soup

ladle

soup into bowls and garnish with cilantro, chilies, and scallions

Serve with wedges of lime
This soup also works very well with leftover chicken. Leftovers are a great thing in so many ways. They save us trips to the store as well as time in the kitchen.
Other uses for leftover chicken? I use it to make a simple Mexican salad for dinner (salad greens with black beans, guacamole and salsa) and to add an extra hit of protein to this sesame noodle dish.
As you can see from the recipes on this blog, while I don't eat the SAD (Standard American Diet), I do not feel deprived. I focus on the foods I can eat, create as much variety as possible and savor every morsel I put into my mouth! All in all, I feel happy and grateful to have access to the beautiful fresh foods that nourish me day in and day out.