This gluten free, high protein Matzo Ball Soup recipe is a Passover classic.
Gluten free, high protein Matzo Ball Soup is a Passover classic. Chicken soup with matzo balls can also be considered Jewish penicillin, and a favorite remedy for a cold or the flu; however this is primarily a staple recipe for Passover. Did you know that all of my recipes are kosher for Passover?
Passover is one of my favorite holidays. I adore holidays that involve a change of seasons and Passover, occurring each year in March or April (depending on the full moon), ushers in spring.
Like most other families who grew up celebrating this holiday, we had matzoh ball soup every year. My grandmother made this soup. My mother made this soup. And now I have made this soup! My children will be at least the fourth generation of my family to partake in matzo balls!
I made a test batch today for my family to sample and was given the thumbs up. I will be serving this soup and other gluten free Jewish food at our Passover seder, which falls on Monday, April 2nd, this year.

Matzo Ball Soup
Instructions
In a medium bowl, beat eggs, (1 teaspoon) salt and pepper for 2 minutes
Stir in the almond flour
Refrigerate the mixture 2-4 hours
Remove from refrigerator
Heat a large pot of water (with 1 teaspoon salt) and bring to a boil
Roll the batter into 1-inch balls then drop into the pot of boiling water
Reduce heat, cover and simmer for 20 minutes
Heat 6 cups chicken stock in a separate pot
When the matzo balls are finished, remove from simmering water with a slotted spoon and add to chicken stock
Ladle stock, plus 2-3 matzo balls into individual bowls and serve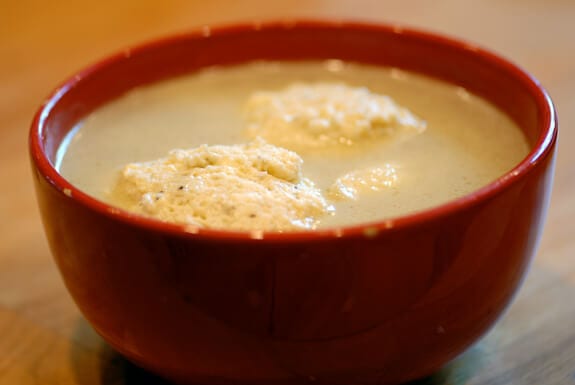 These gluten free matzo balls are non-gebruchts, pareve and kosher for Passover.