Charoset is one of my favorite Passover foods. During the Seder, this sweet, fruity dish holds a special, symbolic place, reminding us of the mortar which the Jews used to bond bricks while enslaved in Egypt. European Jews (Ashkenazi) traditionally use nuts, apples, cinnamon and sweet wine for this dish.
Jews of Middle Eastern descent (Sephardic) commonly use raisins, figs dates and sesame seeds. In general, Middle Eastern Jews have a far richer culinary tradition than European Jewry and charoset is no exception to this rule. In her Book of Jewish Food
, Claudia Roden lists 3 Sephardic versions of charoset and 1 Ashkenazi type. Further, Wikipedia lists 5 variations of Sephardic charoset to one Ashkenazi recipe.
Of course, my version of charoset is a blend of the two traditions –and as always, lower in sugar than the standard fare.

Charoset
Ingredients
2 apples, peeled, cored and cut into cubes
2 cups walnuts, chopped
1 teaspoon ground cinnamon
½ cup orange juice, freshly squeezed
1 tablespoon lemon juice, freshly squeezed
¾ cups currants
Instructions
In a food processor, combine apples, walnuts, cinnamon, orange juice, lemon juice and currants
Pulse briefly until desired texture is achieved
Serve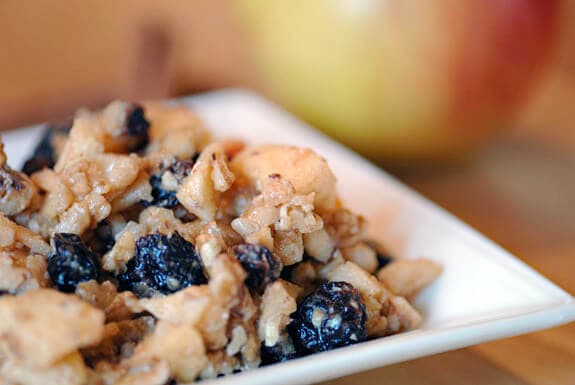 It seems that everyone has their own favorite family recipe for charoset. What's yours? If you have one, feel free to leave it in the comments section.