We adore this Gluten Free Apple Crisp, and preparing it has been a cherished (and healthy!) family tradition since the boys were toddlers.
Gluten Free Apple Crisp
We throw this recipe with almond flour together effortlessly, and I love that it's a bonding project for the entire family.
First, we peel and slice the apples, then assemble the almond flour topping that's lightly sweetened with just a bit of honey.
Recipes for Healthy Desserts
Creating any dessert from scratch takes thought, but writing a healthy dessert recipe requires thinking out of the box.
For me, the first criteria is nutrient dense food –that's where almonds come in! They're incredibly nutritious, packed with magnesium, calcium, iron, and more.
Low Carb Recipes Dessert
The second factor is using low carb ingredients that are not only highly nutritious, but that won't cause a spike in blood sugar. Almond flour and coconut flour are fantastic when it comes to low carb baking.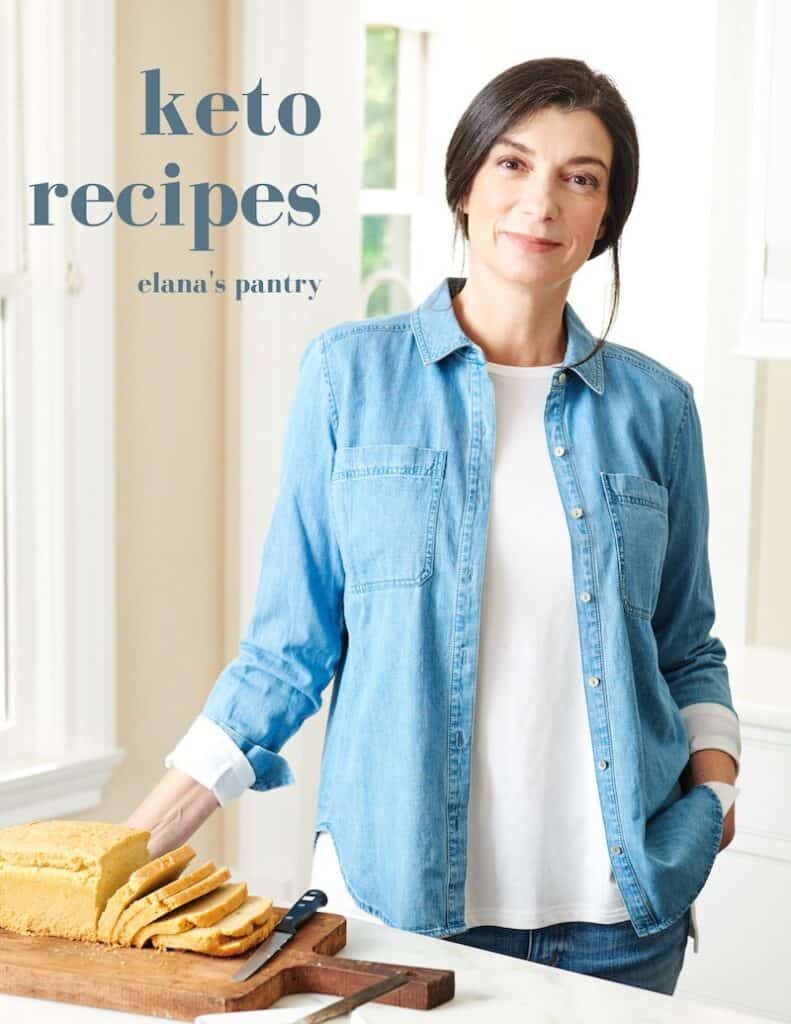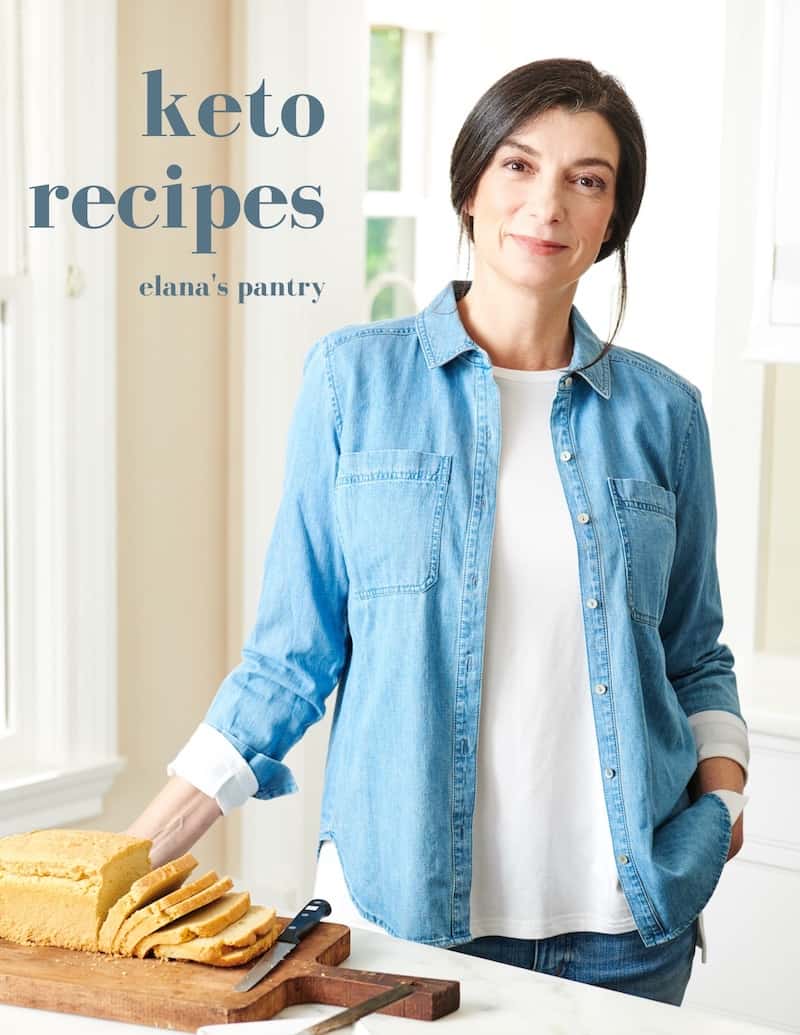 Get My Keto Recipes eBook
Free exclusive eBook, plus recipes and health tips, delivered to your inbox.
Diet Restrictions
Last, but definitely not least, is making gluten free food that everyone in my family can eat.
My older son was diagnosed with celiac disease more than two decades ago, so this is always top of mind when I'm writing recipes. I was diagnosed well before that, so creating recipes for those of us with food allergies is a passion.
Dessert Recipe with Almond Flour
All in all, my Gluten Free Apple Crisp is a trifecta of healthy, containing high fat, fiber rich almond flour, and wholesome apples, also loaded with fiber, along with rich nutmeg.
Gluten Free Apple Crisp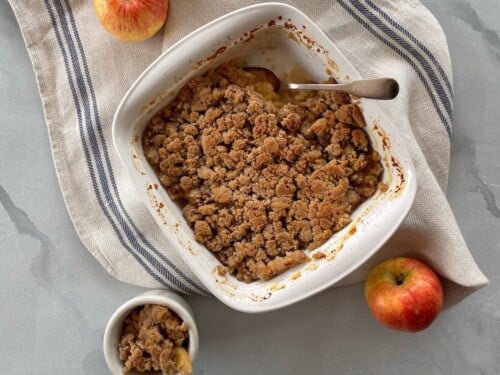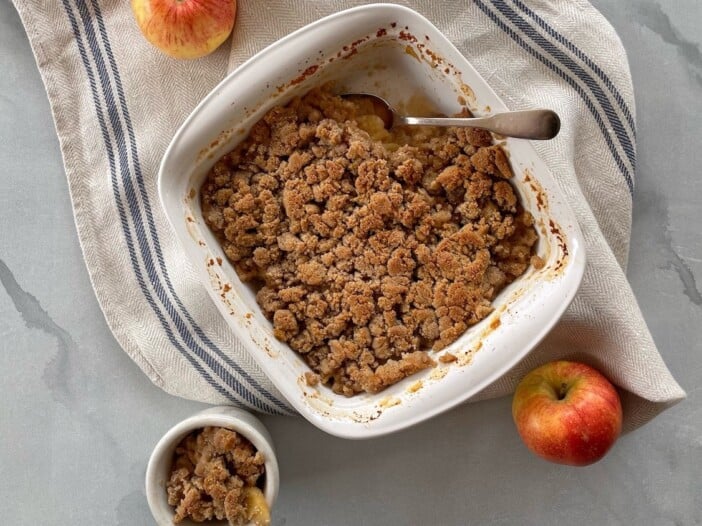 Print
Email
Pin Recipe
Instructions
In a

large bowl

, combine almond flour, salt, cinnamon and nutmeg

Stir wet ingredients into dry

Crumble topping over the apples

Cover and bake at 350°F for 50 minutes on low rack

When apples are soft and their juices bubble, remove cover and bake 10 more minutes to brown crisp

Serve warm
Total Time
1

hour
15

minutes
Almond Flour Nutrition
Along the lines of keeping blood sugar levels stable, it's not just the number of carbs we consume but what we eat with them, as this determines how our bodies process and metabolize carbohydrate fuel.
This is one more reason for my passionate affair with almond flour.
Eating fat with carbs slows down the absorption of carbs into the bloodstream. Fiber can help with this as well, making almond flour the ideal choice since it's also fiber rich.
| | | | | | |
| --- | --- | --- | --- | --- | --- |
| Nutrition Info (100g) | Carbs | Fiber | Net Carbs | Protein | Fat |
| Almond Flour | 19g | 10g | 9g | 22g | 50g |
| White Wheat Flour | 76g | 2g | 74g | 10g | 1g |
| Rice Flour | 80g | 2g | 78g | 6g | 1g |
How Many Carbs Almond Flour
As you can see, almond flour is far lower in carbohydrates than wheat flour and rice flour.
Gluten Free Apple Crisp Recipe with Almond Flour
When it comes to my recipes, delicious is top priority, but ease of preparation is a close second.
I've checked both boxes here with the best recipe for apple crisp with almond flour, and I have plenty of other healthy recipes for you below!
Gluten Free Desserts
When I first went on a Gluten Free Diet over 25 years ago, it was quite challenging to find gluten free foods and even harder to locate a recipe for gluten free dessert –I had to make my own.
Intolerance to Foods? I'm Here to Help!
An intolerance to foods like gluten, and for some individuals, grains, is a key component when it comes to autoimmune conditions like celiac and Hashimoto's.
Armed with this knowledge, I've spent hours in the kitchen creating and testing recipes for healthy desserts for myself, my family, and all of you.
Recipes for Healthy Desserts with Apples
Here are some of my favorite healthy desserts with apples.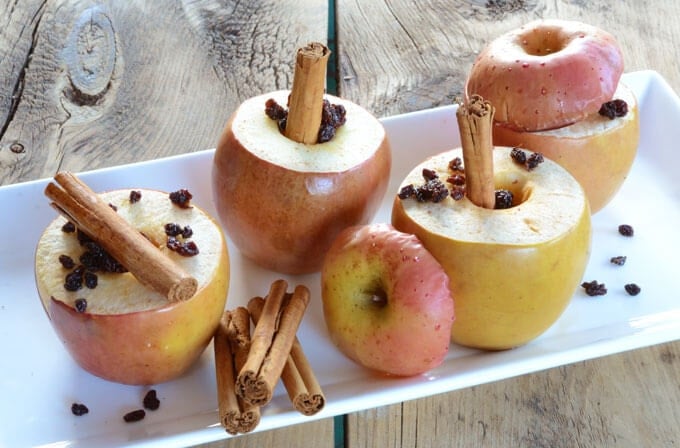 Apples Baked with Cinnamon
Our family is sweet on anything with baked cinnamon apples, and this healthy dessert recipe with 5 ingredients is an easy shortcut to all-American apple pie.
Whole apples baked in the oven, along with aromatic cinnamon sticks and vanilla bean are an effortless warm comfort food we serve all year around.
When the boys were little, I'd let them assemble their own baked apples by hollowing the fruit for them and setting out all the garnishes so they could stuff the apples themselves. What a hit!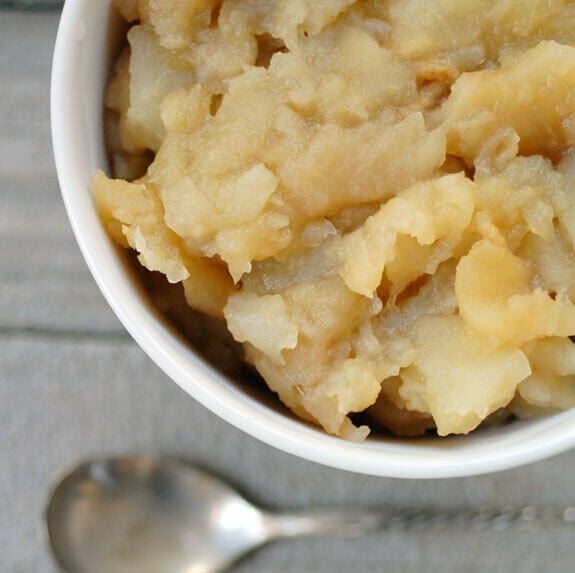 Apple Sauce Recipe
Homemade Apple Sauce is a wholesome blend of fresh apples with notes of cinnamon. It's also another one of the boys' most beloved recipes to make.
Trust me, peeling the apples is a fabulous project that kept those little hands busy long ago.
Now in their mid-twenties, I'm not sure if my sons have had store bought apple sauce, that's how much we love making our own.
With only two antioxidant rich ingredients and well under 10 minutes of hands on prep time, this one will surely be your new family favorite.
Pro tip –the sauce on the side of the baking dish may overcook a bit, turning into yummy bites of caramelized apples.
You can also make apple sauce in the InstaPot, and I will soon share a tutorial to show you how. In our home, this is necessary due to the quantity of applesauce my people eat. I make up to 5 pounds at a time when I cook Instapot Apple Sauce.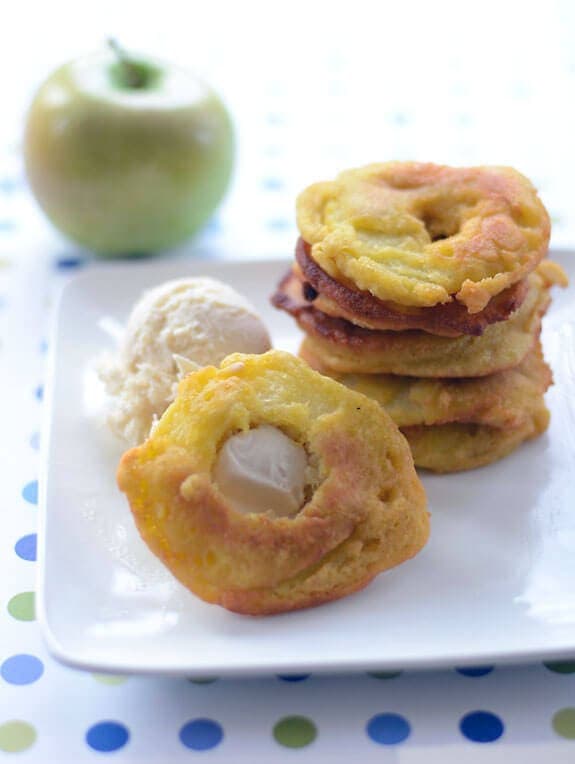 Easy Desserts with Apples
Although they're not as ideal as berries, apples are still a low glycemic fruit that can make a memorable dessert.
Here, I coat the apples in a grain free batter made of coconut flour, maple syrup, and eggs, creating a lightly fried food for Hanukkah.
Take my word for it, you're going to want to make this Apple Fritter Recipe year-round.
Over the years, the boys have enjoyed jazzing up this dessert recipe that's easy with my homemade vanilla ice cream and a drizzle of naturally sweetened caramel sauce.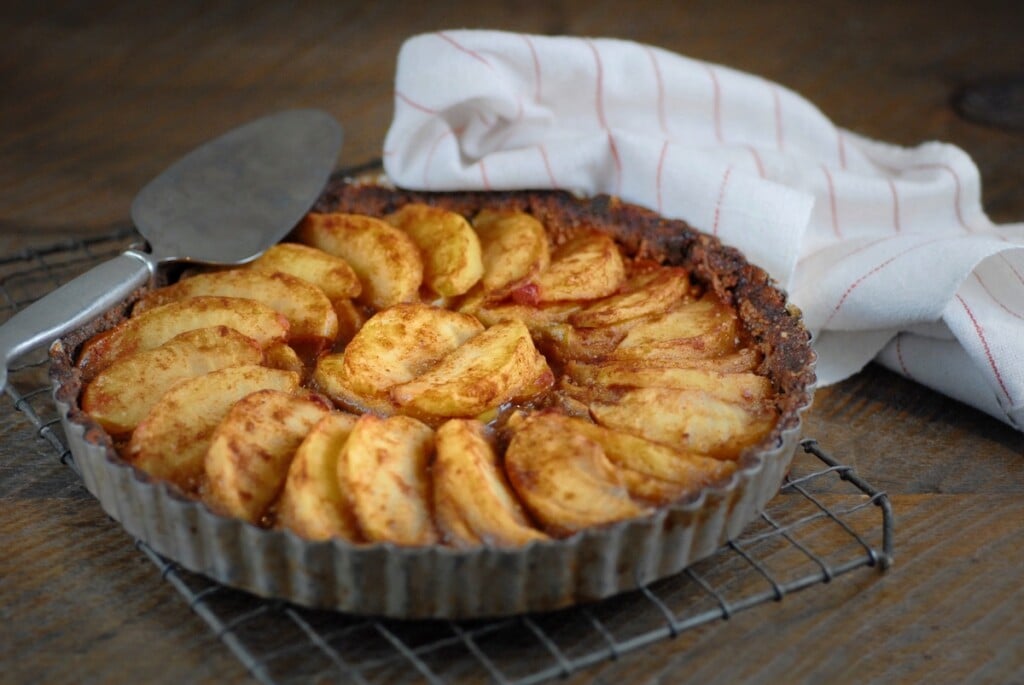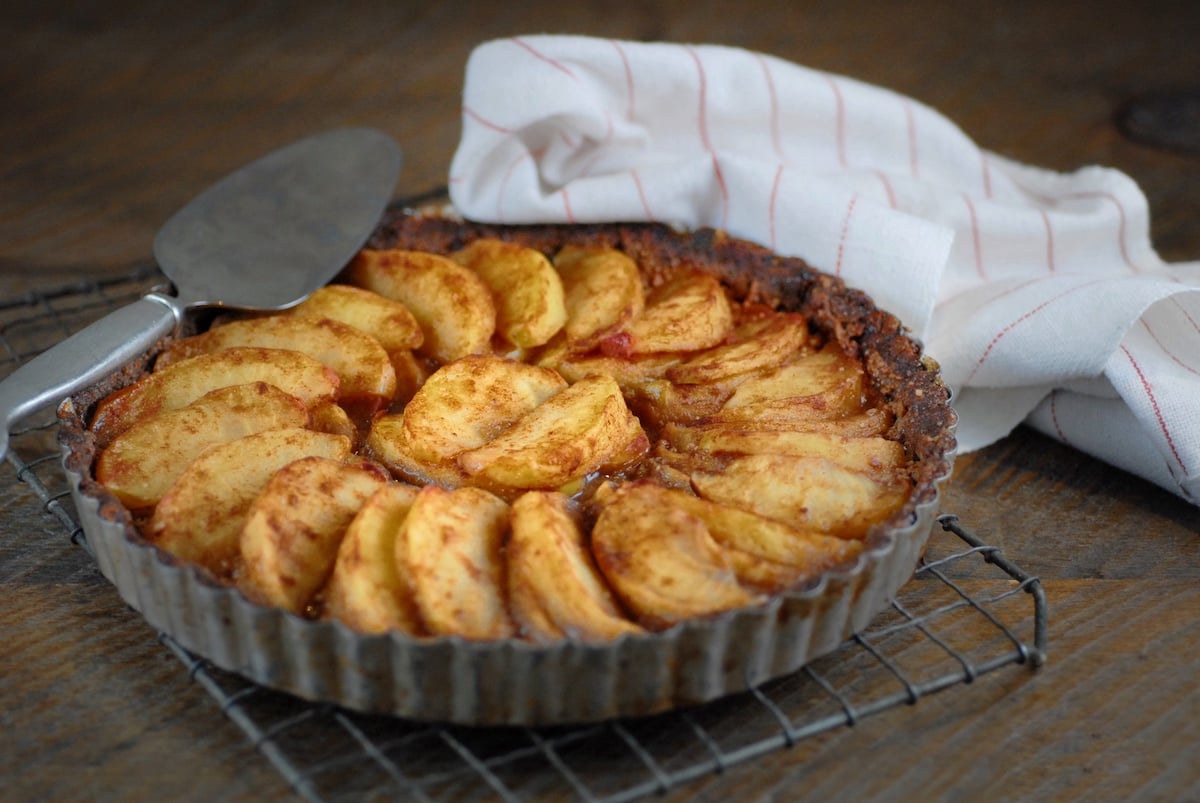 Fruit Recipes Dessert
What can I say other than this fruit tart is the apple of my eye!
Encased in a pecan pie crust made of this rich nut, eggs, and coconut flour, my Apple Tart is sweetened with a touch of honey (only 1 tablespoon!), sprinkled with cinnamon, and baked to perfection.
I'm often referred to as the Queen of Almond Flour, having written the book on it, but every now and then, I like to mix it up, and this pecan crust does the trick!
Low Carb Gluten Free Recipes
Any way you slice it, I'm here to serve up the easiest, tastiest gluten free recipes in the universe.
Is there something you're looking for? Leave a comment and let me know, and I'll be sure to point you to it here on the website.
This post is an oldie but goodie from the archives. I first shared this Gluten Free Apple Crisp recipe in 2014.