For years my friends, family, and readers have been asking me to create a grain-free matzo recipe. This year, instead of throwing my paleo matzo together the day of our Seder, I took time during the last few weeks to work on creating a gluten-free matzo recipe.
As you can imagine, my house has become a veritable paleo matzo factory with batch after batch of matzo spread out all over my kitchen counters.
Matzo is an interesting food. Most Jews, including myself will tell you that we don't really like the taste of matzo. It's dry and starchy, and for the most part completely lacking in flavor. On the other hand, matzo is an incredible vehicle for a fabulous part of the Seder, the Hillel Sandwich, which is matzo with charoset and maror (horseradish).
Grain-Free Matzo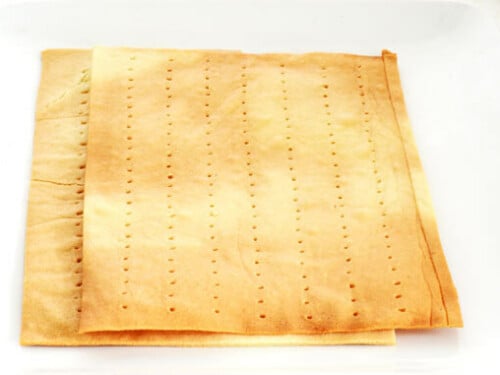 Print
Email
Pin Recipe
Instructions
Pulse in egg, olive oil, and water

Divide dough into 2 pieces

Remove top piece of parchment paper

Prick holes in matzo using a fork

Bake at 350°F for 10-13 minutes, watching very closely

Cool for 2 hours

Serve
Thankfully, my matzo is fairly tasty. Unfortunately, since it has good taste, texture and flavor, my paleo matzo does not taste exactly like the real thing –i.e., grain-based matzo. Because of this I recommend that you do what our family does each Passover –buy gluten-free matzo for those on a gluten-free diet, and make this grain-free matzo for folks that are strictly grain-free (like myself) or following a Paleo diet.
What is matzo? Referred to as matzoh, matza, or matzah, and known as "the bread of affliction," matzo is unleavened bread typically made of wheat flour and water. It is traditionally eaten by Jews during the Passover holiday when eating chametz (wheat products that are leavened) is not permitted.
I'm often asked, is matzo gluten-free? Well, the answer is no. Real matzo is made of wheat, something I have not eaten since 1998, when I was diagnosed with celiac disease. Real matzo would make me very sick if I consumed it. I'm also frequently asked what I use in place of matzo meal during Pesach. That is easy to answer –almond flour is my matzo meal and because of this all of my recipes are kosher for Passover.
If you're looking for a Paleo Passover menu, you're in luck. If you need healthy Paleo Passover recipe ideas for topping this homemade matzo, try the ones below!