Every year, as part of the Passover Seder, we eat Maror. The bitter herb reminds us of the bitter times the Jewish people have faced. Growing up we used ground horseradish straight out of a bottle for this ritual. Of course there's nothing wrong with that. We enjoyed the Maror product made by Manischewitz at each of our Seders. When I began making my own Seder one of the first things I was curious about was how to make Maror from scratch. I had no concept of where this spicy horseradish sauce came from, or how it was prepared.
Now, I make my own Maror, or spicy horseradish sauce, every year at Passover. I start by buying fresh horseradish root. Most health food stores carry it during this time of year. Fresh horseradish root is about the size of a carrot, and it is light brown in color, like a parsnip. After I buy the horseradish I get down to business!
If you're wondering how to make Maror from scratch, fear not, this is an easy 2-ingredient recipe. Please though, read the instructions for the recipe below in detail. If you don't follow the directions you can burn your nasal passages, so be careful.
Horseradish: How To Make Maror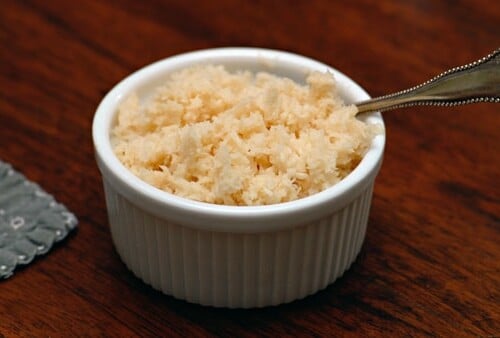 Print
Email
Pin Recipe
Instructions
Pulse until horseradish is well ground

Carefully remove lid; do not inhale or smell mixture, as it may burn eyes and nasal passages

Store in a glass container

Serve
Equipment
Recently, I taught my older son's third grade class how to make Maror along with my healthy Charoset recipe. We made enough of each to feed more than 100 people. It was so fun working with them to make Passover food! All of the third grade families attend the class Sedar, and the children were very proud of their work. So, no Manischewitz Maror for these little ones. They will not grow up thinking that ground horseradish comes from a bottle!
Making your own Maror, or spicy horseradish sauce from scratch, is easier than you think, and it tastes far better than store bought horseradish sauce! Here are some of my healthy gluten-free Passover recipes that we serve at our Seder. The Gefilte Fish is absolutely amazing with homemade Maror!