This Gefilte Fish recipe is based on one by Ellyn Goodrich at epicurious.com, called "Alaskan Halibut and Salmon Gefilte Fish Terrine." While Goodrich's recipe makes a gefilte fish "loaf," mine is for traditional (yet gluten-free) gefilte fish balls (like my Bubby made) only with more vegetables, so that they are a bit lighter and healthier than the standard gefilte-fare. What are gefilte fish?
Here is Wikipedia's definition: "Yiddish Gefüllte Fisch (Gefilte fish;from German gefüllte "stuffed" fish) (Hebrew: dagim memula'im, literally "filled fish") is a poached fish mince stuffed into the fish skin. More common since the Second World War are the Polish patties similar to quenelles or fish balls made from a mixture of ground deboned fish, mostly carp or pike. They are popular in the Ashkenazi Jewish community and are typically eaten on Shabbat and Holidays."
In my house, we eat gefilte fish once a year. They're not easy to make, so we prepare them at Passover, as my Bubby did and serve them with homemade maror (ground horseradish).
Gefilte Fish
Ingredients
1 pound halibut fillets, skinned and boned
½ pound salmon fillets, skinned and boned
2 tablespoons olive oil
1 large onion, diced
2 large eggs
1 teaspoon celtic sea salt
1 teaspoon ground black pepper
1 tablespoon honey
1 tablespoon lemon juice, freshly squeezed
¼ cup fresh dill, finely chopped
1 cup grated carrots
½ cup parsley, finely chopped
Instructions
Cut the fish into large chunks and place in a food processor
Pulse until finely ground; do not puree
Heat oil in a large frying pan
Saute onion over medium-low heat until soft and transparent, cool for 10 minutes
Pulse onions, eggs, salt, pepper, honey and lemon juice into fish mixture
Pulse in dill, carrots and parsley
Refrigerate mixture for 3 hours
Heat a large pot of water and bring to a boil
Shape fish mixture into 1 ½ inch balls
Drop balls into water and cook for 15-20 minutes until cooked through
Place balls in a 9 x 13 inch baking dish and refrigerate to cool
Serve with Horseradish Sauce and garnish with fresh sprigs of parsley
Notes
My family and I were so excited to have good homemade gluten-free gefilte fish, that I forgot to restrain everyone and count the amount of fish balls this recipe yields before they were eaten.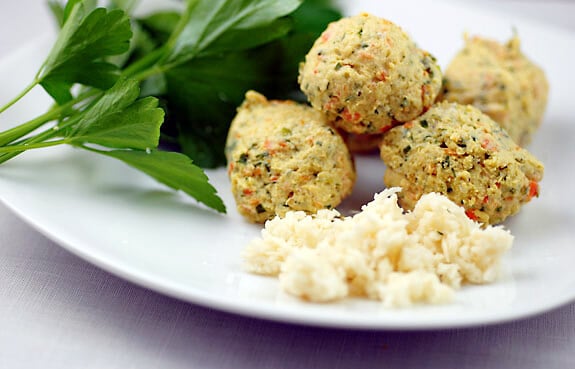 Did you know that Passover starts one month from today? If you're planning a gluten-free Passover, you might want to check out my Gluten-Free Passover Menu which is full of yummy things like gluten-free Matzo Ball Soup and Charoset.
Even though it's a month away, I'm ready for Passover, as for me, it is the holiday which ushers in spring!