Beef Brisket is so easy to make that it practically cooks itself. You simply throw all of the ingredients in a crockpot and a few hours later it's done. This easy brisket recipe is a favorite paleo dinner in our family! Growing up I loved the brisket that my Bubby made. It was melt in your mouth amazing. My mother also made incredible beef brisket.
Since I started eating red meat religiously a couple of years ago (rather than every now and then) I have watched my iron levels climb to a healthy level. I was chronically anemic for years, and found from personal experience that eating red meat was the best way for me to solve this health issue.
While it is not often discussed, so many people with celiac disease and gluten intolerance suffer from anemia and low iron levels. One can supplement with iron as many doctors advised me to, however iron supplements are extremely challenging to assimilate and can cause problems of their own.
Beef Brisket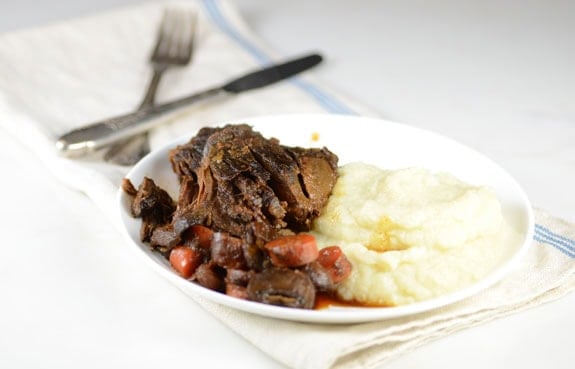 Print
Email
Pin Recipe
Place stock, onion, garlic, mushrooms, and carrots in

crockpot

Sprinkle with garlic powder, onion powder, and salt

Place meat in center

Turn crockpot on to low and cook for 6-8 hours

Serve
Prep Time 20 mins
Cook Time 6 hrs
Total Time 6 hrs 20 mins
We serve this easy Beef Brisket recipe with the following paleo side dishes:
---
Buy My Books!
---