Beef Brisket served with Mashed Cauliflower is easy to make and a favorite Paleo dinner in our family.
Growing up I loved the brisket that my Bubby made. It was melt in your mouth amazing. My mother also made an incredible brisket. Now it's my turn to take a whirl at Beef Brisket –the perfect Paleo dinner entree.
Since I started eating red meat religiously a couple of years ago (rather than every now and then) I have watched my iron levels climb to a healthy level. I was chronically anemic for years, and found from personal experience that eating red meat was the best way for me to solve this health issue. While it is not often discussed, so many people with celiac disease and gluten intolerance suffer from anemia and low iron levels. One can supplement with iron as many doctors advised me to, however iron supplements are extremely challenging to assimilate and can cause problems of their own.
On a more mundane level, you'll love this quick and easy beef recipe simply because you can throw all of your ingredients in the crockpot and walk away until dinner time when you're ready to serve it.
Beef Brisket
Ingredients
1½ pounds brisket, flank rib, shoulder roast or stew meat
3 cups chicken stock
1 large onion, chopped
8 cloves garlic, peeled and sliced
8 ounces mushrooms, sliced
8 carrots, sliced ½-inch thick
1 tablespoon garlic powder
1 tablespoon onion powder
½ teaspoon celtic sea salt
Instructions
Place stock, onion, garlic, mushrooms, and carrots in crockpot
Sprinkle with garlic powder, onion powder, and salt
Place meat in center
Turn crockpot on to low and cook for 8-24 hours
Serve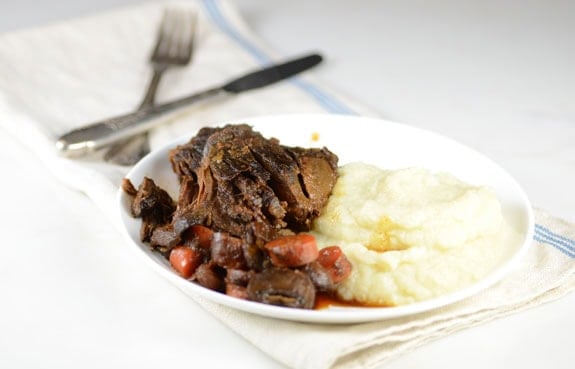 If you're looking for more Paleo dinner recipes, head on over to my Facebook page and check out my Paleo Meal Plan. Or just check out my Facebook page! I post fun ideas for you there everyday that will help you improve your health and make your life easier!