My Mashed Cauliflower is the perfect low-carb stand-in for mashed potatoes at your Thanksgiving table. This 3-ingredient recipe is the easiest you'll ever find and it's especially amazing when smothered in the wholesome juices of my low-carb Gravy recipe.
The Best Mashed Cauliflower Recipe
I've been making these mock mashed potatoes since 2007. I love that they're low-carb and gluten-free, the best of both worlds. For this same reason, my Cauliflower Rice recipe is in regular rotation in our house. We load up on broccoli and kale too. All of these superfoods contain a very special ingredient!
Eat Cruciferous Vegetables to Activate Nrf2 Pathway
Cruciferous vegetables including cauliflower, broccoli, and kale contain a compound called sulforaphane that activates the Nrf2 pathway. This defense mechanism protects the body against oxidative stress that can result in health issues ranging from cancer to neurodegeneration to mood disorders.
Supplements to Activate Nrf2 Pathway
You can also upregulate the Nrf2 pathway with supplements. I've been taking DIM since my MS diagnosis in 2006. I also take a supplement called Meriva which contains curcumin, the substance derived from turmeric. If supplements aren't for you, try my Turmeric Root Milk recipe. It's high in curcumin as well as selenium, a mineral that's important for the proper function of several metabolic pathways.
Mashed Cauliflower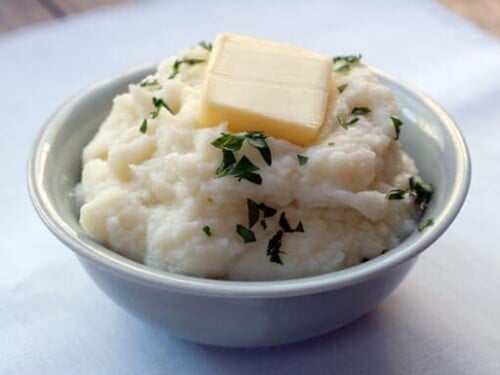 Print
Email
Pin Recipe
Instructions
Steam the cauliflower pieces until very tender

Reheat in a casserole dish in the oven at 350°F for 20 minutes

Serve
Equipment
Low-Carb Thanksgiving Recipes
Following a low-carb diet has also been key in keeping me healthy in the face of an MS diagnosis. Still, like everyone I want to eat what I love and enjoy the holidays! That's where these fun low-carb Thanksgiving recipes come in. I love good food that's good for you!