If you've gone on a gluten-free diet and thought you'd have to give up Gefilte Fish, guess again. My Paleo Gefilte Fish are gluten-free. They're also every bit as tasty as the dish that is typically made with matzo meal.
We make this homemade Gefilte Fish recipe once a year. Since they're not easy to make, we save them for the special occasion of Passover. Growing up my Bubby was a powerhouse in the kitchen. She cooked up her homemade Gefilte Fish for us often.
We serve this healthy Passover recipe with Maror, which is made of ground horseradish.
Gefilte Fish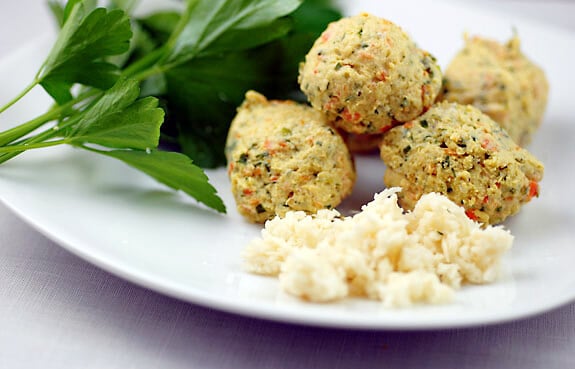 Print
Email
Pin Recipe
1 pound halibut fillets, skinned and boned
½ pound salmon fillets, skinned and boned
2 tablespoons olive oil
1 large onion, diced
1 teaspoon celtic sea salt
1 teaspoon ground black pepper
1 tablespoon lemon juice, freshly squeezed
¼ cup fresh dill, finely chopped
1 cup grated carrots
½ cup parsley, finely chopped
Cut the fish into large chunks and place in a

food processor

Pulse until finely ground; do not puree

Heat oil in a large

frying pan

Sauté onion over medium-low heat until soft and transparent, cool for 10 minutes

Pulse onions, eggs, salt, pepper, and lemon juice into fish mixture

Pulse in dill, carrots and parsley

Refrigerate mixture for 3 hours

Heat a

large pot

of water and bring to a boil

Shape fish mixture into 1½-inch balls

Drop balls into water and cook for 15-20 minutes until cooked through

Place balls in a

9 x 13 inch baking dish

and refrigerate to cool

Serve with

Horseradish Sauce

and garnish with fresh sprigs of parsley
Prep Time 20 mins
Fridge Time 3 hours
Cook Time 25 mins
Total Time 3 hrs 45 mins
This Gefilte Fish recipe was inspired by one from Ellyn Goodrich called "Alaskan Halibut and Salmon Gefilte Fish Terrine." While Goodrich's recipe makes a "loaf," mine is made into the more traditional balls. I've also added more vegetables to make the dish lighter. Finally, while hers contains gluten, I've created a gluten-free Gefilte Fish.
What are Gefilte Fish? They are simply fish balls made from a mixture of deboned fish that is then ground. This traditional dish is popular with Ashkenazi Jews and is served on Shabbat as well as Jewish holidays such as Passover.
Here are some of my other healthy Paleo Passover recipes: