My Paleo Chicken Noodle Soup recipe is easy to make if you have homemade chicken stock on hand. My Bubby taught me to keep several jars of chicken stock in the freezer. Doing so makes it easy to throw this soup together. Then, all you need to do is dice up carrots and celery, throw in zucchini noodles, and voila! You've got good old fashioned, gluten-free chicken soup made from super food vegetable noodles.
My secret to making this healthy Paleo Chicken Soup recipe gluten-free is to use zucchini noodles. If you aren't familiar with them, I have a fantastic tutorial called, How to Make Zucchini Noodles that you'll want to check out! Zucchini noodles, or zoodles, are a healthy real food that's naturally low-carb, and super easy to make. Since I was diagnosed with celiac disease in 1998, I've searched the world over for the healthiest, tastiest gluten-free foods available, and zucchini noodles are high on my list.
Chicken Noodle Soup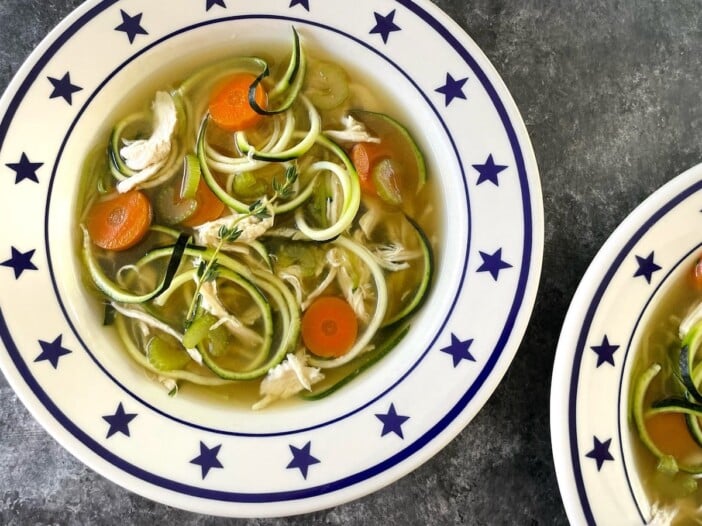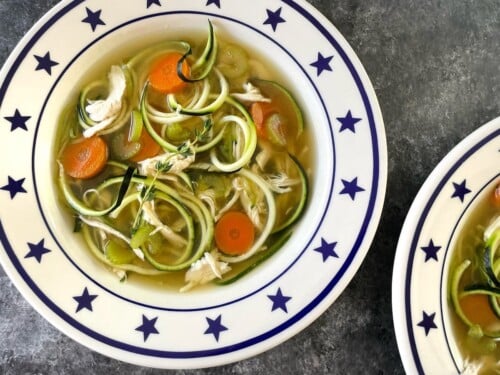 Print
Email
Pin Recipe
Instructions
Bring chicken stock to a boil in a

medium pot

, then reduce to a simmer

Add celery and carrots to pot and simmer 10-20 minutes

Add zucchini noodles and chicken and cook until zucchini is tender

Serve
Equipment
I love sipping on this soup on cold days, and my boys do too! Paleo Chicken Soup is delicious and healing. My Bubby served chicken soup and bone broth to us growing up. Back then we called it Jewish penicillin. It's still the best remedy when you're feeling under the weather!
Here are some of my other healthy soup recipes that use healthy chicken stock: