Looking for a deliciously healthy Asian Stir Fry with Chicken recipe? You're in luck, as I'm sharing this exclusive recipe from my book Paleo Cooking from Elana's Pantry.
Asian Stir Fry with Chicken
This one pot meal is made with chicken breast and an amazing assortment of healthy vegetables ranging from broccoli to bok choy, mushrooms, and zucchini.
Recipes Chinese Food
This is my family's favorite because it's a Chinese food copycat recipe that's also incredibly healthy and easy to make!
Recipes Quick Dinner
Better yet, when weeknights get busy and chaotic this easy dinner recipe for family meals is a wonderful solution.
Recipes Easy Healthy
When I wrote Paleo Cooking from Elana's Pantry my aim was to provide you with recipes that are both easy and healthy.
The book has been so popular that it made the New York Times best seller list –mission accomplished.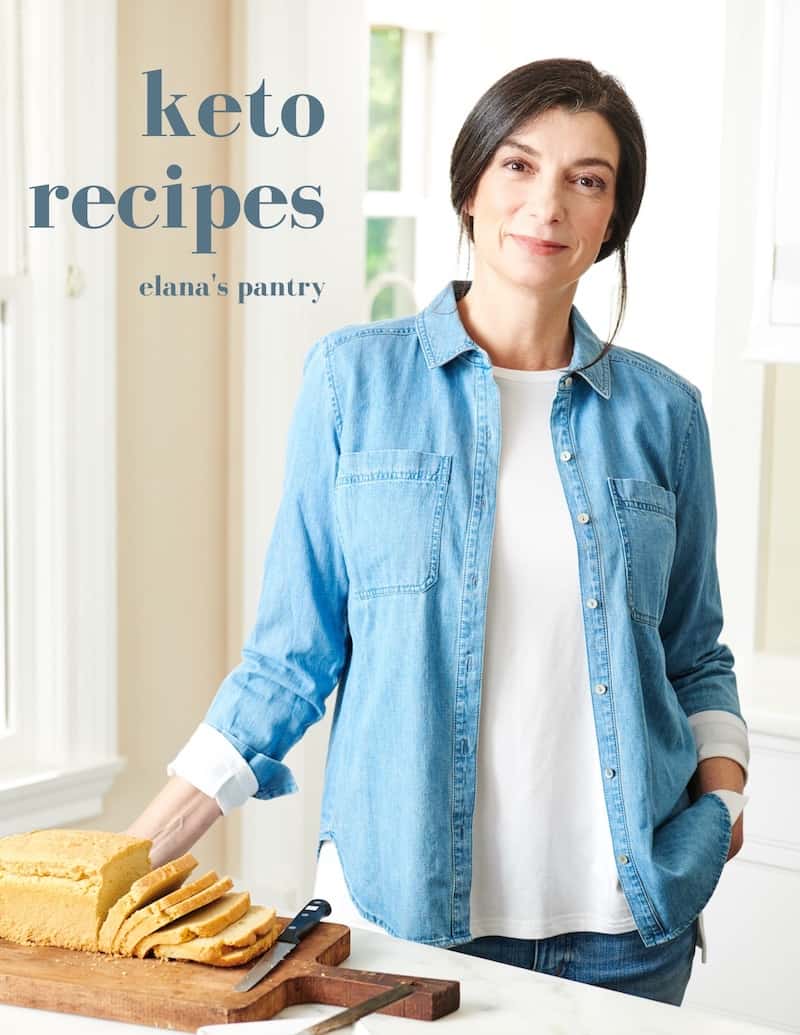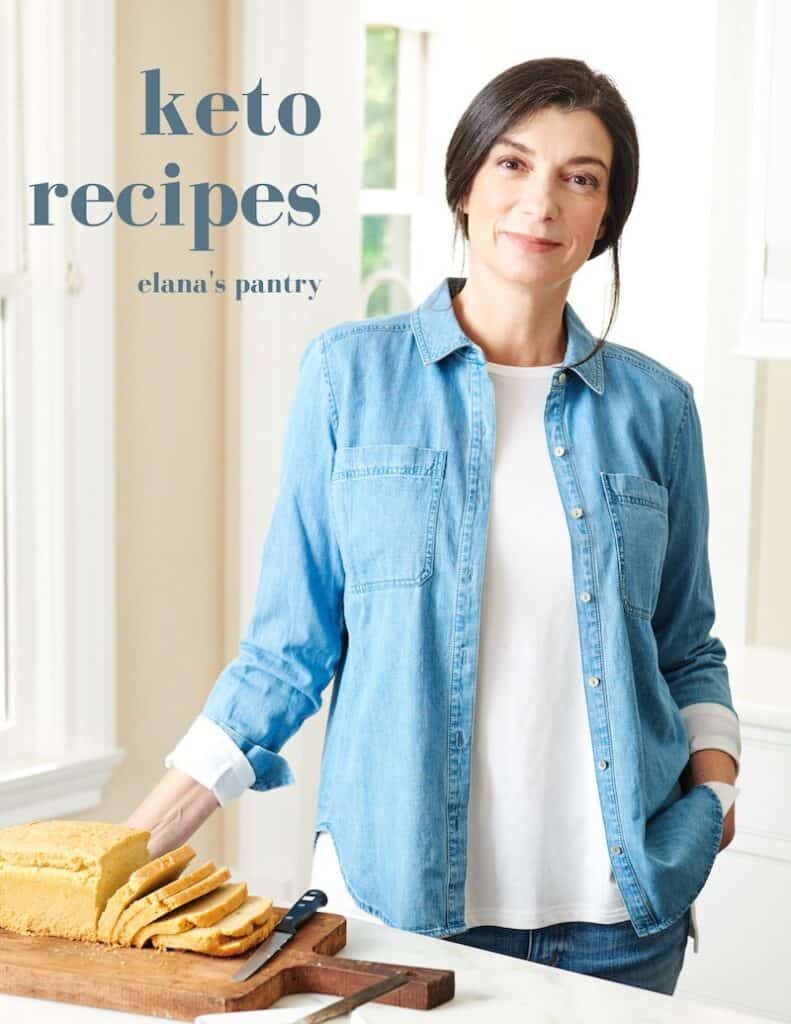 Get My Keto Recipes eBook
Free exclusive eBook, plus recipes and health tips, delivered to your inbox.
Asian Stir Fry Chicken with Broccoli
This Asian Stir Fry with Chicken and Broccoli is one of the numerous healthy entree recipes in Paleo Cooking from Elana's Pantry.
We love this tempting stir fry with vegetables sauteed in coconut oil (though olive oil works just as well) along with high protein chicken.
Asian Stir Fry with Chicken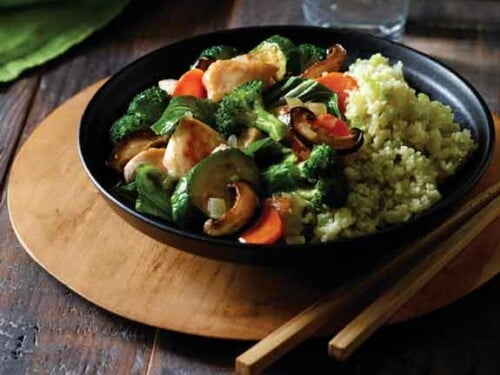 Print
Email
Pin Recipe
Ingredients
1

pound

boneless,

skinless chicken breast

2

tablespoons

coconut oil

1

medium onion,

finely chopped (about 1 cup)

2

heads broccoli,

sliced into 3-inch spears (about 4 cups)

2

medium carrots,

sliced (about 1 cup)

2

heads baby bok choy,

sliced crosswise into 1-inch strips (about 1½ cups)

4

ounces

shiitake mushrooms,

stemmed and thinly sliced (about 1 cup)

1

small zucchini,

sliced (about 1 cup)

½

teaspoon

celtic sea salt

1½

cups

water

2

tablespoons

arrowroot powder

2

tablespoons

toasted sesame oil

2

tablespoons

ume plum vinegar
Instructions
Rinse the chicken and pat dry

Cut into 1-inch cubes and transfer to a plate

Sauté the onion for 8 to 10 minutes, until soft and translucent

Add the broccoli, carrots, and chicken and sauté for 10 minutes until almost tender

Add the bok choy, mushrooms, zucchini, and salt and sauté for 5 minutes

Add 1 cup of the water, cover the skillet, and cook for about 10 minutes, until the vegetables are wilted

In a

small bowl

, dissolve the arrowroot powder in the remaining ½ cup of water, stirring until thoroughly combined

Add the arrowroot mixture to the vegetables and cook for 2-3 minutes, stirring constantly, until the sauce thickens and becomes glossy

Stir in the sesame oil, and vinegar, then serve
Recipes High in Protein
If you're looking for recipes high in protein, this is one of many in my book and here on the website. For more, check out my Dinner Recipes page.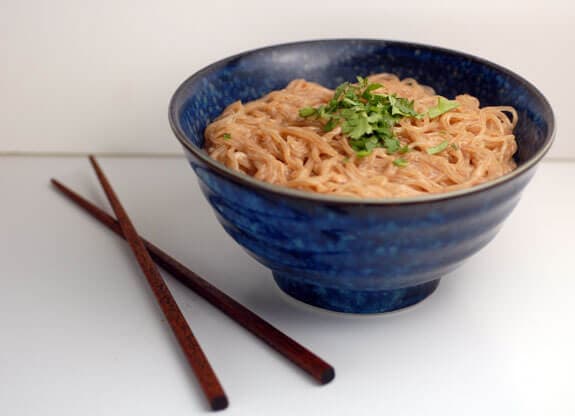 Easy Dinner Recipe Healthy and Low Carb
I love serving this stir fry with Sesame Kelp Noodles. It's also amazing with Cauliflower Rice for a low carb super healthy dinner.
Trading out high carb grains such as rice for superfood cruciferous vegetables such as cauliflower is just one of my favorite Keto Diet hacks.
What Celiac Disease Is
In fact, I eat extra healthy because I have an autoimmune disorder called Celiac Disease. If you're wondering what Celiac Disease is, I've written quite a bit about it in these blog posts:
In short, although Celiac is often considered a disease of the gut, it is in fact a multi-organ system autoimmune disease.
I was diagnosed with Celiac Disease around twenty-five years ago, in the Dark Ages of the Gluten Free Diet.
My son also suffers from it, and he is the reason I began cooking in earnest –to turn all of my childhood favorites into gluten free classics, just for him!
Recipe Using Chicken Breast for Dinner
If you have diet restrictions and aren't sure where to start, here are some of my other easy healthy recipes for dinner using chicken breast:
Paleo Recipes Dinner
One of my favorite things about Paleo Cooking from Elana's Pantry is that it's full of delicious paleo recipes high in protein for everything from breakfast to dinner.
You can also check the book out on my cookbook page.
One Pot Meal Healthy
In addition to healthy, high protein dinners, I've always loved the simplicity of a one pot meal! Simple dinners made my life so much easier when the boys were little.
Preparing a dinner recipe that has one pot clean up means far fewer dishes. Here are some of my favorite one pot meals that are healthy: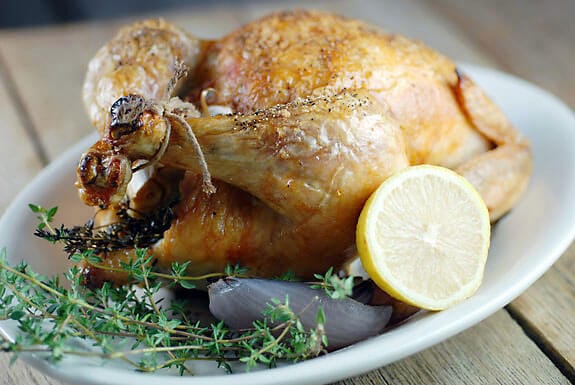 Recipe Roasted Chicken
The gorgeous photo above is my favorite recipe for roasted chicken, aptly called Perfect Roast Chicken in Oven.
If you have a recipe with rotisserie chicken and don't want to use a prepared bird, try the recipe above instead.
Recipes Leftover Chicken
Need some inspiration for recipes with leftover chicken? Look no further!
How Much Chicken is a Serving?
I'm often asked, "how much chicken is a serving?"
The standard serving size is four ounces, however, I do my best to eat more than that given that I need extra protein. This is because, in addition to Celiac Disease, I have MS and am working to rebuild my myelin sheaths.
So gluten free dinner recipes that are high in protein are the name of the game for me. Easy is also high on my list.
Best Easy Dinner Recipes Gluten Free
Easy dinner recipes aren't just for those of us with autoimmune disorders like Celiac, they're for everyone.
Along those lines, here are my favorite chicken dinner recipes. They're easy to make, healthy, high in protein, and most important, totally tasty!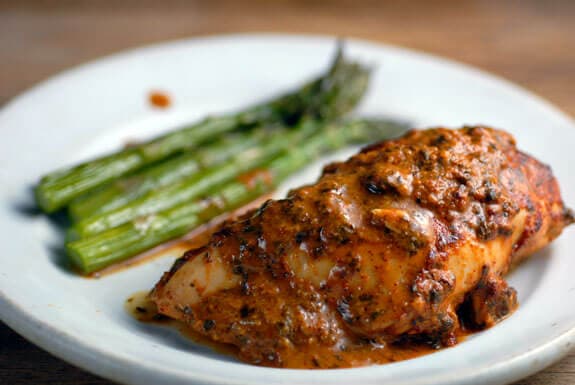 Baked Chicken with Cilantro Lime Chicken Marinade
Nothing says "zesty" like a cilantro lime chicken marinade. You'll find this delicious infusion of these two incredible flavors in my Chicken with Cilantro and Lime recipe.
If you're not in the mood for baked chicken, here are my two favorite grilled chicken recipes: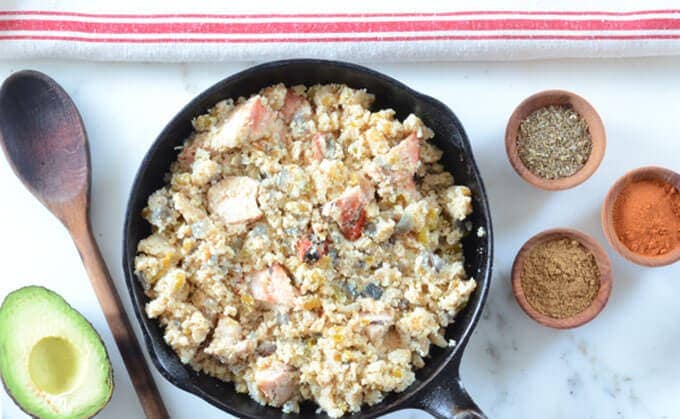 Recipe for Mexican Chicken and Rice
For another one pot meal, my recipe for Mexican Chicken and Rice swaps healthy low carb cauliflower rice in place of high carb white rice. This is also an amazing comfort food dish.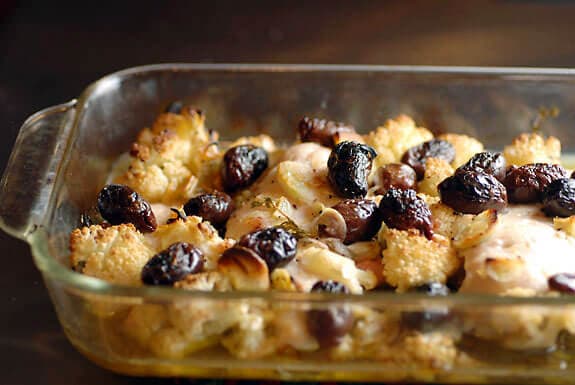 Recipe with Cauliflower and Chicken
One pot and Paleo Diet perfect, my Chicken with Cauliflower and Olives is flavored with lemon and thyme.
And if you're looking for easy chicken breast recipes with few ingredients that are low carb and cheesy, try my recipe for healthy Chicken Parmesan –it's a sure fire winner with kids!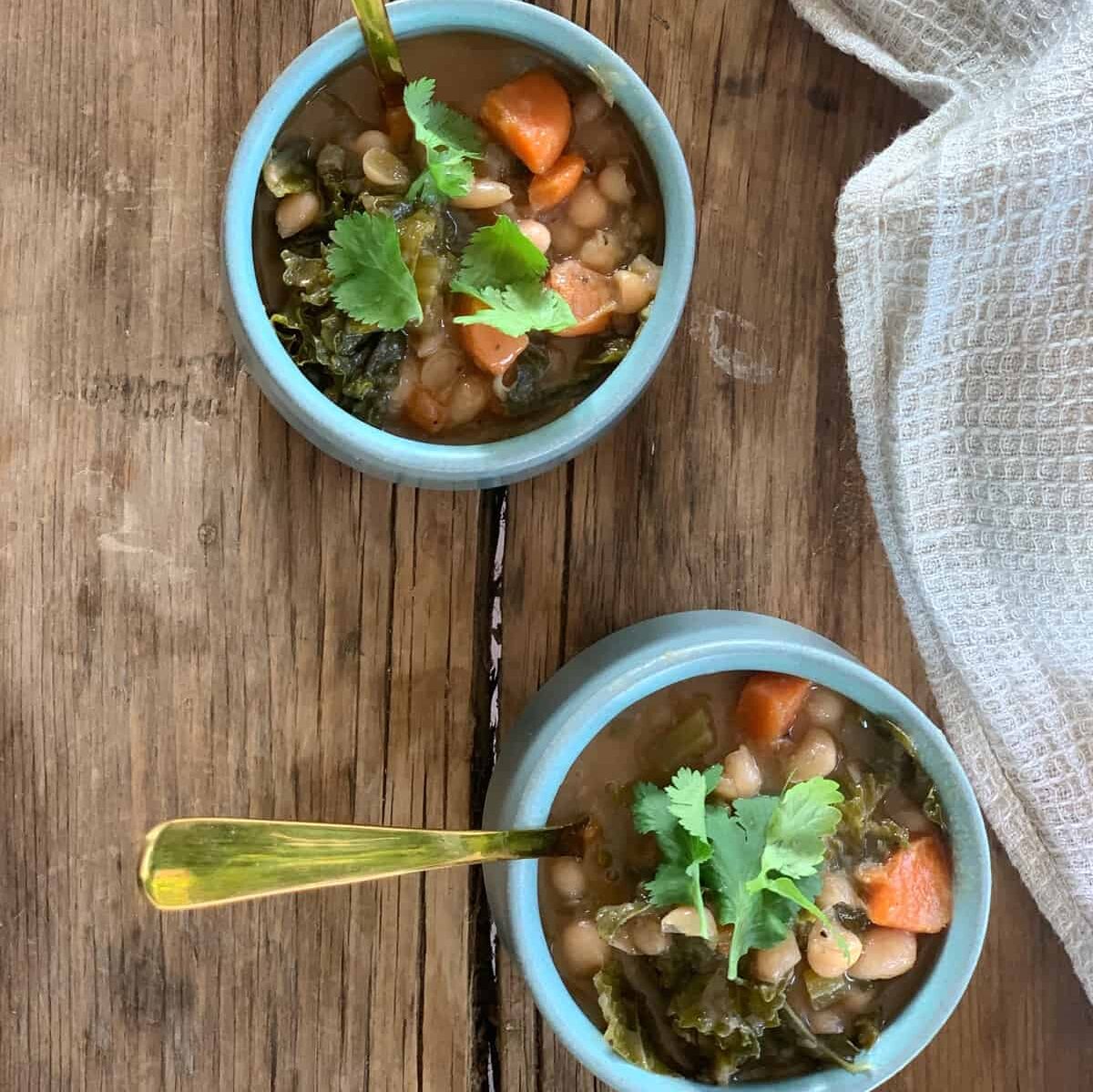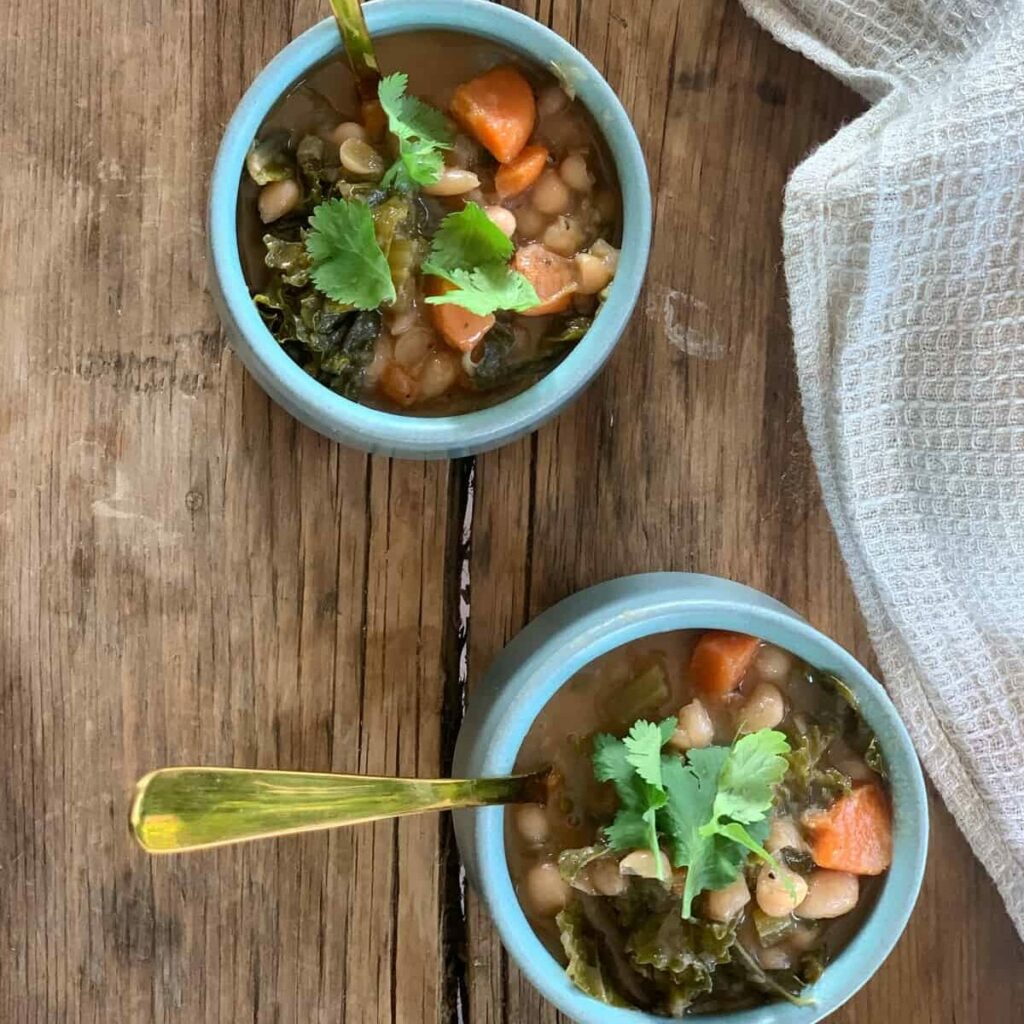 Recipes Vegetarian Dinner
Last, but definitely not least, I also have some great recipes for vegetarian dinners below:
The Best Gluten Free Recipes for Easy Dinners
I hope this laundry list of recipes that are easy and healthy inspires you to get in the kitchen and cook up a storm for dinner!
This post is an oldie but goodie from the archives, I first shared this Asian Stir Fry with Chicken in 2013.