Spaghetti squash is an oval-shaped, hard winter squash. When cooked the flesh turns into spaghetti-like strands that make a wonderful paleo substitute for pasta. The catch? Once you bring that golden gourd home, you're left wondering how to cook spaghetti squash. Thankfully, it's easy.
No Fancy Gadgets Needed!
When you make spaghetti squash noodles you don't need a spiralizer or any other fancy kitchen gadgets. There are several simple ways to cook spaghetti squash. It can be cut into sections and steamed on the stove, or you can learn how to cook spaghetti squash in the oven.
How to Cook Spaghetti Squash Safely and Easily
Cooking a whole, uncut spaghetti squash in the oven avoids the process of wielding a huge knife and stabbing at a giant hard squash. After it's cooked, you can cut through the tender flesh easily and safely. The other benefit of this cooking method? When the flesh is sealed inside the squash it retains flavor and moisture. Looking for healthy paleo noodles? Look no further. Your pasta dreams are about to come true!
How to Cook Spaghetti Squash
Print
Email
Pin Recipe
Ingredients
1

medium spaghetti squash,

about 3 pounds
Instructions
Using a fork, poke the squash twice

Bake at 350°F for 60-80 minutes

Allow spaghetti squash to cool for 20-30 minutes

Cut squash open with a knife

Using a spoon scoop out seeds

Scrape the flesh out of the squash into stringy noodles

Serve
Total Time
1

hour
30

minutes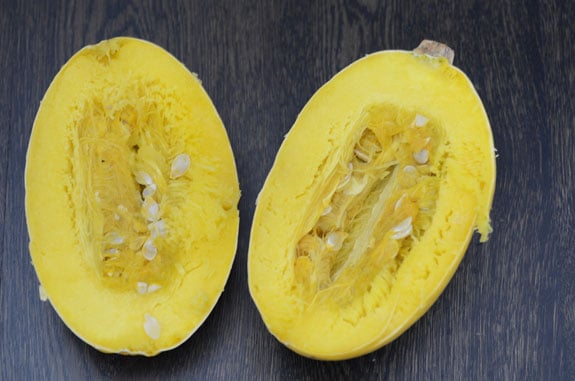 After the spaghetti squash is cooked, allow it to cool and then slice it in half.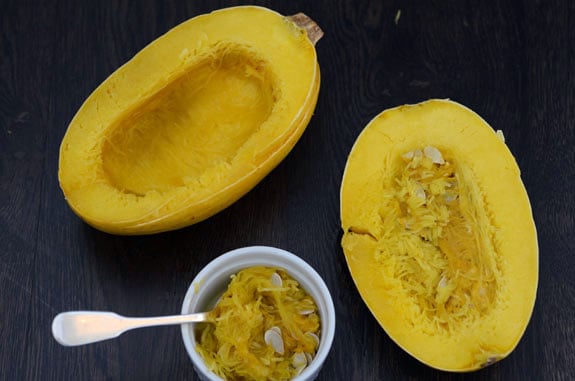 Scoop the seeds out of the spaghetti squash.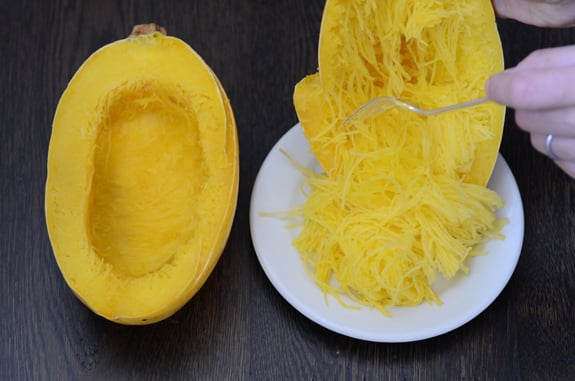 After the seeds are out, scoop the spaghetti squash noodles into a dish.
Low-Carb Noodles for the Keto Diet
I make spaghetti squash noodles for myself whenever the rest of the family is eating packaged gluten-free noodles. If you like healthy spaghetti squash noodles, you'll love my post called, Paleo Pasta: Healthy Low-Carb Swaps for Noodles, which features other healthy vegetable noodles along with their carb counts. Vegetable noodles are wonderful pasta substitute for those following a Ketogenic Diet.
Easy Low-Carb Spaghetti Squash Recipes
I often serve spaghetti squash with coconut oil and cinnamon, or with Bolognese. I also have a fabulous recipe in my latest book Paleo Cooking from Elana's Pantry for a Paleo Pad Thai that uses spaghetti squash noodles! And you'll definitely want to try my low-carb, keto Mac n Cheese Skillet Casserole recipe, made from spaghetti squash!