Forget processed gluten-free noodles, spaghetti squash noodles are nature's very own Paleo pasta.
Spaghetti Squash is one of my favorite vegetables. This fabulous winter squash is easy to make. The best thing about spaghetti squash is that it's a versatile gluten-free, grain-free substitute for regular pasta –yes, here you have nature's very own Paleo pasta noodles.
I make Paleo pasta noodles for myself whenever the rest of the family is eating their processed gluten-free noodles. Though often the boys have a helping of "my" Paleo pasta noodles too as they can't resist once they're on the table.
So, how to cook spaghetti squash? There are several ways. It can be cut in sections and steamed on the stove, or spaghetti squash can be cooked in the oven. When it comes to the oven method there are two ways to prepare your spaghetti squash –the easy way, and the hard way!
Cooking spaghetti squash the easy way is of course, my favorite method. It avoids the process of wielding a huge knife and stabbing a giant hard squash. That's no fun. I find it preferable to first cook the whole squash in the oven and then cut the tender flesh easily (and safely) with a knife. The other benefit of cooking spaghetti squash whole? When the flesh is sealed inside the skin of the squash it steams quite nicely adding both flavor and moisture, tenderizing the spaghetti squash noodles.
Looking for Paleo noodles? Look no further. Your noodle dreams are about to come true.

How to Cook Spaghetti Squash
Ingredients
1 medium spaghetti squash (about 3 pounds)
Instructions
Place whole (uncut) spaghetti squash on a parchment paper lined baking sheet
Using a fork, poke the squash twice
Bake at 350° for 60-80 minutes
Allow spaghetti squash to cool for 20-30 minutes
Cut squash open with a knife
Using a spoon scoop out seeds
Scrape the flesh out of the squash into stringy noodles
Serve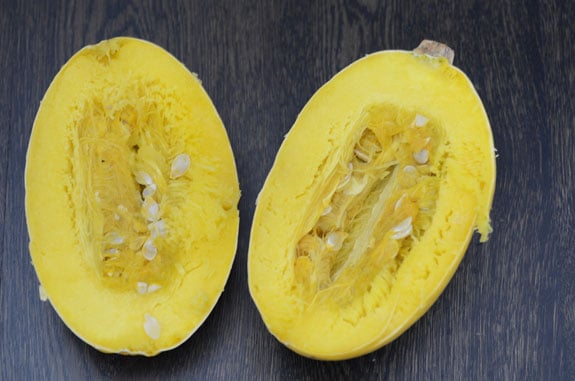 After the spaghetti squash is cooked, allow it to cool and then slice it in half.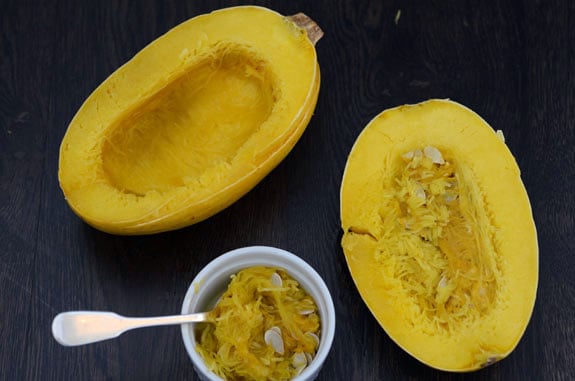 Scoop the seeds out of the spaghetti squash.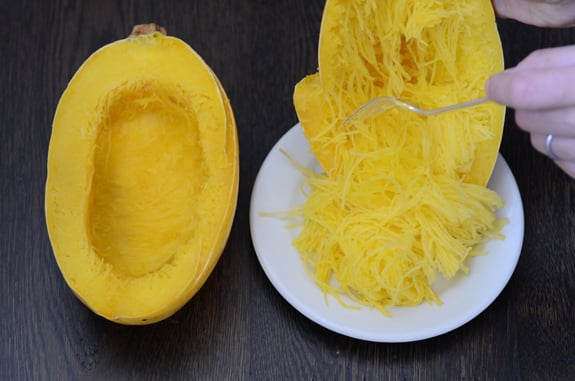 After the seeds are out, scoop the lovely noodles into a dish.
I serve my spaghetti squash with coconut oil and cinnamon, or use it as a vegetable based spaghetti noodle (Paleo pasta!) with Bolognese –a recipe that I will show you how to make in the next month or two. I also have a fabulous recipe in my latest book Paleo Cooking from Elana's Pantry for a Paleo Pad Thai that you might like!
Here are some of my sauce recipes that would go well with spaghetti squash noodles: