Mother's Day is coming up! I've organized my favorite simple Keto Diet Recipes for your celebrations so that all of you Mamas can choose from these yummy low-carb dishes!
Keto Mother's Day Recipes
Send your family this list and let them know what you're craving! With everything from low-carb french toast to quiche and bagels, you're set for a Mother's Day feast!
Savory Vegetable Quiche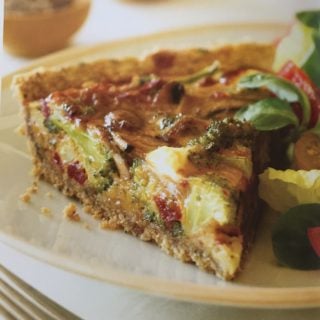 The Keto Quiche recipe from my first book, The Gluten-Free Almond Flour Cookbook is made with broccoli, mushrooms, sun-dried tomatoes, onions, and goat cheese, enveloped in a low-carb, high-fat almond flour crust. Find this easy recipe on page 61! It's also wonderful for dinner with a salad.
Keto Bagels
Did you say Keto Bagels? This 10-minute Bagels recipe is made with 8 ingredients total. Find it in my third book Paleo Cooking from Elana's Pantry, on page 19. Toast the Bagels and then smother in cream cheese and lox for a classic New York style sandwich. This 10-minute recipe has no yeast or rising time so you can make them the morning of Mother's Day!
Breakfast Sausage
The Breakfast Sausage on page 31 of Paleo Cooking from Elana's Pantry is another 10 minute Mother's Day dish. Serve with the Green Frittata, also shown here, found on page 31, along with low-carb Salsa Verde, on page 89 for a healthy, low-carb Mother's Day feast that's perfect for brunch or dinner!
Bacon Tart
This savory and scrumptious Bacon Tart on page 79 of Paleo Cooking from Elana's Pantry is made with an almond flour crust filled with 5 fabulously flavorful ingredients. Make the crust the night before, then fill and bake the next day for Mom and serve with a big salad and the mocktails below!
Low-Carb Cocktails
If you love the combination of mint and lime as much as we do, the sugar-free Mojito Mocktail in my latest book Paleo Cooking from Elana's Pantry, found on page 124, is perfect for Mother's Day brunch. Serve as is for the little ones, or spike with some rum to make Mom a cocktail and jazz things up.
Easy Keto Muffins Recipes
While readers tell me how much they love the sweets in my second book, Gluten-Free Cupcakes, their favorite section is frequently the one filled with savory muffins. Make Mom a duo of low-carb muffins for brunch, letting her choose from Scallion Goat Cheese or Garlic Cheddar, pictured here. Those recipes can be found on pages 84 and 86 of that book. If you don't have the book try my Keto Pizza Muffins recipe featured here on the blog.
Low-Carb Blueberry French Toast Casserole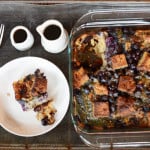 If you're looking for something sweet, surprise Mom with my Low-Carb Blueberry French Toast Casserole recipe that can be found here on the blog. It's a wonderful make-ahead recipe for Mother's Day. You can prepare it the night before and pop it in the oven for brunch the next day. Serve with Homemade Whipped Cream for an extra decadent low-carb treat!
Nutrition Information for the Recipes in my Books
Looking for nutrition information? I provide it for every single recipe in my books. Go here to get the macros for Mom if she's on the Keto Diet!