My Low-Carb Strawberry Shortcake recipe is a classic summertime dessert. When my younger son graduated from high school I made this easy low-carb dessert recipe for our celebration and everyone went crazy for it. Not a single person knew it was healthy and appropriate for the Keto Diet. And since everyone on Instagram asked for my recipe I thought I'd share it with you here!
Easy Strawberry Shortcake Recipe
Most strawberry shortcake recipes are quite complicated. My homemade Low-Carb Strawberry Shortcake recipe is a cinch to throw together. The low-carb vanilla cake I use is a one-pot recipe made with 6 ingredients total, nothing more. While the cake cools you have time to make my 2-ingredient Low-Carb Whipped Cream. After that, you simply assemble it and add the sliced strawberries.

Is Strawberry Shortcake Gluten-Free?
Usually, strawberry shortcake contains gluten because the cake is typically made of wheat flour. Here I use a low-carb cake made of coconut flour that is totally gluten-free and safe for those of you, who like me, have Celiac Disease. On top of that, my Low-Carb Strawberry Shortcake will not spike your blood sugar since it contains such a small amount of sweetener.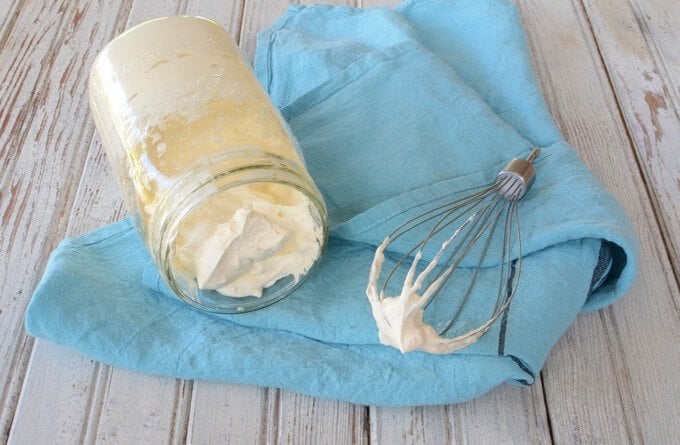 Can You Eat Whipped Cream On The Keto Diet?
I'm often asked if whipped cream is allowed on a Gluten-Free Diet. Yes, it is. That's good because it's a key component of my Low-Carb Strawberry Shortcake. I'm also asked, can you have whipped cream on the Keto Diet? The answer is a resounding yes. Whipped cream is the perfect high-fat food for keto, but be sure to use stevia or another zero-calorie, no-carb sweetener to keep it that way.
The Best Keto Strawberry Shortcake
I love using berries to make Keto Desserts since they're low in carbohydrates compared to other fruit. One of my very favorite low-carb desserts is strawberries and whipped cream. It's so elegant, and at the same time incredibly easy to throw together. When I don't have time to bake something, I like to serve strawberries and whipped cream for dessert, along with one of my favorite Low-Carb Chocolate Bars. When I do have time? This Low-Carb Strawberry Shortcake recipe is at the top of my list.
How Do You Make Low-Carb Strawberry Shortcake From Scratch?
So, getting down to it, how do you make Low-Carb Strawberry Shortcake from scratch? Well, it's easy. Bake my Paleo Vanilla Birthday Cake, whip up some organic heavy cream and slice a pound of strawberries. Often I bake the cake the night before, let it cool on the counter overnight, then remove it from the pan. All you have to do after that is assemble your layers and you're good to go. Voilá. Low-Carb Strawberry Shortcake.
3 Ingredient Strawberry Shortcake
If you don't have time to make my easy Low-Carb Strawberry Shortcake from scratch, you can buy a gluten-free vanilla cake and use that to make a quick and easy gluten-free strawberry shortcake with only 3 ingredients. While you're at the grocery store, buy yourself some pre-made whipped cream, and strawberries and you're off to the races. Trust me, your guests will be impressed.