I've been looking for the best low-carb chocolate bars for a while! Why? Because I love dark chocolate. It's a rich, tasty snack that's perfect for the Keto Diet. Yup, you heard me correctly. Dark chocolate is low in carbohydrates and high in fat, making it fantastic for the Keto Diet. For more info on that, check out my post called, Is Chocolate Allowed on the Keto Diet?
Is Dark Chocolate Good for You?
I'm often asked, Is Dark Chocolate Healthy? Thankfully for all of us, the answer is yes. In fact, it was mentioned as a Keto Diet treat when I did an Interview with a Top Keto Diet Expert. Dark chocolate is far lower in sugar than milk chocolate or semi-sweet chocolate. It's also a fantastic source of antioxidants, polyphenols, and magnesium.
The Best Low-Carb Chocolate Bars
Below are the best low-carb dark chocolate bars. Everything listed here is at least 85% cacao. That is how I've chosen to define dark chocolate in this instance. Not all of the products listed below are organic. That's because organic dark chocolate is not as affordable as conventional. I've listed the chocolate here in order of my favorite products.
Organic Dark Chocolate
Here are the best organic dark chocolate bars. I try to stick to organic chocolate for snacking and baking because conventional cacao is a crop that is sprayed with highly toxic pesticides. Since I have the MTHFR genetic mutation my detoxification is impaired and it's not as easy for me to expel harmful substances as it is for others. Because of this, I also stick with clean products for beauty and household as much as possible.
Theo 85%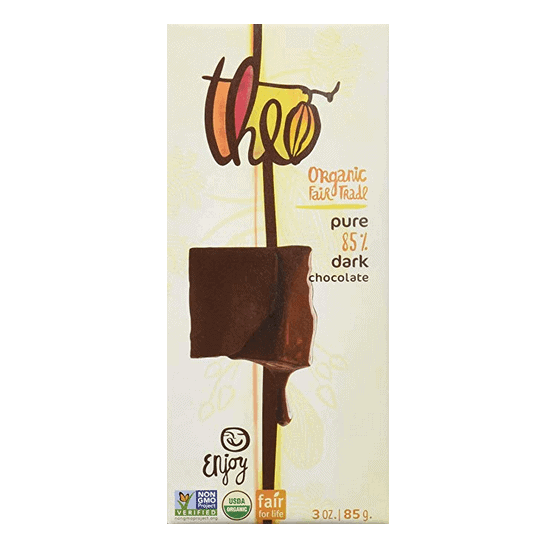 Theo 85% is organic and my all time favorite chocolate bar. I have no guilt nibbling on a square or two for a healthy snack, and at 85% cacao, it's very low in sugar. This smooth, melt in your mouth chocolate is expensive, so not great for using in recipes, but is a wonderful treat on its own. I love serving this gourmet chocolate bar for dessert with a big bowl of berries when we have last minute guests over and I haven't had time to make a healthy Low-Carb Dessert like my Keto Brownies recipe. Buy on Amazon or Thrive Market.
1 ounce (28 grams) • Fat 13g • Carb 12g • Protein 3g
Thrive 85%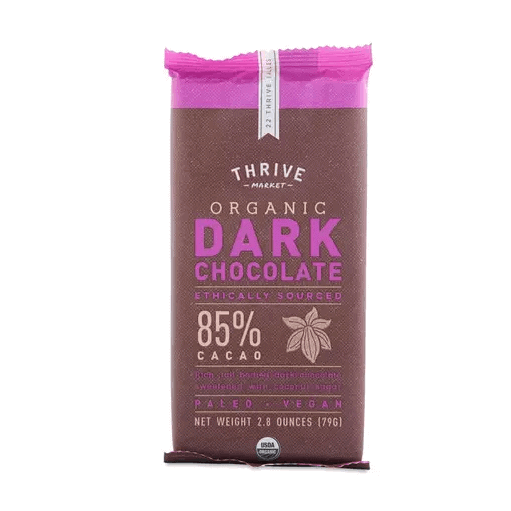 I love the Thrive 85% organic dark chocolate bar! Like everything the folks at Thrive Market do it's fantastic. Specifically, this low-carb dark chocolate bar has a an incredibly rich deep flavor, with notes of coffee. You can't buy it on Amazon or in retail stores. Given that it's organic, tastes impeccable, and has low price point, it's the best value item featured here.
1 ounce (28 grams) • Fat 12g • Carb 11g • Protein 3g
Green & Black's 85%
I'm chomping on a piece of organic Green & Black's 85% chocolate as I write this and it's pretty amazing. The flavor is intensely strong and bright with no acidic or bitter notes. Its mouthfeel is super velvety and it has no chalky or grainy aspects to its texture, it simply melts in your mouth.
1 ounce (28 grams) • Fat 15g • Carb 10g • Protein 3g
Alter Eco 90%
Alter Eco 90% is an organic chocolate that has a rich, dark chocolatey flavor with a nice smooth finish. The texture is just a tad more grainy than the chocolates mentioned above, but it still melts in your mouth very nicely. It's a strong chocolate with interesting notes of bitterness that blend into a good finish. Buy on Amazon or Thrive Market.
1 ounce (28 grams) • Fat 17g • Carb 9g • Protein 2g
Conventional Dark Chocolate
Below are my favorite brands of conventional dark chocolate. In general, these are more affordable than organic but, as I mentioned above I don't love consuming chocolate that's not organic. Conventional cacao beans are a highly sprayed crop that can be dense in toxic pesticide residue.
Chocolove Extreme 88%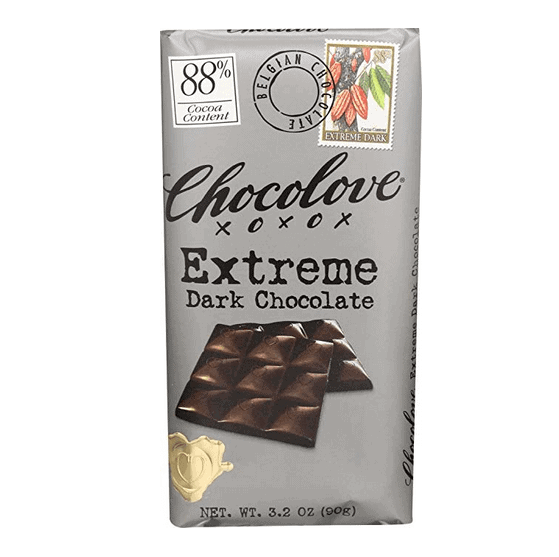 Chocolove Extreme 88% is my top ranked conventional, non-organic chocolate. This bar has a fantastic flavor. It's smooth, rich, and creamy and has an extraordinarily silky mouthfeel as it melts on your tongue. I love that it's a local brand made in Boulder, Colorado. I can strongly recommend this amazing bar for snacking in terms of flavor, texture, and overall experience.
1 ounce (28 grams) • Fat 15g • Carb 10g • Protein 3g
Lindt 90%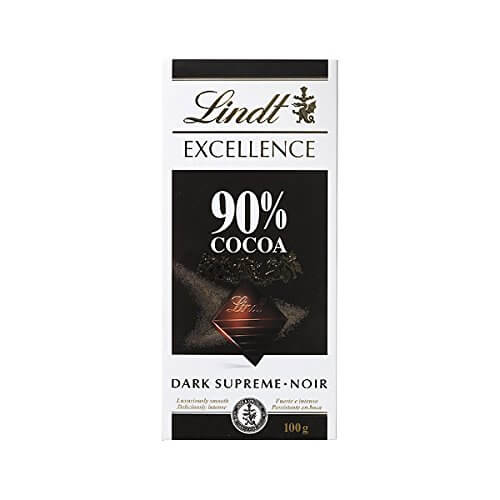 Lindt makes a fabulous conventional dark chocolate bar. It's a high quality very dark chocolate that melts in your mouth. With hints of vanilla, it tastes fairly sweet to me, but my husband and the boys won't touch it. That's ok, when it's all I can get my hands on, i.e., nothing organic is around, this simply means more for me!
1 ounce (28 grams) • Fat 16g • Carb 9g • Protein 3g
Endangered Species 88%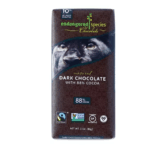 Endangered Species 88% chocolate is smooth and creamy with a strong cacao flavor that comes right through. I don't know why but it makes me crave a big tall glass of chocolate milk. I really like this chocolate for snacking. It has wonderful notes of vanilla and is a good bar of conventional chocolate.
1 ounce (28 grams) • Fat 13g • Carb 11g • Protein 3g
Divine 85%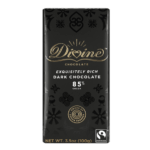 Divine 85% is a very good chocolate. While its texture is slightly waxy, the flavor is strong and pure. It's a lovely chocolate for snacking and has a slightly different taste than the Endangered Species brand chocolate above. The texture is not quite as smooth, but really these products are so close in quality that it may come down to individual preference and price points when making your decision. Buy on Amazon or Thrive Market.
1 ounce (28 grams) • Fat 14g • Carb 11g • Protein 3g
Baking Chocolate
Baking chocolate is a very low-carb chocolate for purists. It has absolutely no sweetener added, so fewer carbs than any of the chocolate bars above.
Dagoba 100%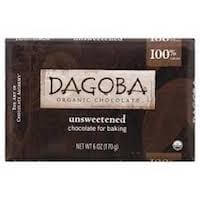 This Dagoba chocolate is 100% cacao as well as organic and has no added sweetener, making it the perfect keto chocolate. I use it for baking. While perfect in my Paleo Brownies recipe, it's so dark that I don't find eating it straight up is all that palatable. However, many of my hardcore healthy readers on the Keto Diet love snacking on 100% chocolate as a treat.
1 ounce (28 grams) • Fat 15g • Carb 7g • Protein 4g
What's Your Favorite Low-Carb Chocolate?
There you have it, the best low-carb chocolate bars! Do you like dark chocolate? Or are you more of a milk chocolate fan? Leave a comment and let me know what your favorite type of chocolate is! And what's your favorite way to snack on your chocolate? Dark Chocolate Sorbet anyone?!
---
Buy My Books!
---