This scrumptious Chocolate Decadence Cookies recipe is my gift to you, dear readers! I've been making these healthy cookies for my family for a couple of years now and they adore them. A base of rich dark chocolate, studded with pecans and MORE dark chocolate, they remind me of my Chocolate Pecan Pie in a cookie.
Every time I make this easy cookie recipe I think of my mother-in-law. Why? First, like me she has celiac disease. Second, she loves dark chocolate. Third, she likes cookies with tons of nuts in them, and these have a lot!
The batter for this recipe is very runny, but don't alter the recipe, follow it, and the cookies will bake up into chocolate perfection.
Chocolate Decadence Cookies
Instructions
In a medium pot, melt 6 ounces chocolate chips and shortening over very low heat
Remove pan from heat
Using a hand blender, mix in eggs, maple syrup, and vanilla
Whisk in almond flour, salt, and baking soda
Stir in 6 ounces chocolate chips and pecans
Scoop batter 1 tablespoon at a time onto a parchment paper lined baking sheet
Flatten dough with the palm of wet hands
Bake at 350°F for 10-12 minutes
Cool for 1 hour
Serve
Store in an airtight container in the refrigerator
Chocolate Decadence Cookies are fantastic all year round, and make especially fabulous Christmas cookies! Since these healthy cookies are made primarily of luscious dark chocolate they're also fantastic Valentine's cookies. If you are in need of a healthy Christmas cookie recipe, try my Paleo Sugar Cookies with White Chocolate Buttercream Frosting. And if you need a very basic cookie recipe, try my Paleo Chocolate Chip Cookies recipe.
Finally, let's not forget my Paleo Shortbread Cookies recipe which is an all time reader favorite!
My Chocolate Decadence Cookie recipe is based on one by Alice Medrich. That one had loads of gluten and white sugar in it. While it was fabulous inspiration in terms of an idea, there was much work to be done in renovating it, or "Elana-fy-ing" it, as many of my readers say! And it looked rather different when I was done with it. Still, I think it's nice to give credit to an author even when a recipe is merely referenced, don't you?!
Cookies are my favorite thing to make because they're so darn easy. And, because my cookie recipes are especially simple, I can usually get the batter made in less time than it takes the oven to heat up. Then, while the cookies are baking, I clean up the mess I've made in my kitchen. I love writing quick and easy recipes, and it comes easily to me now, since I've been doing it since my celiac disease diagnosis in 1998.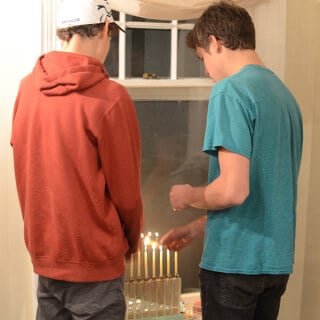 Lately, though I've been veering my focus toward healthy meals. If you are too, you'll want to take a look at my easy Paleo Meals recipe page. And since the boys are getting bigger than big (look at this year's Hannukah photo!), I'm focusing on making as many healthy snack recipes as I can! Though to be honest their favorite category of food may be my cake recipes, with my Paleo Birthday Cake  and Cinnamon Coffee Cake topping that list!
I'm delighted that the boys bring so many of their friends home and that all of the guys are so great about taste testing for me. What an incredible tribe they have built, and I feel beyond lucky to be a part of it. So much to be grateful for this year!