One summer evening as I baked countless batches of gluten free cookies, my older son popped into the kitchen. Determined to join me in my culinary adventures, he decided to make gluten free strawberry shortcake from scratch (as in using no cookbook or recipe). The twist? He's a chocolate lover, so he made Chocolate Strawberry Shortcake.
As you may know, Jewish mothers tend to think of their sons as geniuses, and I am no exception. I love that my 12 year old boy could whip up a recipe from scratch with no help whatsoever. I think that the boys have learned this skill (my 11 year old specializes in omelets and pancakes), from hanging out with me while I cook.
My favorite thing about cooking is making mistakes. As a perfectionist, I find this very freeing. Strangely, my son created this cute little recipe on his first try. I have taught the boys to measure and write down all of the ingredients they use when cooking. This way, if they like something and it turns out well, they can make it again. Or I can make it and share it with you all.
So, I present you with my 12 year old son's gluten free Chocolate Strawberry Shortcake. He did not want me to disclose his name, though said it was ok to use his first initial –"J."
Chocolate Strawberry Shortcake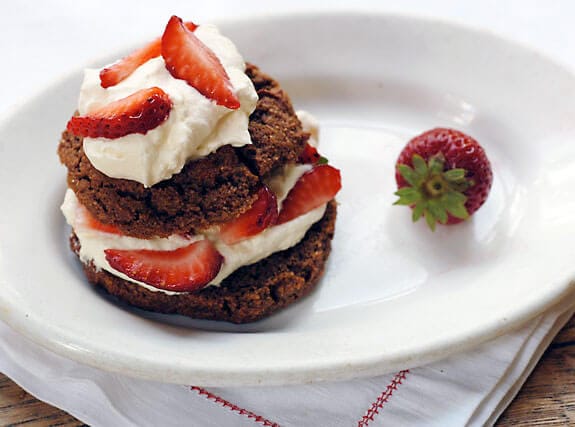 Print
Email
Pin Recipe
Gluten Free Chocolate Biscuits
In a

large bowl

, combine almond flour, coconut flour, cocoa, salt and baking soda

In a

small bowl

, combine eggs and agave

Stir wet ingredients into dry

Batter will be wet, so using a

2 tablespoon scoop

, scoop batter onto a

parchment paper

lined

baking sheet

Bake at 350°F for 12-15 minutes

Cool biscuits completely and set aside

In a

large bowl

, whip cream, agave and vanilla

Slice biscuits in half horizontally

Place bottom halves on a platter; top each one with a dollop of whipped cream and strawberries

Top with remaining biscuit halves, and more whipped cream and strawberries

Serve to your hungry gang
Prep Time 15 mins
Cook Time 12 mins
Total Time 27 mins
To make these Strawberry Shortcakes dairy free, substitute the entire filling/topping recipe with my Coconut Whipped Cream recipe.
So this simple strawberry recipe is easy enough to make with your children. And if you have little ones that follow a gluten-free diet, well, this is even better.
Cooking with children can be a blast; here are some other quick and easy child friendly recipes you can make with your little ones:
–Chocolate Chip Cookies (with video!)
–Liberté, Egalité, Crudité
–Kale with Cranberries