I have the perfect dairy-free topping for you! It's my Coconut Whipped Cream, and it's delicious. If you've given up dairy and are still hankering for something creamy to smother your desserts in this recipe is your answer! It's not quite as airy as regular whipped cream, but it is close and has a wonderful, rich flavor. It's my dairy-free topping of choice and will pair nicely with dairy-free desserts such as Paleo Pumpkin Pie and Paleo Chocolate Pecan Pie. Just like regular whipped cream, it pipes quite nicely, and doesn't have the funky flavor of other milk and dairy substitutes. I also like to use it as a dairy-free frosting on my Paleo Chocolate Cupcakes.
Please note that this dairy-free whipped cream recipe calls for full-fat canned coconut milk. The fat is what makes the recipe creamy and luscious; light coconut milk won't work and results in a watery mess.
There is a fairly big discrepancy between different brands of coconut milk. I have found that the Native Forest
brand is the most reliable when it comes to a rich and thick cream, which is the most important component of this recipe. I have tried using other brands of organic coconut milk and have had not had success in getting the cream to separate from the coconut water. When the cream doesn't rise to the top of the can, it's not possible to make this recipe, so be mindful of the brand you choose.
I don't think this recipe will turn out with homemade coconut milk, but if you try that and it works, please leave a comment and let us know!
Coconut Whipped Cream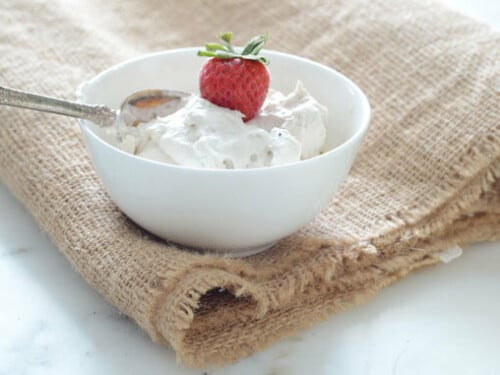 Print
Email
Pin Recipe
Instructions
Place the can of coconut milk in the refrigerator at least 24 hours before making the whipped cream, so it is well chilled

Chill a metal bowl in the freezer for 15 minutes

Take the coconut milk out of the refrigerator and remove the lid

Gently scoop out the coconut fat, placing it in the chilled bowl

Pour the remaining liquid into a glass jar and store in the refrigerator, saving it for another use

Using a

hand blender

, whip the coconut milk fat until light and fluffy, about 1 minute

Whip in the honey, vanilla extract, stevia, and salt

Use right away or store in a glass jar in the refrigerator for up to 24 hours
Fridge Time & Freeze Time
1

day
15

minutes
Total Time
1

day
21

minutes
Equipment
I frequently use this Coconut Whipped Cream in place of Homemade Whipped Cream on my dairy-free desserts. The boys however, enjoy the real thing and I will be providing a recipe for that in the near future. I do have a recipe for Whipped Cream Frosting that uses dairy that my boys make quite often to top my Paleo Vanilla Cupcakes. My younger son likes to top that combo with strawberries and make a shortcake type cupcake which is pretty amazing. Of course, if you're following a dairy-free diet, try topping any of my Paleo Cupcakes with this dairy-free whipped cream and some strawberries.
My Paleo Crepes recipe from Paleo Cooking from Elana's Pantry is amazing with this dairy-free topping. Use this Coconut Whipped Cream along with my Cherry Berry Syrup to create a healthy, yet decadent Paleo brunch by combining those three recipes into one crowd pleasing delight!
When you make this super easy recipe what will you serve it with?