Coconut Milk is an amazing dairy-free milk, and perfect for those on a diary-free diet. I love making Coconut Milk from scratch. It's super simple and delicious. All you need to make it is dried shredded coconut and water.
You can add sweetener to this Coconut Milk recipe if you like. I use stevia to keep this recipe low-carb and keto. If you're not restricting carbs, feel free to use maple syrup or honey in place of the stevia. I also use vanilla in this incredible dairy-free milk, which gives it a wonderful flavor.
Homemade Coconut Milk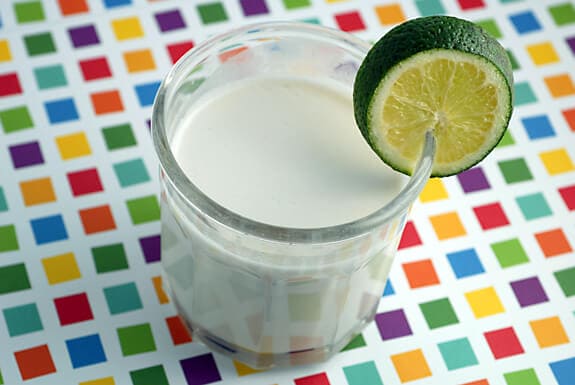 Print
Email
Pin Recipe
Soak coconut in water for 1-2 hours (do not discard water)

In a

vitamix

, combine coconut and water, along with vanilla and stevia

Process on high speed for 60 seconds

Strain liquid through a

nut milk bag

, discarding solids

Serve
Prep Time 5 mins
Soak Time 1 hour
Cook Time 1 min
I first came upon the idea of making homemade coconut milk from shredded coconut when I was flipping through Sarma Melngailis' book
.
Coconut Milk is easier to make than some of my other homemade dairy-free milk recipes. With this Coconut Milk recipe there is no need to change out the soaking water. You simply blend it into the dried coconut. This is different than my Almond Milk recipe. Almonds contain phytic acid. Soaking the almonds releases their phytic acid into the water. I rinse the almonds thoroughly and discard their soaking water to get rid of the phytic acid because it's an enzyme inhibitor that can interfere with digestion. That's why some folks soak all of their nuts and nut products (I do not find it necessary to do so for myself and my family).
With this coconut milk, there is no need to discard the soaking water because, as far as I've been taught, coconut does not contain enzyme inhibitors. This recipe only takes a few minutes to make. It's much easier than cracking open a fresh coconut and scooping out the coconut to make milk. Making fresh coconut milk also helps avoid canned products.
Here are some of my other incredible dairy-free milk recipes: