Smooth, creamy and naturally sweet, this dairy-free Cashew Milk recipe is a fantastic milk substitute. It's also super easy to make. Unlike my almond milk recipe, and other nut milk recipes, it does not require a nut milk bag. To make it, you simply whip it up in the blender. There is no need to strain out the pulp. Because it's so easy to make, this dairy-free milk is one of my all-time favorites!
I keep a quart of this cashew milk on hand in the fridge for the boys. We love using it in my smoothie recipes or pouring it over a bowl of my homemade Paleo Granola.
Cashew Milk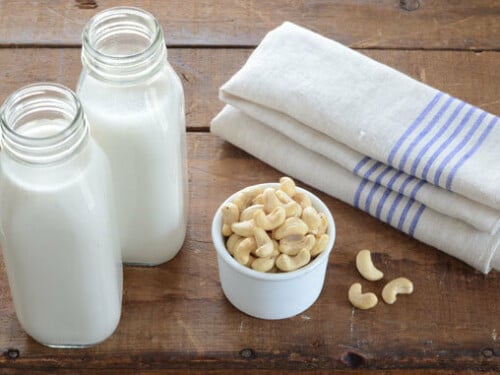 Print
Email
Pin Recipe
Instructions
Discard soaking water and rinse cashews thoroughly until water runs clear

Place cashews, water, and salt in a

vitamix

Process on high speed 30 seconds

Serve
Equipment
This cashew milk has the viscosity of regular whole milk. If you want to make milk with the consistency of 2% cow milk, add another cup of water. To make this into half and half (perfect in my Dandelion Coffee recipe), use only 2 cups water. Cashew milk can be very foamy when first removed from the Vitamix. It will settle nicely after sitting in the fridge overnight.
Dairy-free Cashew Milk is amazing served with any of these healthy paleo drink recipes: