With March approaching, I'm starting to think about the possibility of a spring detox and one of my favorite healing roots –dandelion. Dandelion is a fantastic liver cleanser and spring is the perfect season for liver support.
According to Ayurveda and Chinese medicine, dandelion root has bitter, sweet, and cooling properties, making it optimal for the pitta dosha.
Although I use various parts of the dandelion for healing, here, I'm focusing on the root which is a good blood purifying herb. The root is also a useful remedy for stomachaches, and in herbal medicine is said to be beneficial for hypoglycemia and high blood pressure.
How can you get these benefits? According to The Way of Herbs
, "Roasted dandelion root makes a pleasant beverage that can be consumed daily. It combines well with kukicha tea or chicory root." I pair dandelion root with chicory which gives this Dandelion Root Coffee a deliciously bitter, coffee-like flavor. I also add cinnamon sticks because I love the flavor and healing properties of cinnamon. Here's a delicious way to get healing dandelion root into your diet.
Dandelion Root Coffee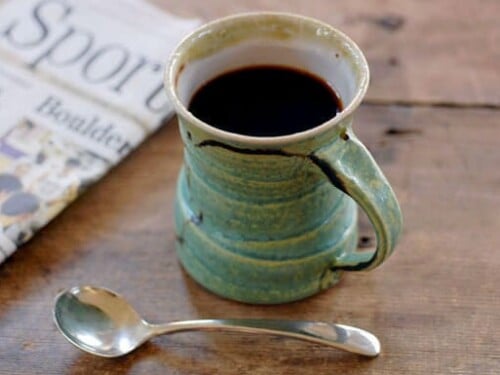 Print
Email
Pin Recipe
Instructions
Place water, dandelion root, chicory root, and cinnamon stick in a

saucepan

Bring to a boil, then simmer for 5 minutes

Add coconut milk or heavy cream if desired

Serve
During my Ayurvedic training in the early 1990's, we were taught that it is important when making tea with roots to boil them for 2-3 minutes to release the healing properties.
And I cannot forget to mention the synchronistic dandelion incident that took place with my friend Kelly from Celiac Chicks. It was 2009, and I was on my book tour in New York City for The Gluten-Free Almond Flour Cookbook. I was feeling a bit tired and craving my dandelion coffee. At one of the signings, which Kelly had so graciously arranged, I grabbed myself a hot water. Next thing you know, Kelly whipped a bag of dandelion tea
out of her purse. She gave it to me and we discussed our love affair with dandelion root.
If you were wondering how to make dandelion coffee I've got you covered. Here are some of my other healing drink recipes for you!