This Cilantro Detox Juice is packed with cilantro, a super food full of healing properties and incredible phytonutrients. Cilantro chelates heavy metals from the body, which is important since I have the MTHFR genetic mutation which can impair detoxification. I began drinking a quart of this green juice every day when I was diagnosed with heavy metal toxicity in 2004. Rather than doing medical chelation, which I thought would be too hard on my body, my doctor suggested that I eat cilantro. Since I wasn't sure how to consume an entire bunch of cilantro each day, I juiced it.
Cilantro also helps build healthy skin and hair, and reduces the risk of heart disease and diabetes. It contains antimicrobial properties, which is likely why it's been widely used in cooking for cultures in warmer climates, prior to the development of refrigeration.
For this healthy juice recipe, I use all of the cilantro, both leaves and stems. I also do this for cooking because it stretches my food dollars, and reduces prep work and food waste. The stems of cilantro taste every bit as good as the leaves!
Cilantro Detox Juice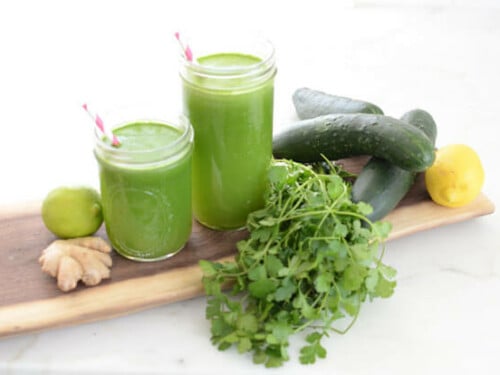 Print
Email
Pin Recipe
Ingredients
1

bunch cilantro

2

fingers ginger

1

lemon

1

lime

3

large cucumbers
Instructions
One at a time, push ginger, lemon, and lime through juicer

Push cucumbers through juicer

Serve
When it comes to juicing some people worry about losing the fiber. If that concerns you, blend your veggies in a high-speed blender such as a vitamix or blendtec. I haven't tried that, so I'm not sure if it will taste as good as my Cilantro Detox Juice.
I get plenty of fiber since I eat many servings of vegetables each day. For me, juicing is like taking a supplement. Juice is not a whole food, but that doesn't mean it isn't extremely healthy. Pushing super foods through the juicer gives me extra micronutrients that my digestive system would not have space for. Because our soil is depleted, even organic food has diminished nutritional value. Juicing is my insurance, it may not be for everyone, but it's perfect for me.
When I make my Cilantro Detox Juice I leave the skin on the produce. I use a Breville juicer and the company advised me not to push unpeeled citrus through it. You may decrease the lifespan of your juicer if you do this. Still, I leave the skins on, as I want all of the bioflavonoids found in the citrus skin.
I love my healing Cilantro Detox Juice! If you are looking to add a bit of variety to your juicing regimen try these juices too!
This post is an oldie but goodie from the archives, I first published this recipe in January 2015.