If you have a dairy allergy finding a good milk substitute can be quite a challenge. To simplify the search and satisfy your taste buds, I've created several nutritious dairy free milk recipes. Effortless homemade preparation, and so darn good they'll knock your socks off!
The Dairy-Free Diet
Being diagnosed with a dairy allergy can be overwhelming –no need to worry. I'm here to help navigate your change in diet, with my Dairy Free Recipes page. I started this blog in 2006 and have hundreds of recipes for dairy-free dinners, desserts, and so much more.
My latest book, Paleo Cooking from Elana's Pantry, is the easiest dairy-free cookbook you'll find. It contains recipes for ice creams, creamy pasta sauces, and even a French toast recipe, all dairy free and healthy. If you're dealing with a nightshade allergy, you'll love that this cookbook is free of nightshades too.
Store Bought Nut Milks
Almond milk, coconut milk, and other nut milks are readily available at the store. My favorite store bought brand, full fat coconut milk, is rich and creamy and absolutely amazing in my caffeine-free Dandelion Coffee recipe.
Homemade Nut Milk Recipes
While store-bought nut milks are convenient and good, I find that homemade nut milk is far creamier, richer, and tastes all around spectacular. My healthy dairy-free substitutes for milk are made of nuts or coconut. These nutritious nut milk recipes are just as satisfying and velvety as real whole milk and so decadent you won't miss cow's milk for a moment!
How to Make Homemade Nut Milk
If you're curious about how to make homemade nut milk, the recipes below are just for you. In general, to prepare a dairy-free milk substitute, soak 1 cup of nuts overnight, discard the soaking water, and rinse the nuts. Next, place the soaked nuts and a couple of cups of filtered water in a high-powered blender, blend thoroughly, and strain the pulp.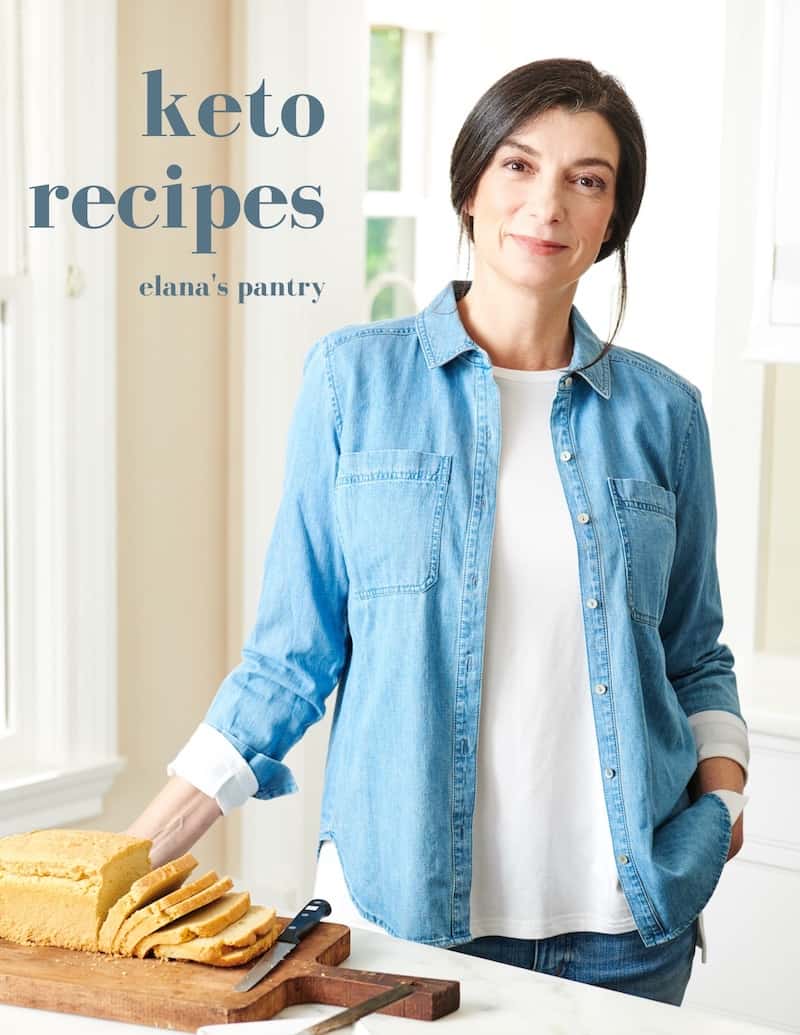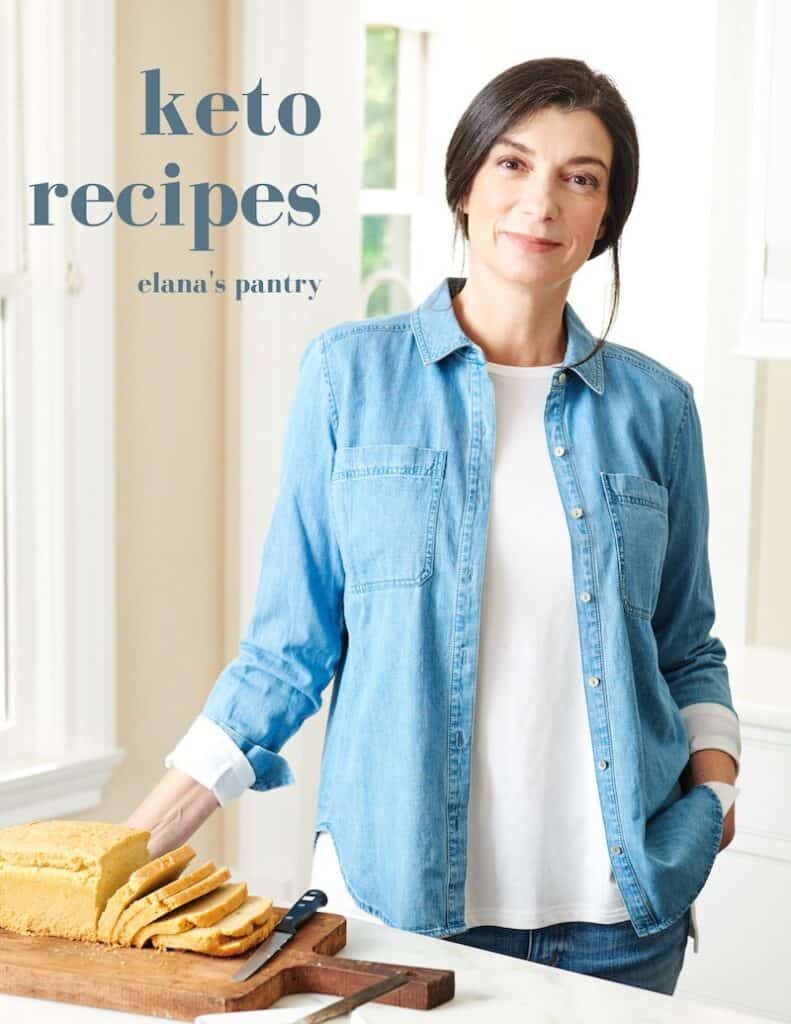 Get My Keto Recipes eBook
Free exclusive eBook, plus recipes and health tips, delivered to your inbox.
Low-Carb Nut Milk Recipes
My low-carb nut milk recipes do not contain any sweeteners. There are several nutrient rich options to enhance the flavor to your liking; add a few drops of stevia, honey, or maple syrup. If you have children or a bit of a sweet tooth, simply blend dates into the milk prior to straining. Another fantastic entirely pure and natural low-carb flavor enhancer for nut milks is vanilla powder. I find that a pinch of celtic sea salt also makes my dairy-free nut milk recipes taste even better.
The Quickest Dairy-Free Milk Recipe
The easiest and least time consuming of my Nut Milk recipes is Cashew Milk. This recipe does not require any straining whatsoever. The cashews blend right in, leaving you with an incredibly smooth, creamy milk in just a couple of minutes!
What to Do with the Leftover Pulp from Almond Milk?
My nut milk pulp recipes avoid unnecessary waste and stretch your food dollars when on a budget! After making one of my robust nut milk recipes, use the pulp in a fabulously simple and delicious Nut Milk Pulp Recipes. If you crave crunchy gluten-free crackers, try my homemade Almond Pulp Crackers or "Wheat" Thins. If dessert is your thing, whip up a batch of my Almond Pulp Macaroons, or Raw Chocolate Bites.
Nut-Free Dairy Free Milk Recipe
Looking for a dairy-free and nut-free milk recipe? Try my homemade Coconut Milk!
Dairy Free Milk Recipes
For convenience, I've listed all my dairy free milk recipes in one place! Find specific ingredients and instructions with one click on any of the recipes below!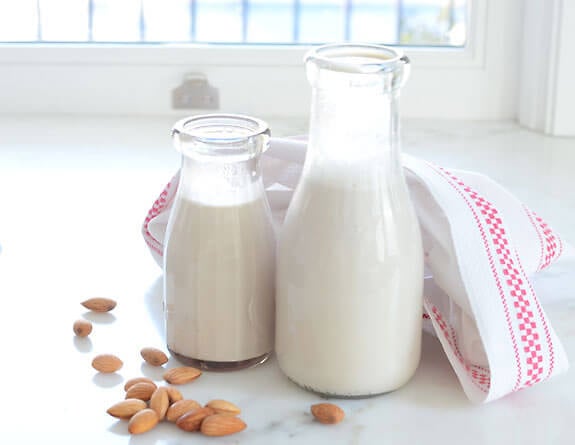 Almond Milk
Not only is homemade Almond Milk good for you, it's a delectable dairy free alternative to cow's milk.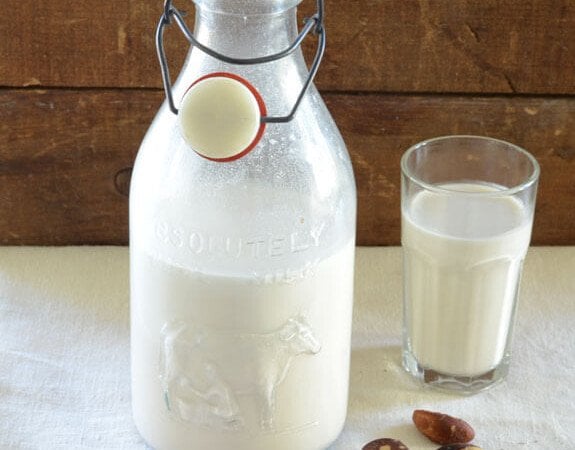 Brazil Nut Milk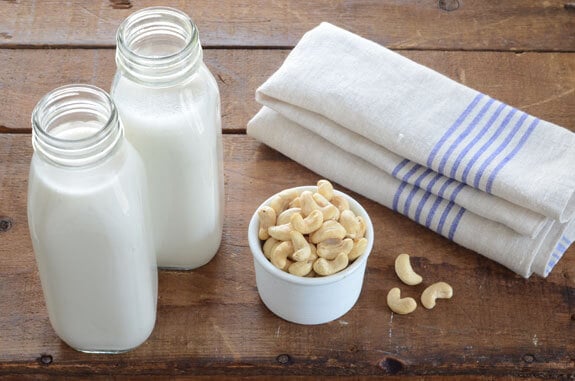 Cashew Milk
If you want to make homemade nut milk but don't have a nut milk bag, Cashew Milk is the answer. Naturally creamy and one step, you'll love my Cashew Milk recipe.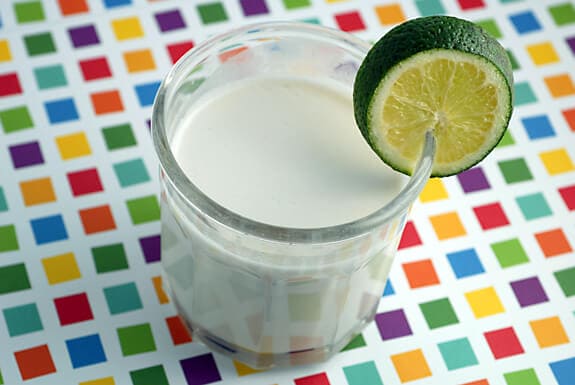 Homemade Coconut Milk
Simple and refreshing, my Homemade Coconut Milk is a staple at our house. All you need to make it is shredded coconut, water, and a dash of sweetener if desired.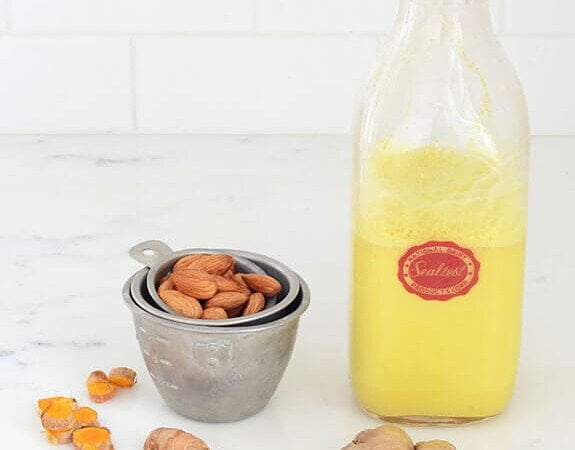 Turmeric Root Milk
I love delicious functional foods and my 3-ingredient Turmeric Root Milk is no exception!
Blend almonds, turmeric, and ginger with water, then strain through a nut milk bag to make this delightfully healthy drink.
This post is an oldie but goodie from the archives. I first published it in 2015.