Brazil Nut Milk is rocking my world. This dairy-free milk tastes just like the real thing according to my older son. I think this nut milk recipe is the bomb. Brazil Nut Milk is a fabulous dairy alternative. It's creamy, smooth, and easy to make, with only 3 ingredients.
I serve Brazil Nut Milk with my paleo, grain-free Mulberry Granola. It's also delicious on top of Paleo Porridge, or in Dandelion Coffee. If you miss cookies and milk, try my Primal Chocolate Chip Cookies and a glass of this incredible dairy-free milk!
Brazil nuts not only taste great, they are super healthy. Loaded with vitamins, antioxidants, and minerals, Brazil nuts are a fantastic source of selenium which protects cells from damage and can lower the risk of certain cancers. Brazil nuts also lower LDL cholesterol, the "bad" cholesterol.
If you've been wondering how to make nut milk, you'll love this delightfully easy brazil nut milk recipe!
Brazil Nut Milk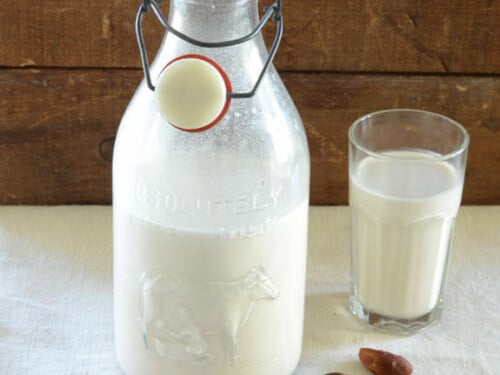 Print
Email
Pin Recipe
Instructions
Soak brazil nuts and vanilla bean in a

large bowl

of water for 8 hours

Discard soaking water, and rinse brazil nuts and vanilla bean

Blend brazil nuts, vanilla bean, and 4 cups of water in a

vitamix

Use a

nut milk bag

to strain pulp from milk, save pulp for another use

Serve
Total Time
8

hours
5

minutes
This milk is similar to a whole milk (as opposed to skim or low-fat). If you'd like to make it a little less creamy, simply increase the water in the recipe from 4 cups to 5. If you're looking to use the leftover pulp from this recipe, try my pulp crackers.
Here are some of my other homemade dairy-free milk recipes: