These Paleo Almond Pulp Crackers are made with 5 healthy ingredients. They're perfect for using up leftover almond pulp. Yes, if you're wondering what to do with the pulp after you follow my homemade Almond Milk recipe, this is the answer.
I'm a bit of a cracker-a-holic. I think the quest for crunchy food intensifies when one goes on a gluten-free diet. I went gluten-free in 1998 when I was diagnosed with celiac disease. Since then I've created many healthy cracker recipes for y'all! The problem? My crackers are too good. As quickly as I make my paleo crackers they disappear. That's because so many cracker thieves dwell in my abode. Therefore, my cracker quest continues day-in-and-day-out.
Crackers made with almond flour (or in this case almond milk pulp) are highly nutritious and slightly addictive. These amazing Paleo Almond Pulp Crackers are also awesome because they're a recycled treat.
If you make these paleo crackers in your dehydrator they'll be "raw." I bake mine in the oven on low because I don't have a dehydrator. Baking on low preserves as many of the live enzymes as possible. If you're oven doesn't go as low as 135°, set it to the lowest temperature possible and reduce your baking time. The crackers are done when they're nice and crisp.
Almond Pulp Crackers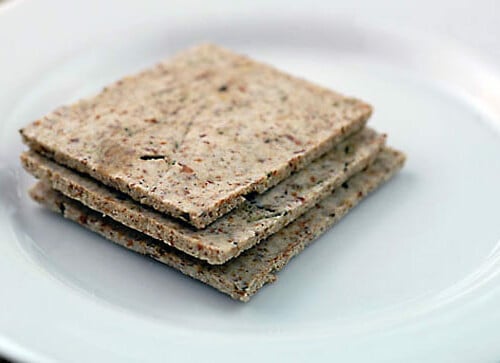 Print
Email
Pin Recipe
Instructions
Press dough between 2 pieces of

parchment paper

, and roll to ¼-inch thickness

Remove top piece of parchment paper

Transfer bottom piece with rolled out dough onto

baking sheet

Bake at 135°F for at least 20 hours, or until crunchy

Cool, and serve
Total Time
20

hours
10

minutes
Here are some of my other healthy recipes that use leftover almond milk pulp: