I started making homemade almond milk in the late 1990's. It's creamy and delicious and so much better than store bought. Almond milk is wonderful because it's a natural, dairy-free alternative to cow's milk. The boys drink my homemade almond milk by the glassful, while I enjoy it in my Dandelion Coffee. It's also great in smoothies. If you've been wondering how to make almond milk you'll love my easy almond milk recipe, as well as all the amazing uses I have for the leftover almond pulp.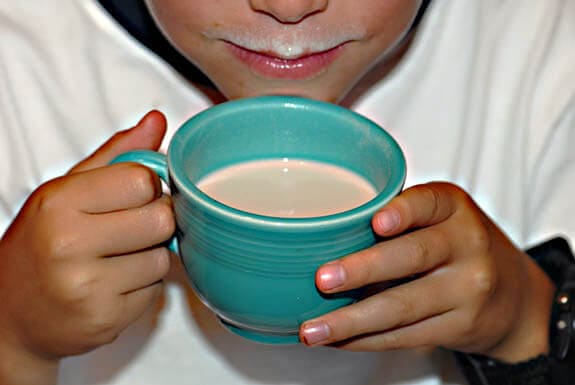 The hands-on time for this almond milk recipe is around 10 minutes. First though, you'll need to soak the almonds overnight to soften them. Soaking the almonds makes the milk super creamy. Soaking also makes the almonds easier to digest because their phytic acid is released into the soaking water. Phytic acid is an anti-nutrient that impairs digestion and steals minerals from the body. That's why we throw away the soaking water and blend the almonds up with fresh water to make the almond milk.
After blending the almonds with fresh water, you'll separate the liquid, i.e., the milk from the pulp. That will be a cinch if you use a nut milk bag. I've linked to it in the recipe for you. In the old days I used cheese cloth and that was a bit messy because the almond pulp squirted out of it. You won't have that problem if you use a nut milk bag. If you have children don't say the words "nut milk bag" in front of them, or they'll laugh at you!
Almond Milk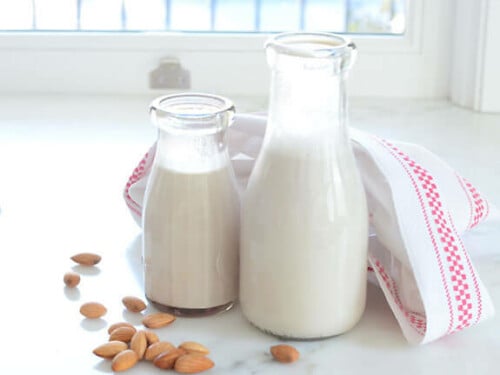 Print
Email
Pin Recipe
Instructions
Soak almonds and vanilla bean overnight in several cups water

Discard soaking water and rinse almonds in a deep bowl of water, repeat until water is clear

Place soaked almonds, vanilla bean, and 4 cups water in

vitamix

Blend on high speed for 90 seconds

Serve
Total Time
8

hours
5

minutes
This almond milk recipe has an incredibly sweet flavor when you use vanilla bean. You can make this recipe with vanilla extract instead. If you do that, add the vanilla extract to the strained milk after you soak, blend, and separate it from the pulp. You can also add honey or maple syrup to it if you want a sweeter milk. Store your homemade almond milk in a glass mason jar in the refrigerator for up to 3 days.
Don't worry about wasting the leftover pulp from your homemade almond milk. I've created healthy recipes for you that use leftover almond pulp, so that you don't have to throw it away. These almond pulp recipes do not require you to dehydrate the almond pulp prior to using it, and each of them are made with only 5 ingredients. Yes, they're that simple!