These Paleo Chocolate Chip Cookies are the latest addition to my healthy cookie recipe collection. Yes, it's true, I have a bazillion gluten-free, grain-free chocolate chip cookie recipes. There are three primary reasons for this.
First, I've been writing grain-free recipes since my son was diagnosed with celiac disease in 2001, which, lucky for those of you on the Paleo diet means that all of those chocolate chip cookie recipes are not only gluten-free, they're grain-free too. Second, even though I too went on the grain-free diet in 2001, my eating plan has continued to evolve. I started out using grapeseed oil, then switched to palm oil, and now I'm a big believer in grass fed butter (which Sally Fallon discusses in the video below). Finally, I've never met a recipe I couldn't improve upon, even my own.
https://www.youtube.com/watch?v=IfsM_6zA95g
I have collected all of these Paleo cookie recipes that use a variety of grain-free ingredients on my Chocolate Chip Cookie Recipes page. If you are faced with a bunch of different dietary restrictions, be sure to check out my collection of grain-free chocolate chip cookie recipes! As I mentioned, all of them are gluten-free, grain-free, and for the most part Paleo –though Paleo is such a loaded word since so many people define it so differently.
I know folks that consider rice a Paleo food, and although it's certainly gluten-free, that's an item I haven't eaten since I started the grain-free diet in 2001. Most people on the Paleo diet eat potatoes, another food that makes me incredibly ill, and that I strictly avoid. All in all, many people now view the Paleo diet with some flexibility and as a customizable personal eating plan –I know I do.
To put it simply, I eat food that makes me feel good, it just so happens that all of that food is grain-free. We're all bio-chemical individuals and need to listen to our own bodies. That's why I have a variety of healthy chocolate chip cookie recipes, something for everyone. For more Paleo dessert recipes, check out my Paleo Desserts page, of course all of the recipes over there are gluten-free desserts as well!
This version of my homemade chocolate chip cookies is my husband's favorite. Whenever I make cookies now, as he grabs one, he'll ask, "are these the ones with butter?" Well, by golly, yes, they are! So if you're wondering how to make Paleo chocolate chip cookies, give these a go. Your guests will never know they're anything but melt in your mouth delicious.
Best Chocolate Chip Cookies with Almond Flour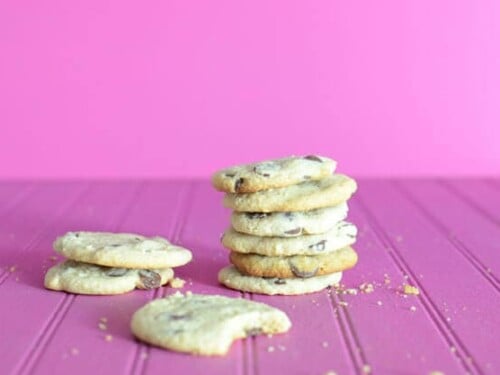 Print
Email
Pin Recipe
Instructions
Pulse in butter, vanilla, and maple syrup until dough forms

Remove blade from processor and stir in chocolate chips by hand

Press balls of dough down gently

Bake at 350°F for 7-10 minutes

Cool for 15 minutes (do not handle prior or cookies will break)

Serve
We had a fantastic party earlier this week in order to celebrate the end of my son's baseball season. The team came in second in the state of Colorado, and are an incredibly determined, passionate, lovely group of guys. Strange, now that my son is almost 17, I can no longer say "group of boys." These young men have tremendous character and I was thrilled to host them all, along with their families in our beautiful new home. The night of the party I chronicled some of the festivities over on Instagram.
I was happy to find that these Paleo Chocolate Chip Cookies were the hit of the party, and not just a hit with my husband. I served them with organic vanilla ice cream, and they were enjoyed by the adults and players alike.
I also served my sugar-free Strawberry Lemonade, which was a surprise hit. I didn't think people on regular diets would appreciate it as much as I do, but it was guzzled by one and all. Other than the amazing people we had over, my favorite part of this summer party was the "beverage stand" that I created. I used one of my old antique tables and set it up with all kinds of fun rustic items. Here's a photo of the drink station, in case you'd like to take a peek at it. If I get enough requests, I'll do a full post on how to set up an ecologically sound drink station at a summer gathering or barbecue.
In the meantime, I hope you all enjoy these homemade chocolate chip cookies as much as we do! Just the smell of them baking will fill your house with cheer.