This refreshing sugar-free Strawberry Lemonade is a favorite around my house on a hot summer day. I've been making homemade lemonade for the boys since they were wee little ones. In order to cut back on the amount of unnecessary sugar (including natural sweeteners) that my family consumes, I've been sweetening my homemade lemonade with stevia for as long as I can remember.
The boys like this drink so much that they asked me to teach them how to make strawberry lemonade so they could do it on their own. It's simple. All you really need to do is make lemonade and add sliced strawberries. That's it! I hope you enjoy this homemade lemonade recipe as much as we do!
Strawberry Lemonade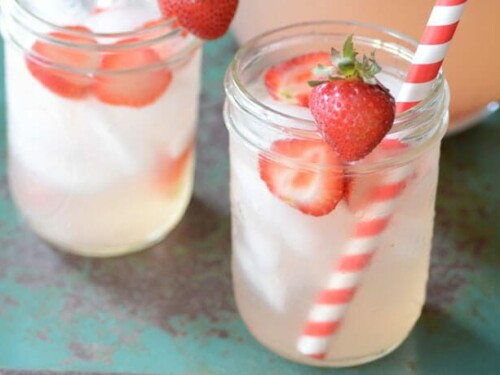 Print
Email
Pin Recipe
Instructions
Stir in strawberries, and let sit for 15 minutes

Serve
Now you know how to make lemonade! This lemonade recipe is incredibly versatile. You can substitute the fruit and turn sugar-free strawberry lemonade into raspberry lemonade, or cherry lemonade. I don't drink alcohol, but I think that an adult lemonade might be delicious if you spiked it with a bit of organic vodka. I just might serve homemade vodka lemonade at our next party.
See my How to Juice a Lemon post to speed up your lemon juicing process! What kind, or flavor of lemonade will you make? What will you use to sweeten it?