Here's a yummy way to eat your leftover turkey. Take a couple slices of gluten free Nutty Bread, lettuce, mustard and voilà, you have a delicious post-Thanksgiving meal in a sandwich. Personally, I would throw some leftover Cranberry Sauce on the side to add a little hit of color and flavor.
By the way, the turkey in the photo above is not turkey from Thanksgiving, it is a leftover photo using organic Applegate Farms turkey.
Leftover Turkey Sandwich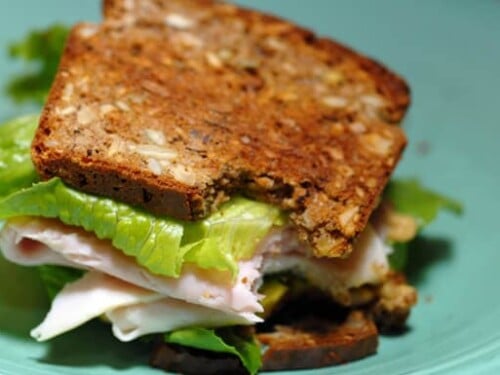 Print
Email
Pin Recipe
Instructions
Toast bread, then smear with mustard

Place lettuce on bread, then turkey slices

Close sandwich and eat
If you're tiring of turkey sandwiches another great leftover idea is my Turkey Chili which was recommended in a great little write up over at Slashfood.
In other news, I got some Thanksgiving buzz from The Denver Post. They published an article entitled "50 last-minute ideas guaranteed to shake up Thanksgiving". It features my gluten free Pear Crisp from The Gluten-Free Almond Flour Cookbook, along with the recipe itself. So head on over to the Denver Post online for my Pear Crisp recipe for free!
Hope everyone had a lovely Thanksgiving; happy tweeting!