This Low-Carb Almond Flour Pie Crust recipe is made with four ingredients total! All you need to make this easy gluten-free pie crust is almond flour, coconut oil, an egg, and salt.
This incredible crust can cradle fruit or creamy pie fillings. Below I'll give you my favorite fillings for this crust, so read on!
Low-Carb Keto Recipes
If you're into this Low-Carb Almond Flour Pie Crust recipe you'll want to check out my Keto Diet Recipes page. It's absolutely indispensable!
Easy Almond Flour Pie Crust Recipe
Whether you're following a keto diet or the gluten-free diet, almond flour is a wonderful flour for re-creating your favorite baked goods.
Why? Almond flour is gluten-free, grain-free, and the best low-carb flour. While I don't eat almond flour on a daily basis, it's perfect for special occasion treats.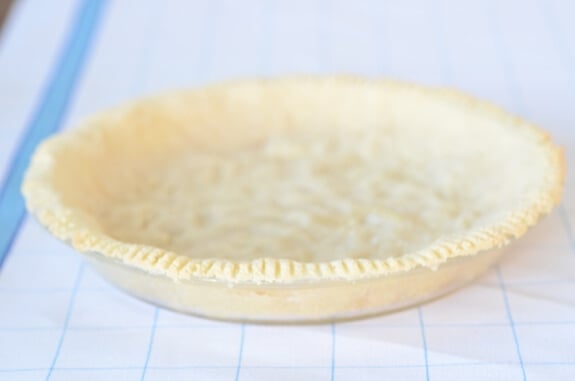 How to Make a Low-Carb Pie Crust with Stevia
This homemade low-carb pie crust is a breeze to make. I've recently begun adding 1/8 teaspoon of vanilla stevia to this recipe which gives the crust a lovely sweet flavor.
Pie Crust with Butter or Dairy-Free Pie Crust?
If you're looking for a pie crust with butter I've got you covered. But if a dairy-free pie crust is your thing use coconut oil here rather than butter. I've tested this Low-Carb Almond Flour Pie Crust recipe with each ingredient and it's fantastic either way.
Low-Carb Almond Flour Pie Crust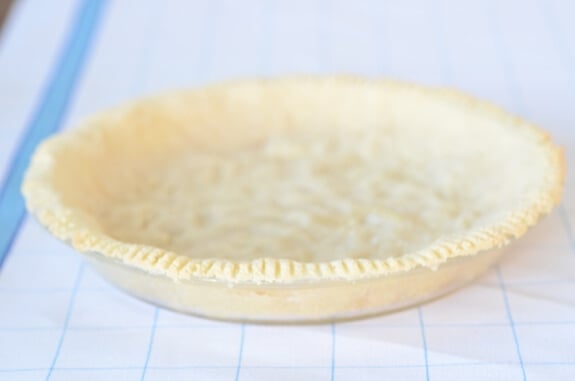 Print
Email
Pin Recipe
Place flour and salt in

food processor

and pulse briefly

Add coconut oil and egg and pulse until mixture forms a ball

Bake at 350°F for 8-12 minutes
Prep Time 15 mins
Cook Time 8 mins
Total Time 23 mins
Easy Almond Flour Tart Crust Recipe
This recipe is based on my Gluten-Free Tart Crust recipe. So many of you asked me to recreate it in a version that would work in a 9-inch pie dish that I just had to do it!

Nut-Free Egg-Free Pie Crust
I have so many readers and friends with such a multitude of food allergies that I had to create an alternative to this Low-Carb Almond Flour Pie Crust recipe. That's where my Nut-Free Egg-Free Pie Crust comes in.
It's a nut-free pie crust and an egg-free pie crust, and a dairy-free pie crust all combined into one! My husband and boys say it tastes like cookies!
So now you have two fabulous gluten-free pie crust recipes to choose from.
Should I Pre-Bake My Pie Crust?
So, let's get down to pie crust baking basics! First off, be sure to read the recipe's instructions, because every recipe is different when it comes to pie crusts. Still, I have some general guidelines for you when it comes to the question of, "should I pre-bake my pie crust or not?"
If you're using this Low-Carb Almond Flour Pie Crust for a pie with a filling that needs to be cooked, like my Paleo Pumpkin Pie recipe below, you would not pre-bake the crust, but pour the filling into the raw crust and bake pie and crust together.
Alternatively, if using this crust for my Low-Carb Banana Cream Pie which is a raw pudding that thickens in the fridge, you will need to pre-bake the crust then pour in the filling after it cools.
Why Prebake Crust?
I'm often asked, why prebake your crust? The answer is easy. Sometimes a recipe calls for blind baking. This term is synonymous with pre-baking which is when you bake your crust for a short period of time (typically around 10 minutes) before you put the filling in it. Again, follow the recipe.
Can Pie Crust Be Made Ahead of Time?
Yes, that is the beauty of this recipe, not only is it a super quick pie crust, it can be made ahead of time. I have made the dough a few days ahead and put it in a sealed bag in the fridge or freezer and then thaw it and press it into the pie pan just like fresh dough.
Can Pie Crust Be Frozen?
If you're wondering can pie crust be frozen, the answer is yes. Just thaw out the crust before you fill it and bake your pie.
Alternatively, my friend Deb has a recipe for a special blueberry pie in which she makes the pie crust, then puts the filling in, then instead of placing in the oven, she freezes it so it's ready to bake when her daughter comes home for a visit. If you are interested, leave a comment and I'll get the recipe for you!
Is Pie Crust Gluten-Free?
Not all pie crusts are gluten-free, however, like all of the recipes on my site, my Low-Carb Almond Flour Pie Crust recipe is gluten-free.
The Best Low-Carb Pie Recipes
We love pie in our household, so below I've compiled a list of my favorite pies using my two favorite pie crusts, this recipe, and my Nut-Free Egg-Free Pie Crust.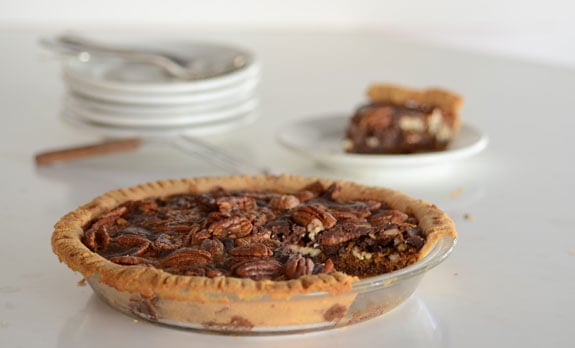 Chocolate Pecan Pie
My low-carb Chocolate Pecan Pie is a family favorite that I make every Thanksgiving. It's so special though, that we have it all year round. This low-carb dessert is wonderful at Christmas and Easter, and I often make it for Passover since it's kosher for Pesach dessert.
The crazy thing about this pie is that the filling has only five ingredients total, making it a breeze to throw together.
I've made Chocolate Pecan Pie in this Low-Carb Almond Flour Pie Crust recipe and in my Nut-Free Egg-Free Pie Crust and the family likes it both ways.
If you're looking for a keto pie recipe, you'll want to take a look at my Keto Pumpkin Pie below.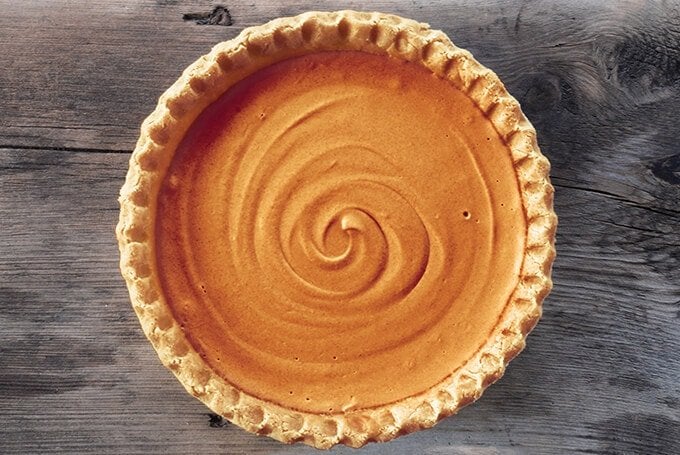 Vegan Keto Pumpkin Pie
Keto Pumpkin Pie is another family favorite. This recipe contains freshly roasted pumpkin, a ton of healthy fat in the form of coconut, and a mere tablespoon of maple syrup, but I've made it with and without that sweetener and it's still just as heavenly.
Other features? This is an egg-free pumpkin pie, which you'd never know tasting it, and it's also a no-bake pumpkin pie to boot, in case you're looking to save oven space on Thanksgiving or other holidays.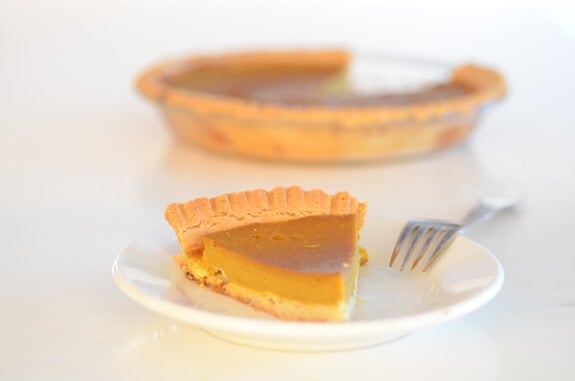 Classic Paleo Pumpkin Pie
My Classic Paleo Pumpkin Pie is a low-carb pie made in the traditional fashion.
For this recipe, I use a custard base made of freshly roasted pumpkin (or canned pumpkin) and eggs. Rather than the usual heavy cream, I use coconut milk so that it is a dairy-free pumpkin pie. I bake it up in my Low-Carb Almond Flour Pie Crust and the family goes bananas for it, speaking of which…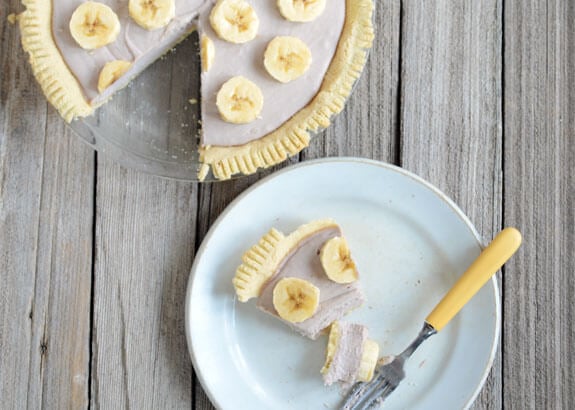 Low-Carb Banana Cream Pie
Didn't think you'd ever find a Low-Carb Banana Cream Pie recipe? You're in luck.
Forget about ingredients like sugar, cornstarch, and condensed milk. This healthy banana cream pie filling is made with a high-fat base of coconut milk and coconut oil with bananas blended in, making it a dairy-free banana cream pie, recipe, plus it's also egg-free.
This no-bake vegan banana cream pie is super easy to make. Bake up my Low-Carb Almond Flour Pie Crust, let it cool, and throw in this awesome filling.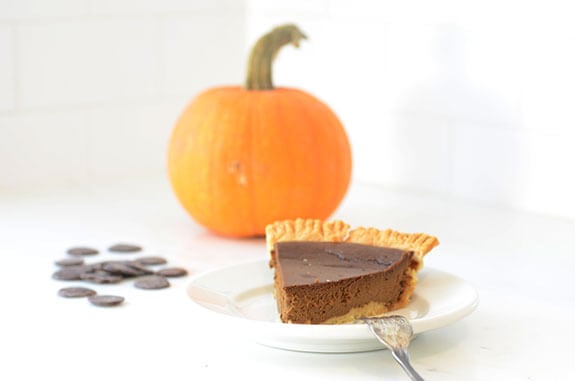 Chocolate Pumpkin Pie
The great thing about this Chocolate Pumpkin Pie, aside from its fabulous flavor and rich texture, is that you can use canned pumpkin for it, making it a breeze to throw together.
Place this fuggy filling in my Low-Carb Almond Flour Pie Crust recipe, or my Nut-Free Egg-Free Pie Crust and bake up some chocolate-pumpkin goodness.
The Best Low-Carb Pie Recipes
Oh pie, how I love thee! What's your favorite pie recipe? Leave a comment and let me know!
This post is an oldie but goodie from the archives, I first shared this Low-Carb Almond Flour Pie Crust recipe in May 2013, back then we called it Paleo Pie Crust.
---
Buy My Books!
---