If you made my Low-Carb Almond Flour Pie Crust but didn't fill it with anything yet, fear not. This dairy-free Banana Cream Pie filling is the perfect companion. Paleo Banana Cream Pie is lower in carbohydrates than the regular kind, and with only 5 ingredients, far easier to make. All you need to whip up this paleo dessert is coconut milk, coconut oil, bananas, dates, and stevia. This amazing pie filling is primarily fruit sweetened.
Paleo Banana Cream Pie is also incredible because it's a quick and easy recipe. Bake your pie crust ahead of time, then simply throw your ingredients in the blender, chill the pie, and you've got a delicious paleo dessert. My boys and their friends love it and I often serve this pie with dairy-free Coconut Whipped Cream for them.
Banana Cream Pie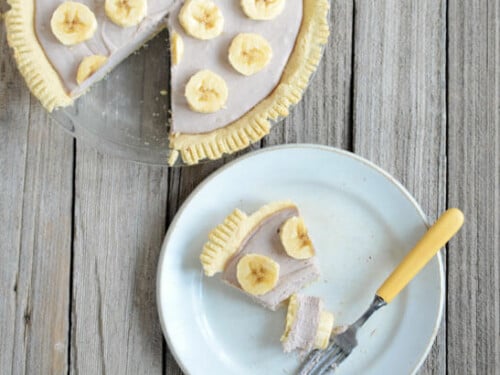 Print
Email
Pin Recipe
Instructions
In a

vitamix

, combine coconut milk and coconut oil

Blend in bananas, dates, and stevia

Pour mixture into cooled pie crust

Chill for 4 hours

Garnish with bananas

Serve
Equipment
This Paleo Banana Cream Pie recipe will not work with lite coconut milk. It requires full-fat coconut milk from the can. If your pie filling is runny or soupy, re-check the label of the coconut milk you used to make sure it was the type required for this recipe.
Another tip? Do not swap out the dates in this recipe for a different sweetener. The dates not only sweeten the pie filling, they thicken it! Be sure to include the entire amount of coconut oil as when that is chilled it also thickens this pie filling. Finally, allow the pie to chill in the refrigerator for 4 hours to set properly, and refrigerate your leftovers. If you follow these directions you will have a heavenly Paleo Banana Cream Pie!
Here are some of my other easy paleo pie recipes: