This Paleo Chocolate Pie is a family favorite. The boys like to top it with homemade Whipped Cream. It is absolutely fantastic served that way! If you want to keep the recipe dairy-free, top it with my Coconut Whipped Cream. I hope you enjoy this Paleo Chocolate Pie as much as we do!
Paleo Chocolate Pie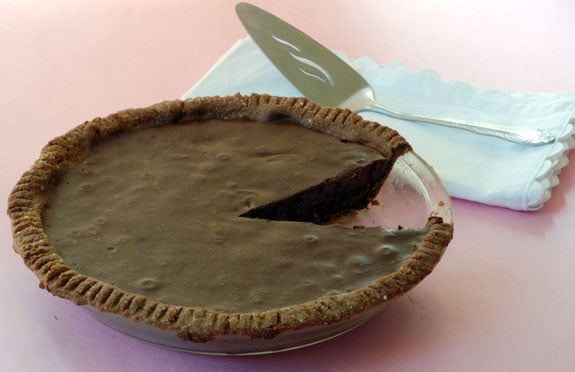 Print
Email
Pin Recipe
In a

saucepan

, melt chocolate over very low heat; remove from heat

In a

medium bowl

, beat egg yolks with honey for 1 minute with a

hand blender

In a

large bowl

, beat egg whites with a hand blender until stiff peaks form

Stir egg yolk mixture into pot of warm chocolate

Mix chocolate and yolks until combined; mixture will be slightly thickened, shiny and beautiful

Stir salt into chocolate mixture

Fold egg whites into chocolate mixture

Transfer into cooked and cooled Pie Crust (page 79

The Gluten-Free Almond Flour Cookbook

)

Refrigerate for 3 hours

Serve
Prep Time 15 mins
Fridge Time 3 hours
Cook Time 11 mins
Total Time 3 hrs 26 mins
This quick and easy Paleo Chocolate Pie recipe is made with 4 ingredients. The recipe is based on one from Silvana Nardone's book, Cooking for Isaiah. I met Silvana at Blogher Food in 2010. During the conference, we learned that in terms of our children, we have much in common. Silvana is the former editor-in-chief at Rachael Ray Everyday. She began cooking gluten-free after her son, Isiah, now 13 and very into basketball, was diagnosed as gluten intolerant. I too began my adventures into gluten-free cooking when my son Jacob (now 12 ½, and very into baseball) was diagnosed with celiac disease.
My son has been on a strict gluten-free diet since he was diagnosed with celiac disease in 2001. He's a huge fan of this gluten-free Paleo Chocolate Pie recipe, and so are his friends. And they have no food restrictions whatsoever!