I went on a grain-free diet in 2001, giving up corn, rice, potatoes, and more. In 2009, I wrote The Gluten-Free Almond Flour Cookbook and am often referred to as the "Queen of Almond Flour." Still, I know that nuts aren't everyone's cup of tea. That's why I've created this Nut-Free Egg-Free Pie Crust for you!
Nut-Free Pie Crust
I don't have any dietary need that would lead me to create a nut-free pie crust for myself. But over the years I've seen how many of you have nut allergies. And so, this nut-free pie crust was born. If you're allergic to nuts you'll want to check out my Nut-Free Recipes page.
Egg-Free Pie Crust
Eggs are not a problem for me either, thank goodness. But I figured if I was going to make this nut-free, I might as well make it an egg-free pie crust too. So many people suffer from egg allergies, and it's so hard to find good paleo recipes that are egg-free. If you avoid eggs, check out my Egg-Free Recipes page.
Low-Carb Pie Crust
This is certainly not a low-carb pie crust. It's made with arrowroot flour which is composed entirely of carbohydrates. Arrowroot flour contains more than 100 grams of carbs per cup. My favorite low-carb pie crust is this Low-Carb Almond Flour Pie Crust. Made with almond flour and egg, it works very well for those following a Ketogenic Diet.
Nut-Free Egg-Free Pie Crust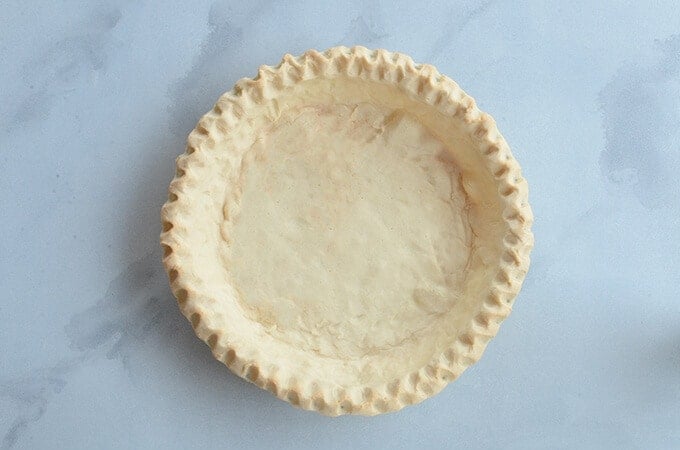 Print
Email
Pin Recipe
Prep Time 15 mins
Cook Time 13 mins
Total Time 28 mins
Easy No-Roll Pie Crust
The beauty of this Nut-Free Egg-Free Pie Crust is that it's a press in pastry crust, also referred to as a no-roll pie crust. Personally, I love rolling out my pie crust between two pieces of parchment paper, transferring it to the pie pan, and then patching as needed. But most people think a simple press in, no-roll crust is far easier.
To Bake or Not to Bake the Crust?
If you're using this crust to make my Paleo Pumpkin Pie blind bake it for 10 minutes, then bake it again along with the filling. For my Vegan Pumpkin Pie, and other no-bake custard fillings that firm in the refrigerator, you'll want to bake this Nut-Free Egg-Free Pie Crust for 13-18 minutes as directed above, until it's golden brown.
My husband loves this pie crust and told me that it's his favorite! Flaky and sweet it's wonderful with both baked and refrigerated fillings. What will you fill it with?
Grain-Free Paleo Pie Crust Recipes
Here are more paleo pie crust recipes for you!
---
Buy My Books!
---