I worked on this Keto Pumpkin Pie recipe for a couple of years before sharing it with you. Perfecting a recipe takes time. My thoroughness can keep me from cranking 'em out.
But once my recipes are done, they work every time and readers tell me they become staples that are part of your holiday traditions year after year.
Keto Pumpkin Pie Recipe Creation
When I'm creating a recipe like this low-carb Keto Pumpkin Pie I lie in bed late into the night, thinking about ingredient ratios. The next day, I test the different combinations that filled my head prior to falling asleep. And then I start all over again.
Low-Carb Pumpkin Pie
While most vegan dessert recipes are super high in sugar, this low-carb pie is sweetened with only one tablespoon of maple syrup and thickened with a full cup of coconut milk fat. That's the stuff you scrape off the top of a can of coconut milk.
Low-Carb Keto Pumpkin Pie
My Keto Pumpkin Pie contains still more fat from the coconut oil, making this the perfect low-carb, high-fat (LCHF) dessert recipe.
Sugar-Free Keto Pumpkin Pie Recipe
For a sugar-free Keto Pumpkin Pie, simply omit the maple syrup from the recipe below. My sugar-free pumpkin pie will let you stick to a strict Keto Diet while indulging in something decadent during the holidays. For more sugar-free low-carb recipes see my Keto Recipes page.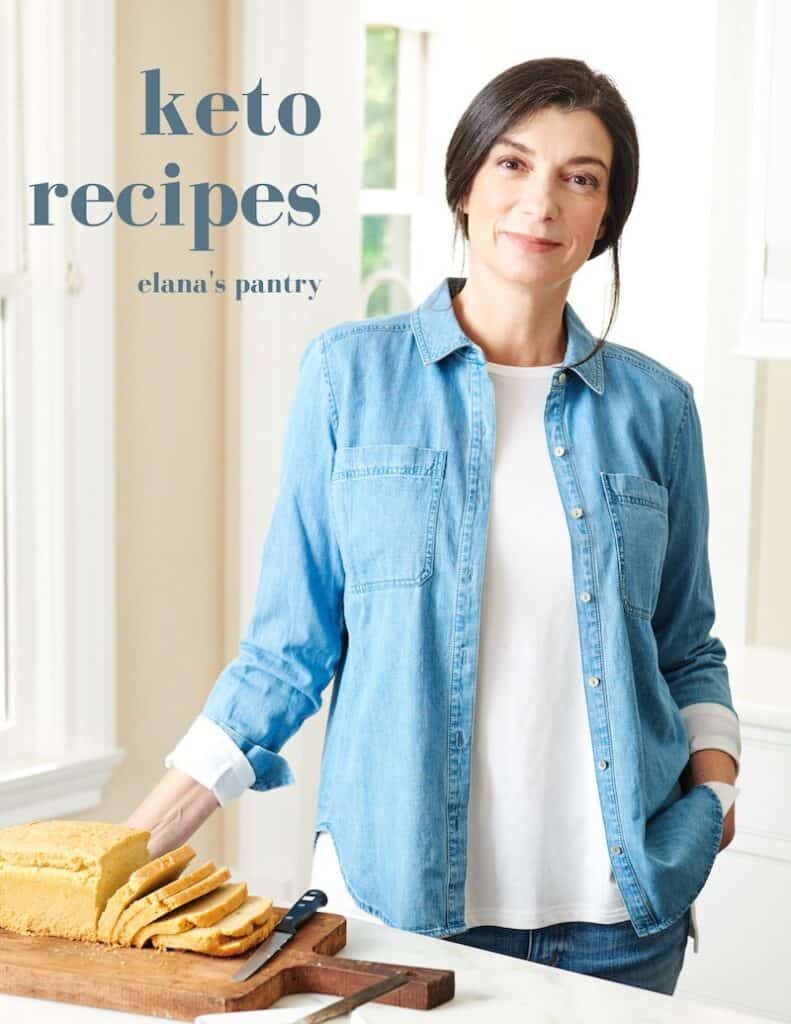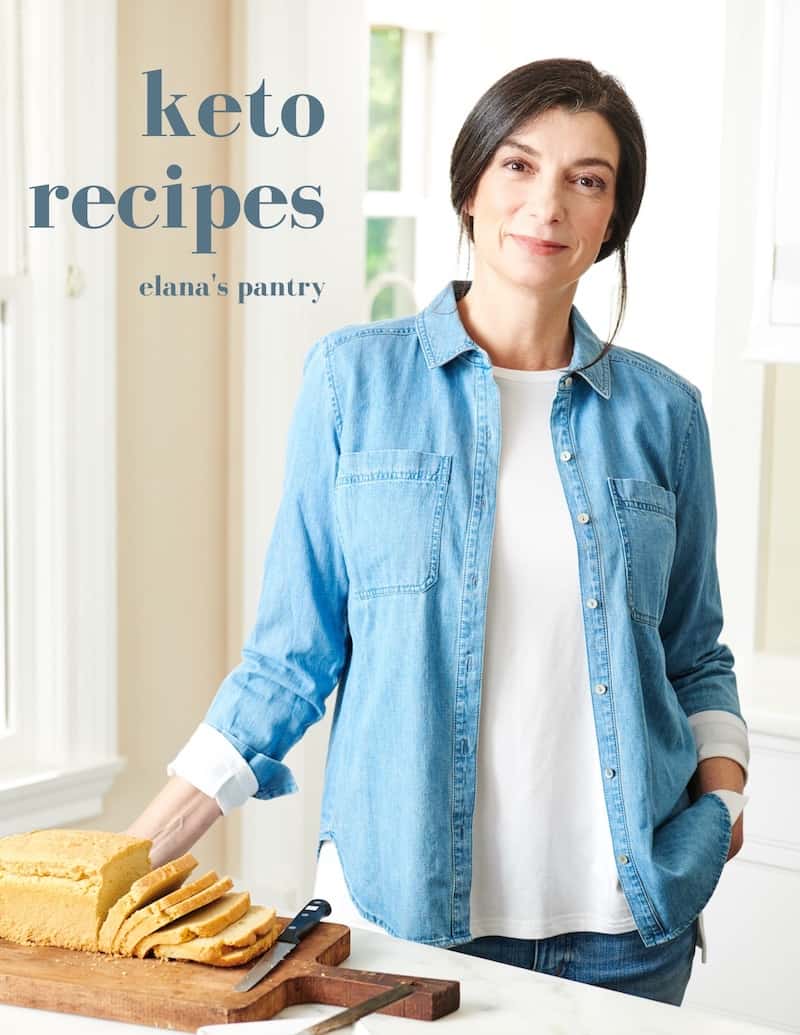 Get My Keto Recipes eBook
Free exclusive eBook, plus recipes and health tips, delivered to your inbox.
Keto Pumpkin Pie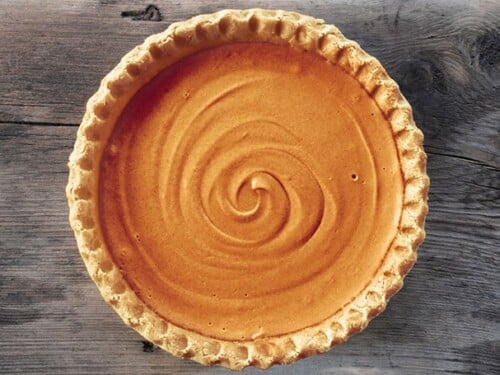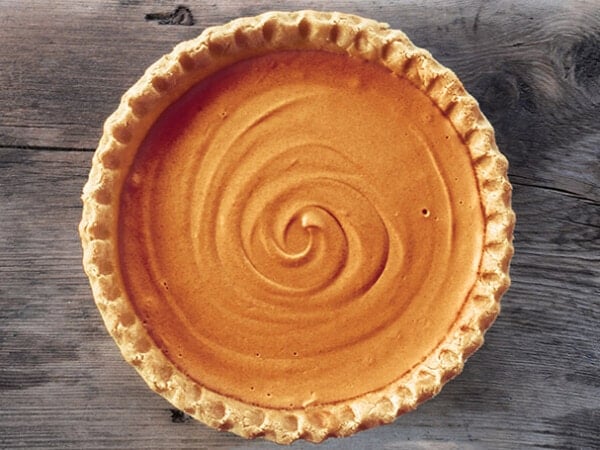 Print
Email
Pin Recipe
Instructions
Place pumpkin on a plate and set aside

In a

medium pot

, melt coconut milk fat and coconut oil until liquefied

Stir in pumpkin and maple syrup until mixture is very warm

Transfer mixture to a

vitamix

and puree on high speed until very smooth

Blend in vanilla stevia, pumpkin pie spice, and salt

Refrigerate for 2 hours to set

Serve
Total Time
2

hours
25

minutes
Equipment
No-Bake Vegan Pumpkin Pie Filling
This no-bake vegan Keto Pumpkin Pie saves you oven space and prep time when making Thanksgiving Dinner.
First, the magical no-bake vegan pumpkin pie filling sets in the fridge, so that's one less item taking up valuable oven space on turkey day.
Second, with only seven ingredients total, Keto Pumpkin Pie couldn't be easier to throw together, making it a big time saver too.
How to Make No-Bake Vegan Pumpkin Pie
Here's how I roll when making Keto Pumpkin Pie, aka, no-bake vegan pumpkin pie, for Thanksgiving.
On the Tuesday prior to Thanksgiving, I make the crust, letting it cool overnight. On Wednesday, I prepare the filling and pour it in the baked crust, refrigerating it until Thanksgiving dinner on Thursday, at which time, voilá, it appears like magic at our table!
Baked Pumpkin Pie versus No-Bake Pumpkin Pie
As I mentioned, I love the simplicity of one less pie to throw in the oven on the busy morning of Thanksgiving, so I prefer this no-bake Keto Pumpkin Pie.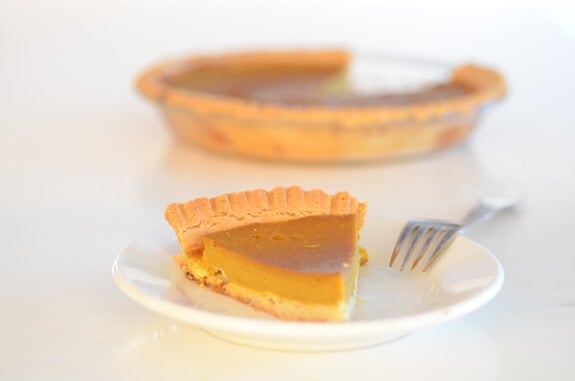 However, if you are looking for a baked pumpkin pie, look no further than my Paleo Pumpkin Pie which my family ADORES.
What is Vegan Pumpkin Pie?
Moving right along from no-bake pies to vegan, I can't tell you how many friends have asked me, what is a vegan pumpkin pie?
Since classic pumpkin pie recipes are made with eggs and heavy cream, they are NOT vegan. Don't worry though, I've got your covered with this amazing vegan pumpkin pie.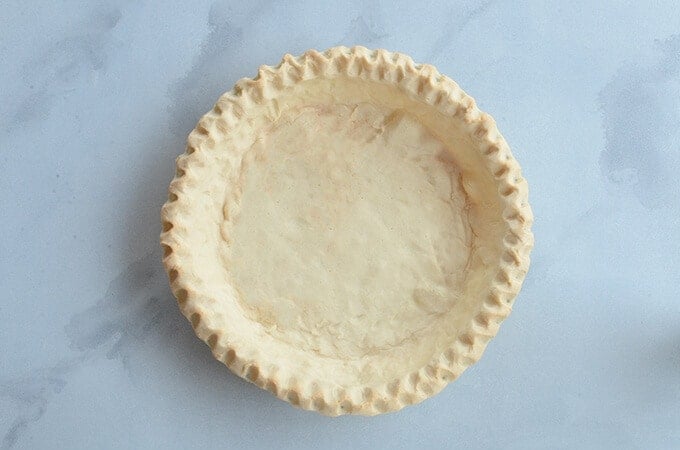 Vegan Pumpkin Pie from Scratch
And if your heart desires a vegan pumpkin pie from scratch you're in luck again. This pie pairs perfectly with my Nut-Free Egg-Free Pie Crust which is also 100% vegan. Yes, I've created a nut-free, egg-free, vegan pie crust recipe for family and friends food allergies.
Check out more egg-free, dairy-free recipes on my Vegan Recipes page. You can use this special vegan pie crust to complete your Vegan Pumpkin Pie at Thanksgiving or make it in my Low-Carb Almond Flour Pie Crust. I've tested it in both and it is fantastic either way!
Egg-Free Pumpkin Pie Recipe
For all my readers who are allergic to eggs, this pie for you! Traditional pumpkin pie is simply a pumpkin custard thickened with eggs, then baked in a crust.
My rich and creamy low-carb Vegan Pumpkin Pie is thickened with fat, so no need for eggs. Yes, the egg-free pumpkin pie of your dreams has arrived at last! And if you suffer from egg allergies take a look at my Egg-Free Recipes page.
Dairy-Free Pumpkin Pie
Most pumpkin pie recipes contain dairy in the form of heavy cream, evaporated milk, or the like. Because so many people that have Celiac Disease also have dairy allergies I made this a dairy-free pumpkin pie recipe for you.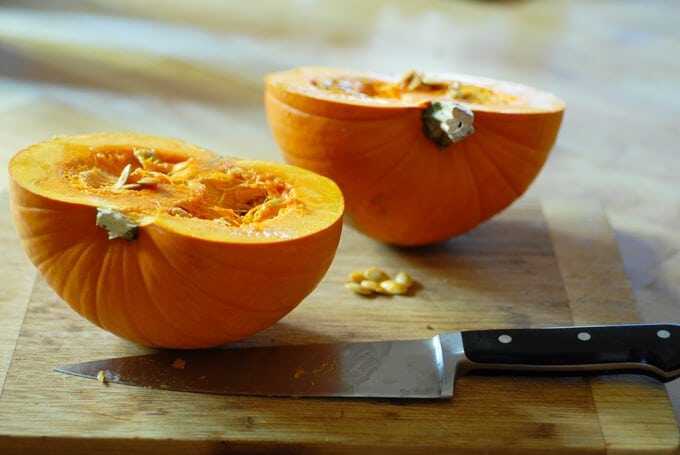 Pumpkin Pie with Real Pumpkin
If you are looking for a vegan pumpkin pie with real pumpkin, this pie is your answer. Be sure to use freshly roasted pumpkin, as canned pumpkin won't work in this Keto Pumpkin Pie recipe.
To learn more on how to roast a pumpkin, check out my How to Roast a Pumpkin Tutorial.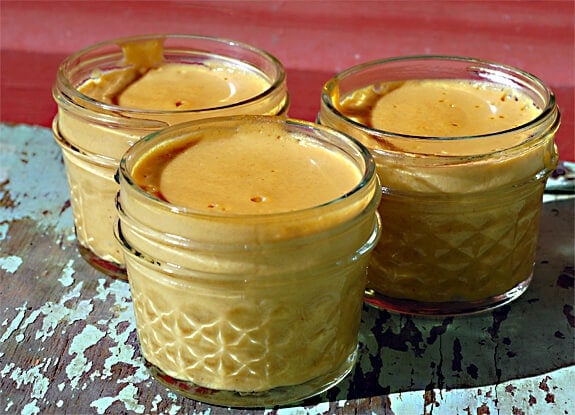 Crustless Pumpkin Pie in Mason Jars
Sometimes I'm too busy to bother making a pie crust because you know, life happens.
When that's the case I simply make the filling from this Keto Pumpkin Pie recipe and transfer it into one cup mason jars, turning it into crust-less mini-pies or individual servings of vegan custard.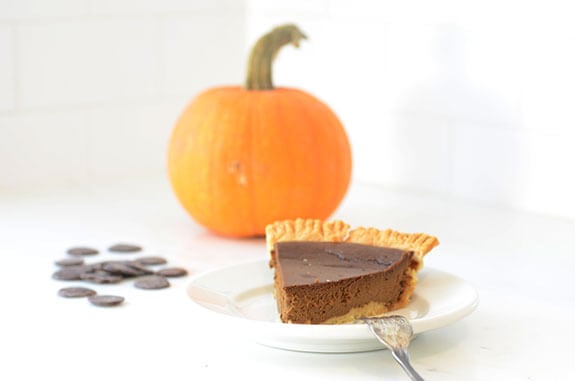 Pumpkin Pie With Chocolate
Hey chocolate lovers! I've got you covered too. Be sure to check out my Chocolate Pumpkin Pie, which is Mr. Pantry's favorite.
I also have Nut-Free Pumpkin Chocolate Chip Cookies, and Chocolate Whoopie Pies stuffed with Pumpkin Whipped Cream.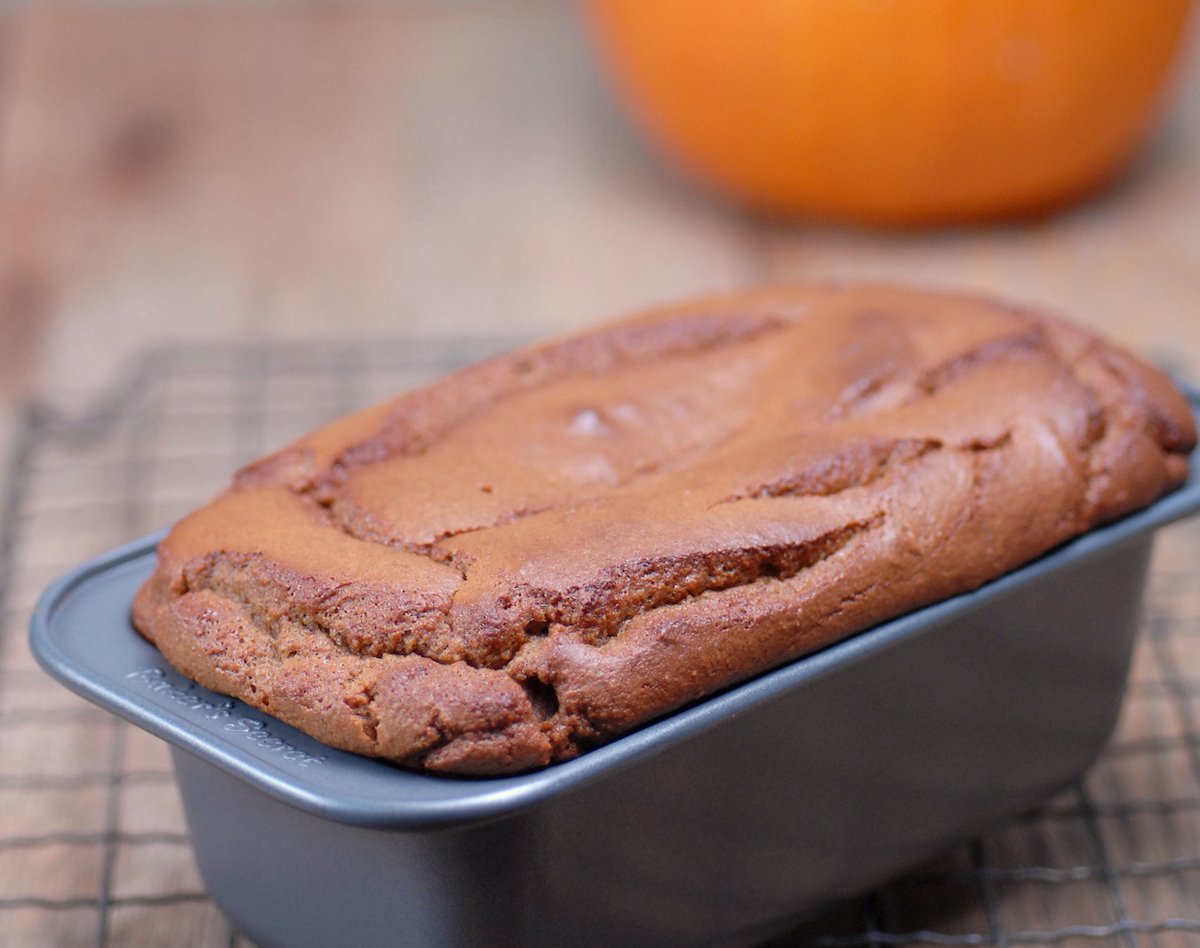 What to Make with Leftover Pumpkin?
Have some leftover pumpkin you need to use up? My Paleo Pumpkin Bread is a crowd-pleaser, Pumpkin Cranberry Granola will keep the holiday season around, and Pumpkin Chiffon Pudding with leave you with a sweet treat.
The Best Low-Carb Thanksgiving Desserts
As you can see, I'm obsessed with the culinary treasures of Thanksgiving. I have tons of Thanksgiving Dessert Recipes for you. What will you make this year? What's your favorite Thanksgiving dessert? Leave a comment and let me know!
This post is an oldie but goodie. I first shared this recipe for Keto Pumpkin Pie in 2017.