If you thought you wouldn't ever eat custard again after going on an egg-free diet, you'll love my easy Pumpkin Custard recipe! This no bake custard is a quick and easy paleo vegan dessert. To make it you simply throw the ingredients in a high-powered blender, transfer to adorable mason jars, and then refrigerate.
Dairy-free Pumpkin Custard is the perfect paleo vegan dessert recipe for Thanksgiving. Because it's so easy to make, it's also fantastic last minute dessert recipe for Thanksgiving. I usually make my Thanksgiving desserts a day ahead of time, but this recipe is so easy that I whip it up right before we sit down to Thanksgiving dinner, and then pull it out of the refrigerator when it's time for dessert.
We're on a major pumpkin kick right now. Last weekend, my husband took the boys and their friend Josh to get pumpkins for Halloween. When they returned the three little ones spent hours in the back yard carving their jack-o-lanterns.
Pumpkin Custard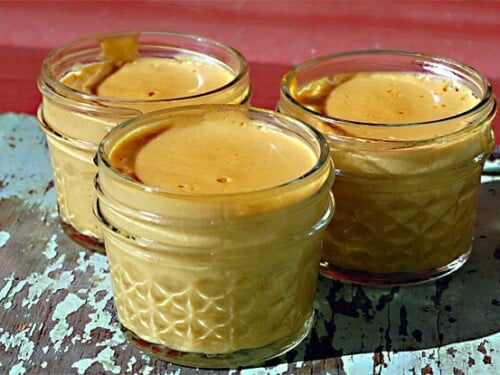 Print
Email
Pin Recipe
Instructions
Place cashews, agar, and salt in a

vitamix

and process to a fine powder

Pour boiling water into vitamix and process on high speed

Add pumpkin, honey, and vanilla and process until smooth

Blend in cinnamon, nutmeg, cloves, and lemon zest

Refrigerate 30-60 minutes, until set

Serve
I've been creating loads of paleo vegan dessert recipes lately. Have you seen my Paleo Vegan Desserts Recipes page? Along those lines, I was determined to make this a vegan custard since so many of my readers are either vegan, or on an egg-free diet. Making a custard without eggs is not all that easy since eggs are traditionally the main ingredient in custard.
For this recipe, I would not recommend substituting canned pumpkin for the roasted pumpkin. Canned pumpkin is very wet, so this Pumpkin Custard recipe will be substantially altered by using such a watery ingredient. If you do decide to use canned pumpkin you will need to make several adjustments to compensate. I hope you'll leave a comment if you do experiment with this recipe and use canned pumpkin.
Here are some of my other easy paleo vegan dessert recipes for you!