Strawberries are at their peak right now. They're overflowing in our garden and at the local farmer's market. While I love making strawberry pie (with Paleo Pie Crust), sometimes I want to make something simpler.
This Strawberry Crisp can be whipped up in minutes. It's an easy gluten-free dessert that is made with only five ingredients –strawberries, almond flour, salt, butter, and slivered almonds. If you're dairy-free, I also tested this recipe with palm shortening and it was delicious.
When I was developing this Strawberry Crisp recipe I made it close to a dozen times. My boys were faithful taste testers, sampling every batch. Often, they smothered these cute little strawberry crisps with whipped cream while still warm. If you can't consume dairy you can top Strawberry Crisp with Coconut Whipped Cream. It's delicious! You can find that recipe in Paleo Cooking from Elana's Pantry. All of the recipes in it are dairy-free, as well as gluten-free and grain-free. I worked diligently to make the recipes extremely simple, using as few ingredients as possible.
Instructions
Pile sliced strawberries in 5 half-cup ramekins until overflowing, and place on a baking sheet

Bake strawberries at 350º for 30 minutes

Meanwhile, make topping in food processor

Pulse almond flour, salt and butter until pea-sized pieces of dough form

Briefly pulse in slivered almonds

Remove ramekins from oven

Spoon topping over baked strawberries

Bake 20-30 minutes at 350º, until topping is golden-brown

Remove from oven and serve
It's not always a cinch to create simple recipes. I find that using less ingredients requires far more work during the creative process. It's also challenging to produce dessert recipes with no added sweetener. As I mentioned in my When Things Fall Apart post, I've cut way back on the sweet stuff lately.
Sugar in any processed form, natural or not, can be a crutch when it comes to flavor. Once you get used to it though, eliminating maple syrup, honey, coconut sugar, or other added sweeteners can become advantageous. The taste of many ingredients that often fade into the background, have a chance to shine. And, when you give up added sweeteners for a month or more, fruit tastes like candy.
For this Strawberry Crisp recipe you will need to pile the fresh strawberries super high in the ramekins and then bake them down as instructed. When you make the topping, pulse the slivered almonds very briefly. Leaving them somewhat coarse adds a wonderful crunch to the crisp.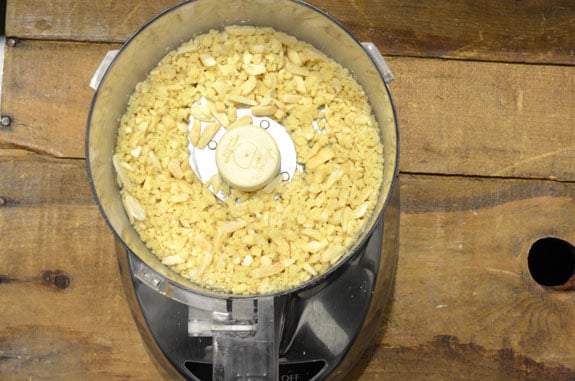 Here are some of my other recipes that are a bit lower in sugar than the usual fare: