Paleo Peach Crisp is made with only six ingredients: peaches, almond flour, salt, butter, maple syrup, and vanilla. This healthy gluten-free crisp is another one of my easy-to-make Paleo recipes that has even less added sweetener than usual. The entire recipe has one tablespoon of maple syrup. Better yet? My boys and their friends devoured the Paleo Peach Crisp last night.
Peach Crisp Made With Frozen Peaches
If you make this healthy dessert recipe with frozen peaches, be sure to let them thaw completely before you make the crisp. When I used frozen peaches they took around three hours to thaw out to room temperature. Of course, it's fantastic with fresh peaches.
Paleo Peach Crisp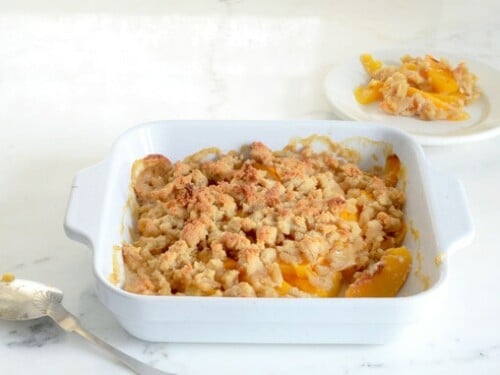 Print
Email
Pin Recipe
Instructions
Pulse in butter, maple syrup, and vanilla

Sprinkle topping over fruit

Bake at 350°F for 35-45 minutes

Remove from oven, then cool and serve
Peach Crisp With Almond Flour
I love serving desserts made with almond flour to my growing boys (now teenagers) because almonds are far more nutritious than the wheat flour that traditionally makes up such desserts. Almond flour is higher in protein, lower in carbs, and full of more nutrients than its wheat flour counterpart.
My strategy (getting as much healthy food into the boys as I can) seems to be working since ours is the home that my sons and their friends gathered at all summer long and now come to for "snack time" every day after school.
Paleo Apple Crisp
Sometimes my children and I make this Paleo Crisp with apples, and then it really becomes a family affair. The boys have been pealing and coring apples for our baking exploits since they began grade school and it is one task that they heartily agree to and enjoy –probably given the pot of gold (in this case dessert) at the end of that rainbow!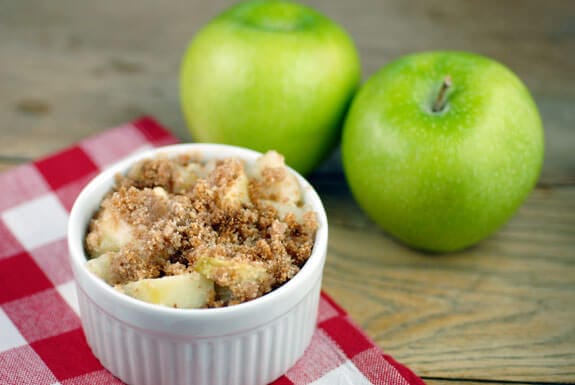 Keto Strawberry Crisp
We also love to make my Keto Strawberry Crisp. What kind of crisp will you make? How will you adapt this recipe to fit your needs? Leave a comment and let me know!