We're pretty obsessed with my Keto Strawberry Crisp. First, it's incredibly flavorful, like summer in a bowl. But it tastes so amazing we eat it all year round.
Second, this easy low-carb recipe is so simple you can whip it up in a couple of minutes, then bake it, letting the oven do the rest of the job for you. Finally, Keto Strawberry Crisp is a natural, healthy sugar-free dessert that's perfect for the Keto Diet.
Keto Strawberry Crisp
This easy keto dessert recipe is made with only five ingredients –strawberries, almond flour, salt, butter, and slivered almonds. Really, that's all it takes to make the best strawberry crisp ever.
The Best Strawberry Crisp
Creating a recipe with fewer ingredients for you requires far more work for me during the creative process. I work diligently to make my recipes extra simple and I don't mind that one bit because I'm pretty obsessive and love recipe testing.
Readers tell me all of this work is why they have come to depend on me –because my recipes are reliable and work every time.
Kid-Approved Strawberry Crisp
So, back to this easy strawberry crisp recipe which I tested over a dozen times so that I could get it just right. When my boys lived at home, they were my faithful taste testers and sampled every single batch until the recipe was perfected.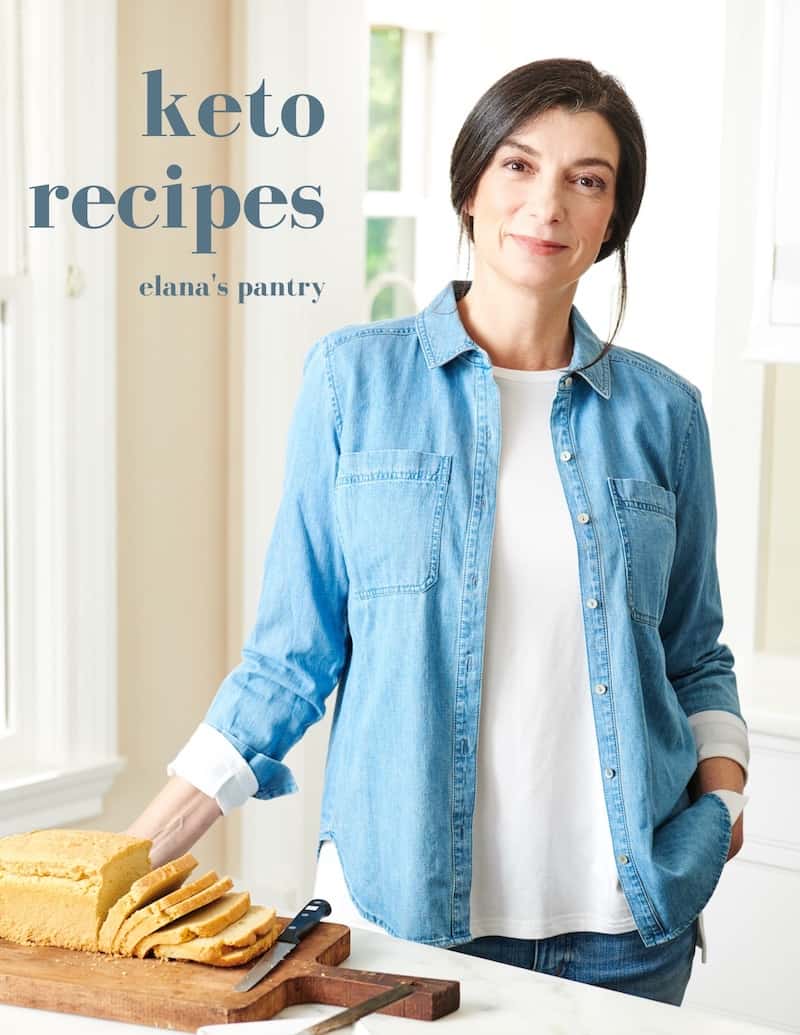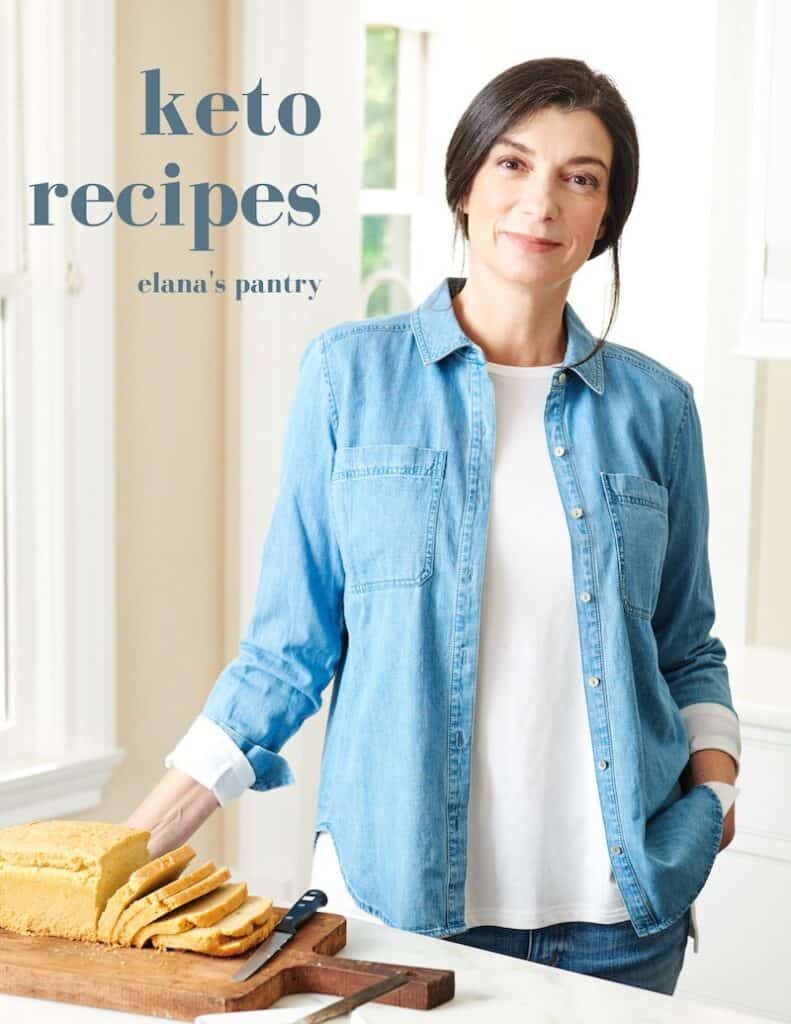 Get My Keto Recipes eBook
Free exclusive eBook, plus recipes and health tips, delivered to your inbox.
Why is this a gluten-free strawberry crisp? Because my son was diagnosed with Celiac Disease when he was three years old. I was diagnosed with it too and follow a strict gluten-free diet –every single recipe on this site is gluten-free. And grain-free too because that's the diet that works for me.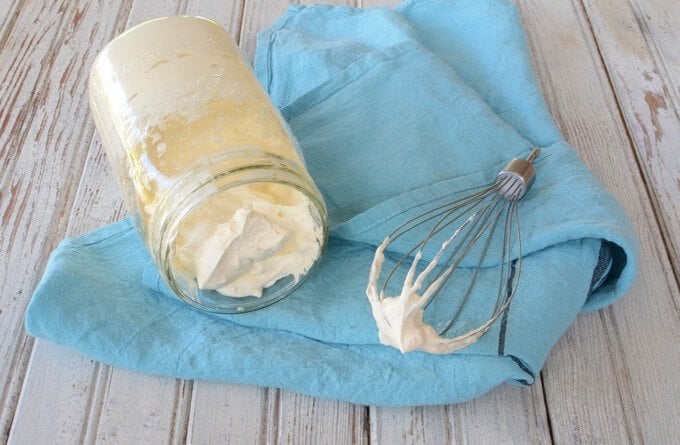 How to Make Keto Whipped Cream
When I was testing this recipe for strawberry crisp, each time I pulled a batch out of the oven, the boys would grab a mason jar and whip up my Homemade Whipped Cream recipe. Then they'd smother these cute little strawberry crisps with clouds of fresh whipped cream while it was still warm.
Getting Your Kids in the Kitchen
Learning how to make whipped cream is an important skill in my book. It's one I taught the boys when they were in elementary school and it has served them well. I remember one year on a Jewish Holiday, we had another family over and I had forgotten to prepare the whipped cream ahead of time.
My older son scurried into the kitchen and threw our homemade whipped cream together in a couple of minutes. To us, this was pretty basic, but I realized that was not the case for most families when I saw the look on the other Mom's face. She was in a bit of shock at my son's comfort and confidence in the kitchen.
How to Make Dairy-Free Whipped Cream
If you're on a Dairy-Free Diet, you can still enjoy this healthy strawberry crisp topped in rich creamy goodness by whipping up a batch of my Keto Dairy-Free Whipped Cream.
Dairy-Free Keto Strawberry Crisp
And of course, if you're making dairy-free whipped cream, you'll need a dairy-free crisp recipe. I've got that covered for you as well since I made sure to test this recipe with palm shortening. The result? It was every bit as delicious.
Strawberry Crisp
Print
Email
Pin Recipe
Instructions
Bake strawberries at 350°F for 30 minutes

Pulse almond flour, salt, and butter until pea-sized pieces of dough form

Briefly pulse in slivered almonds

Remove ramekins from oven

Spoon topping over baked strawberries

Bake 20-30 minutes at 350°F, until topping is golden-brown

Remove from oven and serve
How to Make a Crisp
Making a fruit crisp is easy. It's about the filling and topping, that's it! For this Keto Strawberry Crisp recipe, you'll need to chop the fresh strawberries, then pile them super high in the ramekins and bake them down as instructed. When you make the topping, pulse the slivered almonds very briefly. Leaving them somewhat coarse adds a wonderful crunch to the crisp, as pictured below.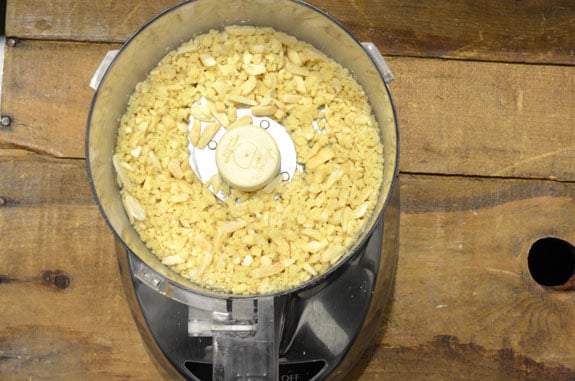 Strawberry Crisp Made with Frozen Strawberries
In the event you don't have fresh strawberries on hand, I've figured out how to do a strawberry crisp made with frozen strawberries.
First, there are a couple of very minor adaptations you'll need to make to the recipe. Since the strawberries are frozen, you won't be able to cut them. Second, you'll really have to pile them up very, very high, in a bit of a balancing act on the ramekins, but that's ok. After those adjustments, everything else is just the same –follow the recipe.
Sugar-Free Strawberry Crisp
Creating dessert recipes with no added sweetener is another challenge I live for. Why? Sugar in any processed form, natural or not, can be a crutch when it comes to flavor. Once you get used to it though, eliminating maple syrup, honey, coconut sugar, and other added sweeteners is fantastic.
Fruit Sweetened Strawberry Crisp
Adapting your palate to the flavorful sweetness of fruit is a pretty amazing thing. Without sugar (and other sweeteners) the taste of ingredients that often fade into the background of a dish truly have a chance to shine. And, when you give up added sweeteners for a few weeks, fruit tastes like candy.
The Best Sweetener for Keto
If naturally fruit-sweetened recipes aren't your thing, I have an amazing homemade Apple Crisp recipe that uses honey as its sweetener. Honey is definitely not the best keto sweetener, in fact, it is not a keto sweetener at all.
However, I am unable to use typical keto sweeteners like Swerve and Lakanto, because they are corn-based and I am on a grain-free diet that does not include corn. For more check out my article, What's the Best Sweetener for Keto.
I do have a couple of recipes that use typical keto sweeteners –for that check out my Keto Brownies and Chocolate Peanut Butter Fudge. Those are for my family and you since they're too hard for me to digest. I like to stick to stevia-sweetened desserts as that's best for my health.
Sugar-Free Keto Dessert Recipes Sweetened with Stevia
Here are some of my other keto dessert recipes for you (and me!) that do not contain corn-based sweeteners:
Mr. Pantry is obsessed with the Keto Chocolate Pudding, the boys love my Keto Pumpkin Pie, and I'll take Keto Blueberry Lemon Bread, toasted and smothered in ghee any day of the week!
Strawberry Rhubarb Crisp Recipe
If you're looking for a recipe for strawberry rhubarb crisp, I have one in my New York Times best-selling book, Paleo Cooking from Elana's Pantry on page 99 pictured below.
Low-Carb Nut-Free Strawberry Crisp Recipe
The fantastic thing about my Strawberry Rhubarb Crisp is that it's nut-free. So if you're on a Nut-Free Diet grab yourself a copy of the book — two-thirds of the recipes will work for you.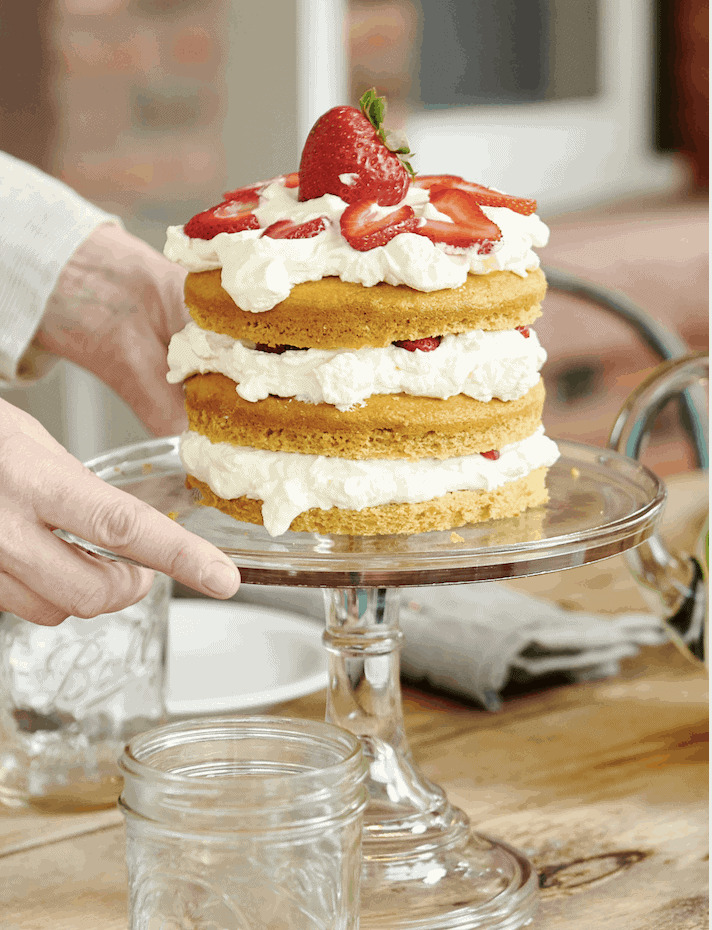 Low-Carb Strawberry Shortcake
When we're not making my easy strawberry crisp recipe, we love making my showstopping nut-free, low-carb Strawberry Shortcake which is an incredibly fun and festive treat.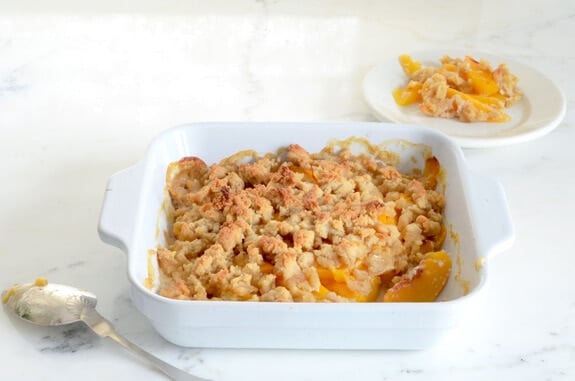 Paleo Peach Crisp
And if you're looking for other easy fruit crisp recipes, try my Paleo Peach Crisp…made with six ingredients total.
If you've read this far down, I have a question for you –why do people say a recipe has four ingredients, when it has six. Do salt and vanilla extract not actually count as ingredients? Please leave a comment and explain.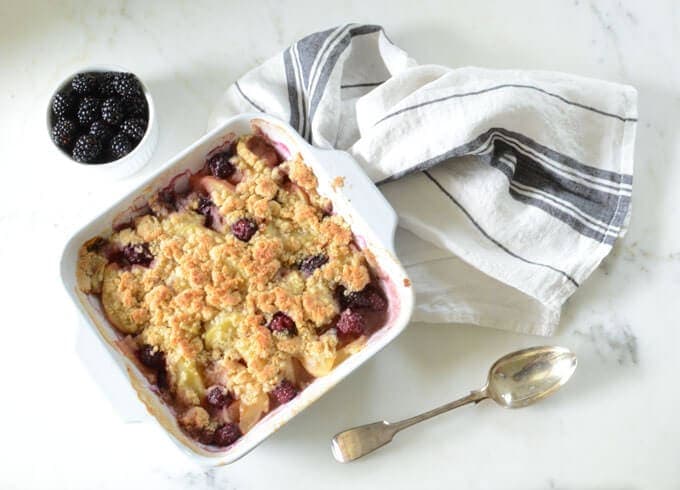 Apple Blackberry Crisp
This low-carb Apple Blackberry Crisp is sweetened with just a dash of honey and is a wonderful dessert any time of year. I first made it for the boys when they were in middle school and brought it to one of our baseball team's potlucks where it was a smash hit.
Your Favorite Low-Carb Crisp Recipe
What's your favorite low-carb fruit crisp recipe? Did I miss anything? Do you have any requests? The boys were absolutely obsessed with crisps when they were growing up and I love throwing one together when they come home from college for vacation. Yes, they're that old now!
This post is an oldie but goodie from the archives, I first shared it in 2014.