This 2-Ingredient Chocolate Pudding couldn't be easier to make. All you need is dark chocolate and coconut milk. Luscious 2-Ingredient Chocolate Pudding is rich, thick, and incredibly mousse like. When I whip this up for the boys I use dark chocolate that is around 70% cacao.
When I make 2-Ingredient Chocolate Pudding for myself I use the recipe below, but instead of 70% dark chocolate, I use Green & Black's 85% dark chocolate in bar form. I love making this low-carb chocolate pudding with the darker chocolate. This adult version is a bit more sophisticated, and is not likely to be enjoyed by people who are used to having much sugar, natural or otherwise, in their diet. Given that coconut milk and 85% chocolate are high in fat, this version is a keto chocolate pudding.
Both versions of this paleo dessert recipe are fabulous. Additionally, both ingredients used in 2-Ingredient Chocolate Pudding are super foods. Coconut milk is full of satiating healthy fats, while dark chocolate is rich in antioxidants and packed with minerals including potassium, zinc, and selenium.
2-Ingredient Chocolate Pudding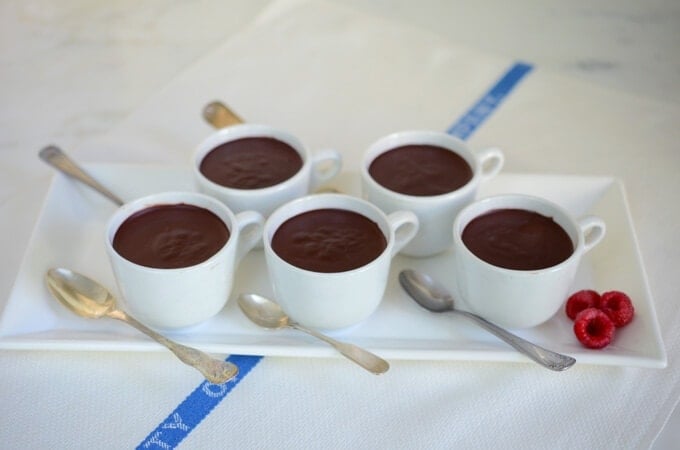 Print
Email
Pin Recipe
Prep Time 10 mins
Fridge Time 3 hours
Cook Time 10 mins
Total Time 3 hrs 20 mins
I haven't tested this recipe with milk chocolate or semi-sweet chocolate. These types of chocolate have far more sugar and less fat than dark chocolate. Given this issue, I'm not sure if the pudding will thicken if these substitutions are made. If you do experiment, feel free to leave a comment and let us know if it worked!
I've been following a low-carb diet since 2014. At times I focus on consuming extra fat so that I can go into ketosis. I've read interesting papers on the neuro-protective effects of ketosis.1 I have found that the ketogenic diet is helpful in reducing the symptoms of the neurological issues resulting from my multiple sclerosis (MS) diagnosis.
When I began a ketogenic diet, I went through my recipes to see which ones would comply with it. I have created a fantastic Ketogenic Diet Recipes page with all of my keto recipes. If you are wondering, "What is the Keto Diet?" I have a clear, brief outline on that page as well, which will answer your question!
---
Buy My Books!
---