Chia seeds are a wonderful food, and healthy Chia Pudding is a fabulous breakfast, as well as a great snack! Rich in fatty acids, chia seeds contain more omega-3's than any other vegetarian source. They are also quite high in anti-oxidants, minerals and fiber. Further, I find that they are quite soothing for my digestive system (and I'm always looking for a boost in that realm).
I got the idea for this smooth and tasty recipe from yoga teacher extraordinaire and raw foodie, Jess Price. I give her full credit for turning me on to both chia seeds and chia pudding.
Chia Pudding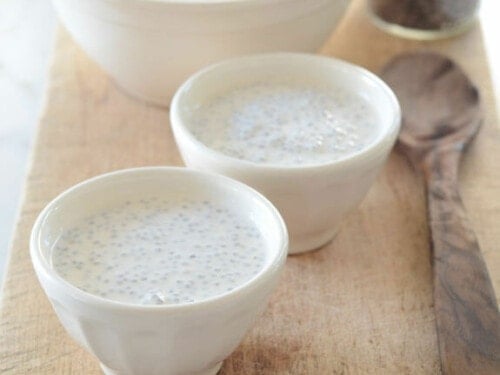 Print
Email
Pin Recipe
Instructions
Place the cashews and water in a

vitamix

and blend on high speed until smooth

Blend in the honey, vanilla, and salt

Place the chia seeds in a large mason jar (½ gallon size), pour the cashew mixture into the jar and shake well (very well!)

Place in the refrigerator overnight

Serve
Equipment
When I have extra time I soak my cashews for several hours (be sure to discard the soaking water) which makes for an even richer, creamier treat. You can also experiment by adding cinnamon, vanilla beans, and other tasty enhancements to this recipe (in your desired quantity).
Don't let the fancy presentation above fool you. This delicious, nutritious pudding is ridiculously easy to prepare. Throw a bit of chia pudding into a smaller mason jar and it makes the perfect driving snack –ideal for slurpping up on road trips.
If you venture into the land of chia seeds and healthy Chia Pudding please let us know how you like 'em!
Update: Per questions below, I have made this with a mixture of cashew and coconut milk and it is delicious. I have also used chia seeds to make my morning protein shakes more rich, creamy and nutritious. This chia pudding keeps in the fridge for 2-3 days. Enjoy!