Paleo Pumpkin Ginger Soup made with creamy coconut milk is dairy-free and totally hits the spot. This easy soup recipe has only 6 ingredients. All you need to make it is pumpkin, ginger, coconut milk, chicken or vegetable stock, lemon juice, and a few drops of stevia.
I decided to create this easy pumpkin recipe today after making the simple, yet scrumptious pumpkin pies from my first gluten-free cookbook, The Gluten-Free Almond Flour Cookbook
. After pie making I found myself with a bunch of leftover roasted pumpkin and this easy soup recipe was a breeze to throw together!
I'll be serving this easy paleo soup recipe to the boys for dinner tonight, along with salad greens from the garden, which currently exists in our cold frame. They'll finish their chores, then we'll eat dinner and settle in for the night.
Pumpkin Ginger Soup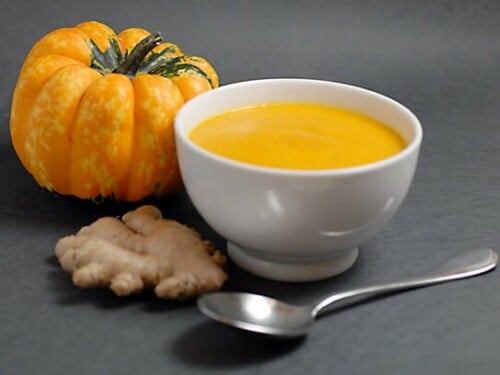 Print
Email
Pin Recipe
Instructions
Equipment
You may want to add more stevia to your soup than the recipe calls for to make it a bit sweeter. If you use a different type of stevia than indicated in the recipe, you may need to adjust your amounts, since different brands and types of stevia have different levels of sweetness.
Here are some of my other easy paleo pumpkin recipes for you!