One of my favorite chilly weather traditions is making this easy Butternut Squash Soup recipe. It's so good though, that we love making it all year round.
Butternut Squash Soup Recipe
When the boys were growing up, we called my younger one "squash" since he couldn't get enough of this Butternut Squash Soup recipe!
Butternut Squash Soup Simple
With just four ingredients –oil, onion, squash, and water, this squash soup is a delicious comfort food that's easy to make.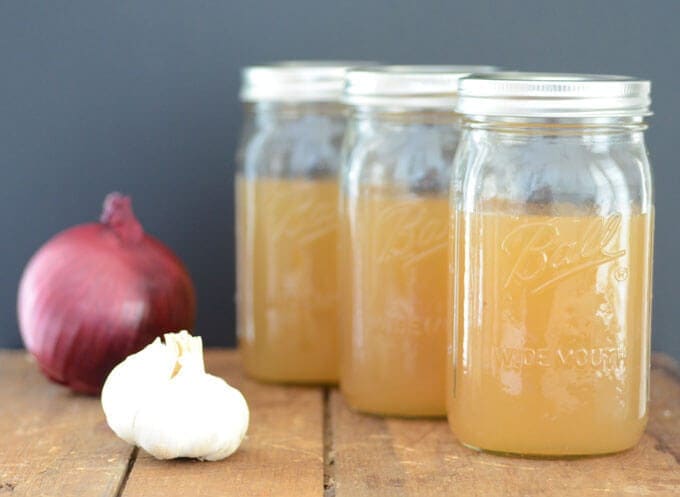 Butternut Squash Soup Creamy
If you want to make this creamy Butternut Squash soup recipe even richer, use my Homemade Bone Broth recipe in place of the water.
Bone Broth will add protein as well as gut-healing nutrients like collagen.
Easy Soup Recipes with Chicken Broth
If you don't have homemade chicken broth you can buy Kettle & Fire, that's what we use when we're in a pinch.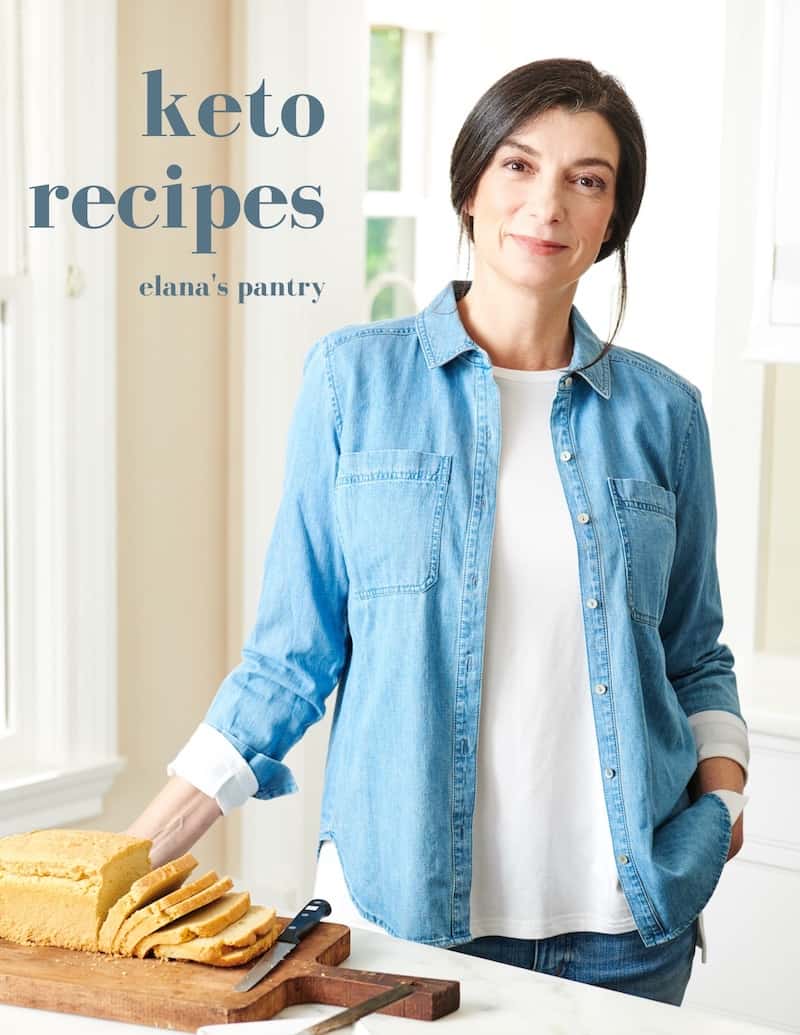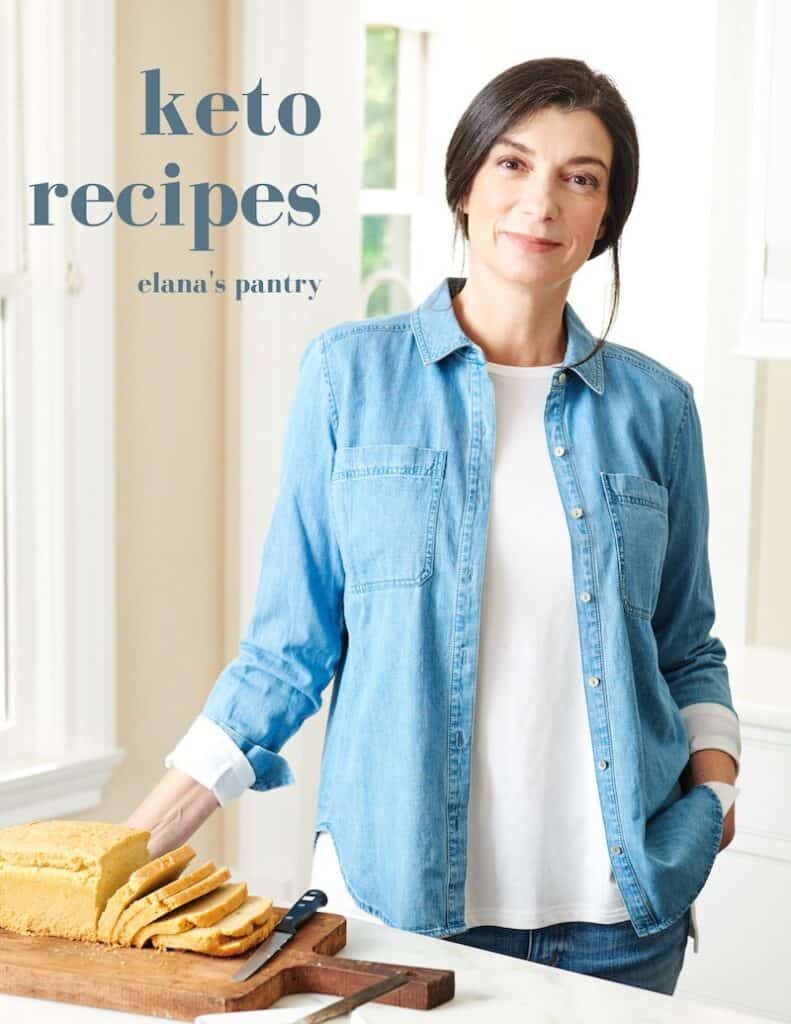 Get My Keto Recipes eBook
Free exclusive eBook, plus recipes and health tips, delivered to your inbox.
Vegan Butternut Squash Soup Recipe
Use water if you're making this easy soup recipe for your vegan friends. Vegetable stock will also work very well in this soup recipe for vegans.
Spices with Butternut Squash Soup
We think this Butternut Squash Soup recipe is perfect just the way it is, but if you'd like to add some spices, try cinnamon, ginger, nutmeg, or a dash of cloves.

Butternut Squash Soup
Print
Email
Pin Recipe
Instructions
In a large soup pot, warm oil over medium heat

Caramelize onion, sauteing 10-15 minutes until golden brown

Add squash cubes and cook for 10 minutes, until squash is barely soft

Pour water or stock over squash mixture

Bring to a boil and simmer for 10 minutes

In a vitamix, puree in small batches on low, working up to high speed until mixture is smooth

Serve
How to Make Butternut Squash Soup
When I make this Butternut Squash Soup I use a butternut squash that weighs around 2.5 pounds before I remove the peel and the seeds.
If you use a larger squash your soup will be thicker and creamier.
Likewise, if you use less squash, the soup will become more watery.
What Types of Squash for Soup?
This easy squash soup recipe is incredibly flexible and would be fantastic with:
Acorn Squash
Butternut Squash
Pumpkin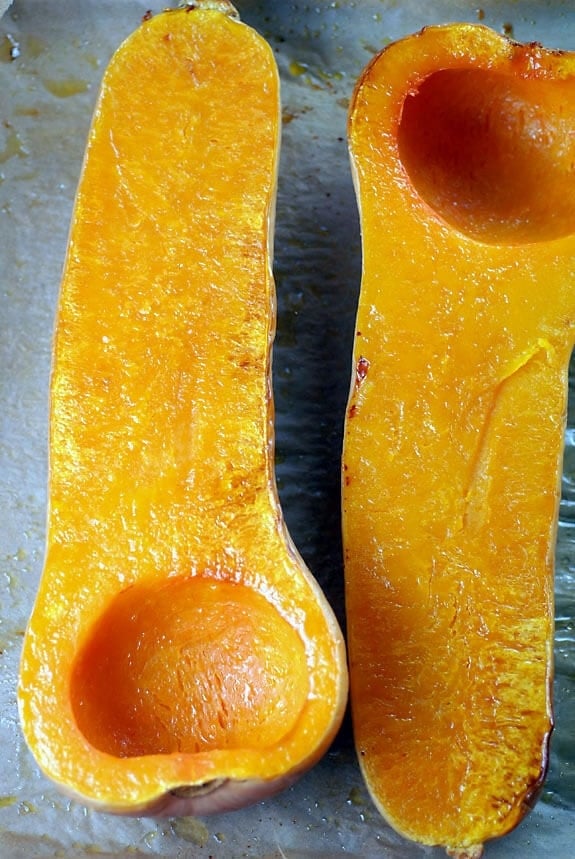 How to Roast Butternut Squash
I don't roast the squash for this easy Butternut Squash Soup recipe.
Since it's one of our favorite side dishes I decided to include my simple How to Roast Butternut Squash method here.
When he was little, my younger son ate so much roasted butternut squash that he turned orange from all the beta carotene!
Butternut Squash Soup Ina Garten
Who doesn't love Ina Garten? I think I have almost every cookbook she's ever written.
Ina has a fabulous recipe for a cream of butternut squash soup that is very similar to mine.
Hers has a few more ingredients including curry powder (interesting!), apples, and butter.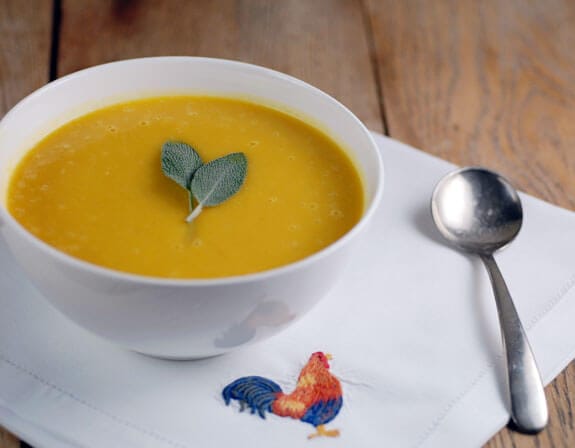 Butternut Squash Soup and Apple
I have a wonderfully easy Butternut Squash Soup with Apples that also contains cinnamon –it's comfort in a bowl!
Soup Recipes Gluten Free
Growing up there was an ad I loved that said Soup is Good Food.
I could not agree more! Below are some of my favorite soup recipes, all gluten free, of course.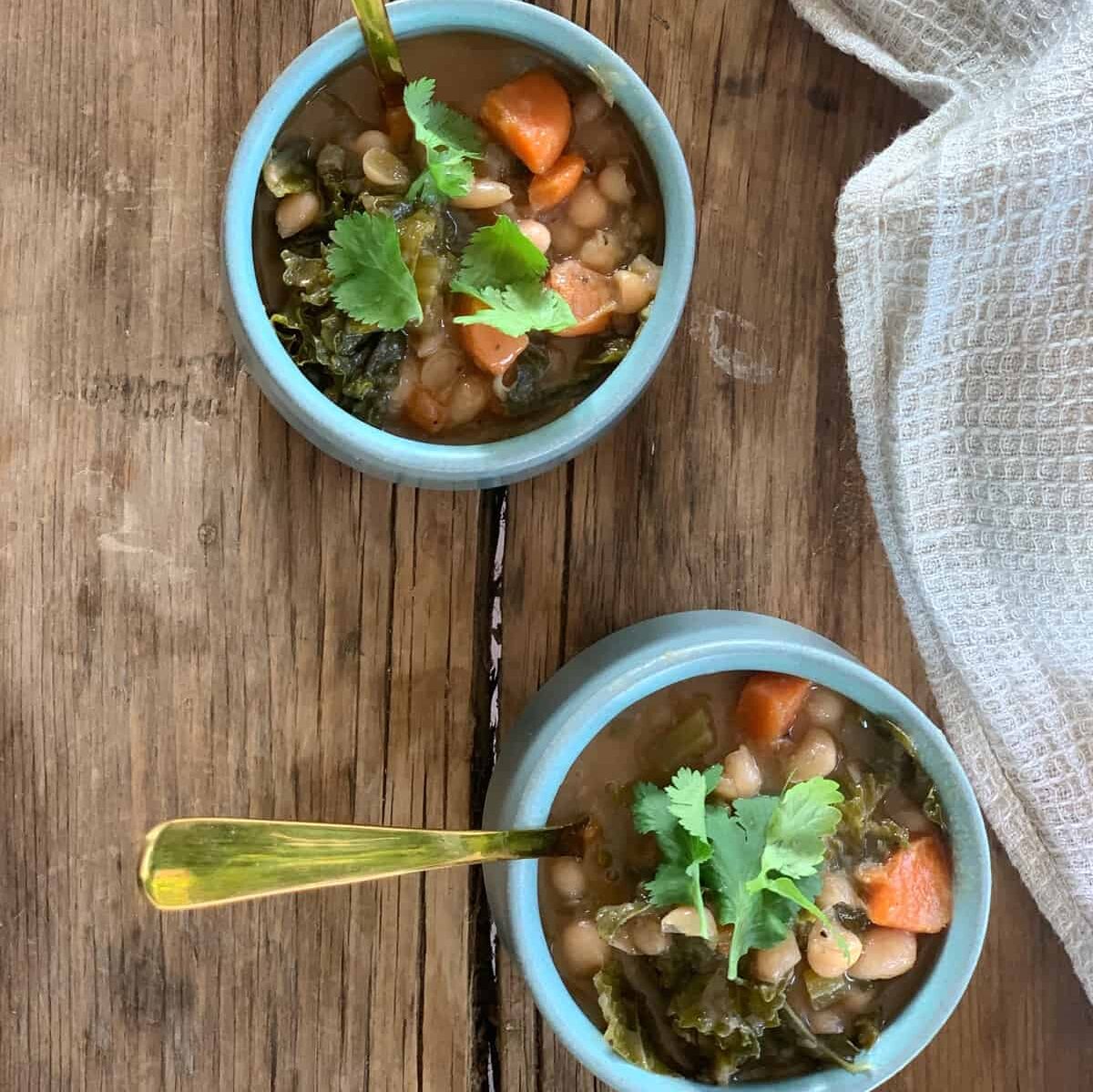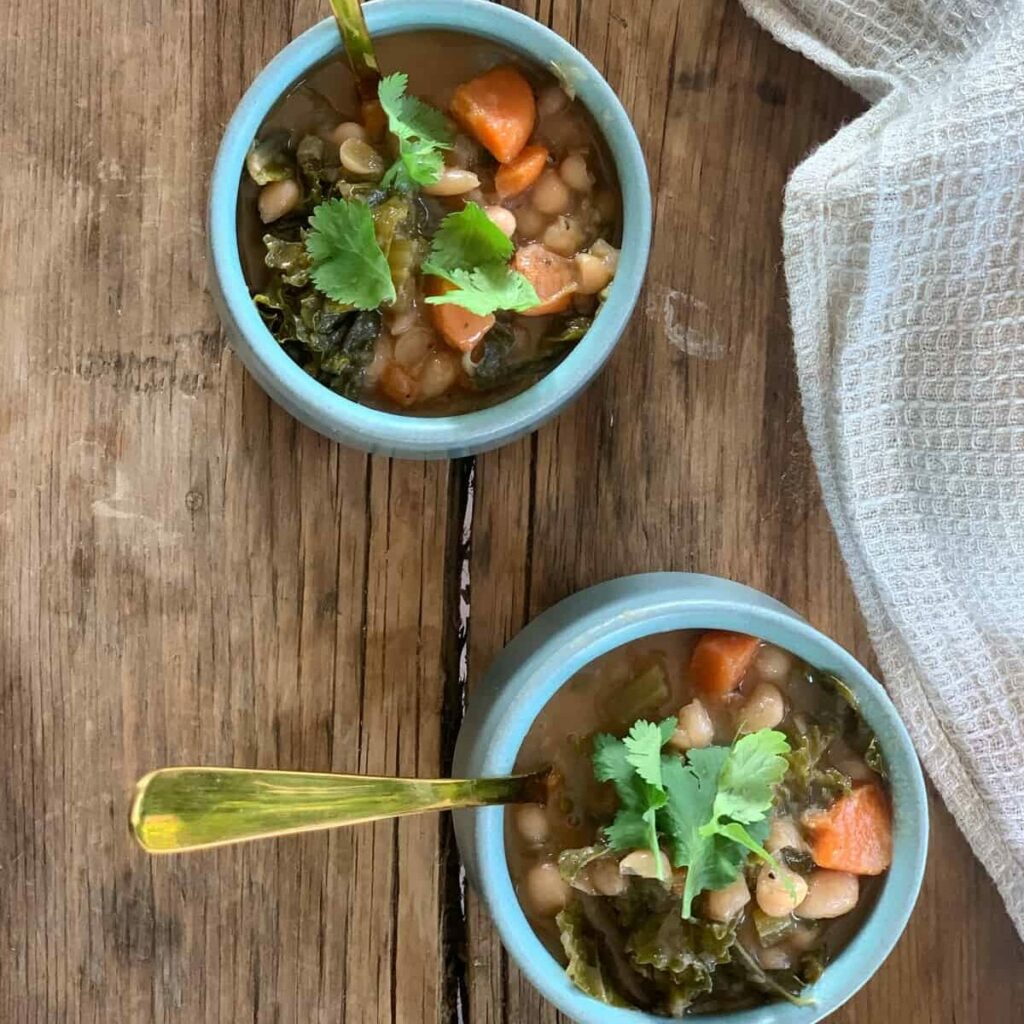 Instant Pot White Bean Soup with Kale
My Instant Pot White Bean Soup with Kale is so rich and satisfying that I serve it as a one pot meal.
The beans are low-calorie and high in fiber which helps with a feeling of fullness and satiation. The hint of tomato adds a touch of tang.
This soup was Mr. Pantry's number one request during quarantine.
Intimidated by the Instant Pot? That's okay, I was too!
That intimidation soon became an obsession with this amazing appliance. To become an Instant Pot guru check out my printable Instant Pot Survival Guide.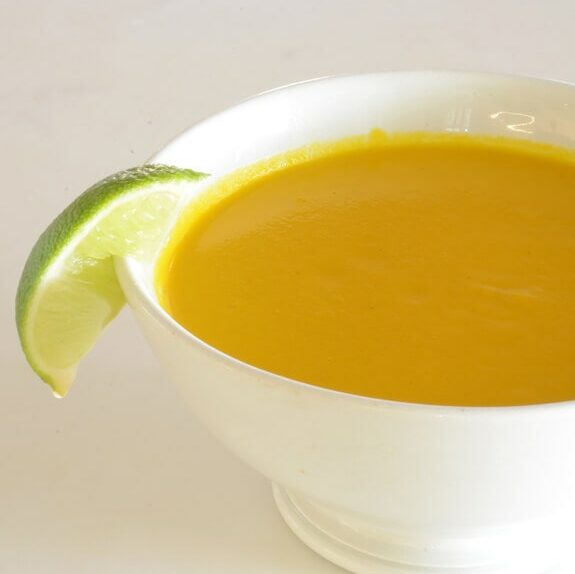 Carrot Soup
This vibrant Carrot Soup Recipe is inspired by a carrot ginger soup I enjoyed at Post Ranch Inn in Northern California.
As soon as I tasted this soup I knew I had to create my own healthy version for my readers.
With carrots, green apples, ginger, orange and coconut milk, it's an exotic combination of healthy flavors.
No peeling is involved in this simple soup recipe! Because this Carrot Soup is pureed in the Vitamix I have left the rich enzymes and healthy micronutrients from the peels.
You'll be pleasantly surprised by how easy it is to make this delicious soup for your family.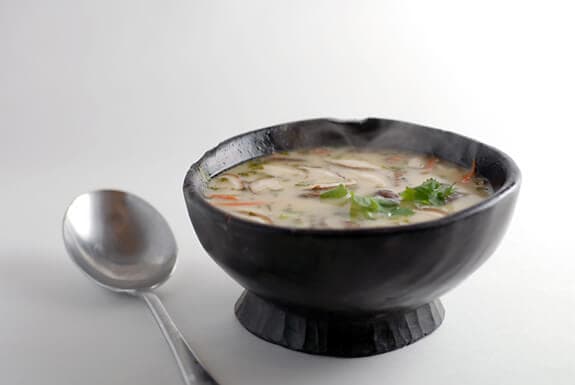 Coconut Chicken Soup
Coconut Chicken Soup is a throwback to one of my first soup recipes on this site and it has remained a family favorite after all these years.
The coconut milk makes this soup creamy and dairy free at the same time and adds a wonderful East Asian flavor.
My Coconut Chicken Soup is also the perfect solution for leftover chicken.
No leftover chicken in the fridge? Cook my Perfect Roast Chicken in Oven for dinner one night and the next make Coconut Chicken Soup with the leftovers. I love strategic meal planning!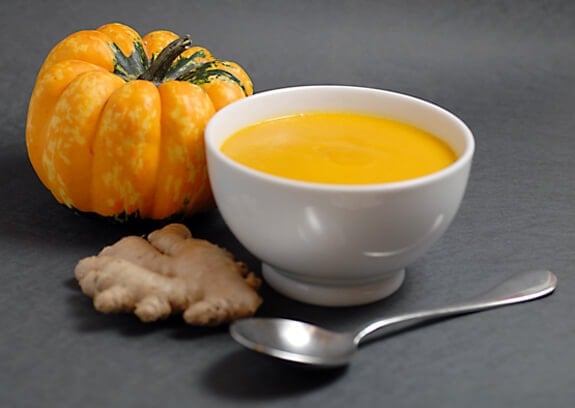 Pumpkin Ginger Soup
Pumpkin Ginger Soup is another coconut milk-based recipe for those on a Dairy Free Diet.
All you need to make this six ingredient soup is pumpkin, ginger, coconut milk, vegetable or chicken stock, lemon juice, and a few drops of stevia.
Pumpkin Ginger Soup is the perfect healthy comfort food all year round.
Healthy Organic Soup Recipes
What I love about soup is that it can be a full meal or side to a larger meal. My paleo soup recipes are perfect for both occasions.
Soup season is year-round in our home and hopefully, I've inspired you with some ideas for easy soup recipes to try with your family.
What's your favorite soup? Leave a comment and let me know!
This post is an oldie but goodie from the archives, I first shared this Butternut Squash Soup recipe in 2007.