My Dairy Free Pumpkin Bisque is a creamy delight bursting with the sweet earthy flavor of freshly roasted pumpkin and warm spicy ginger.
Dairy Free Pumpkin Bisque
This pumpkin ginger soup recipe gets its buttery texture from a base of coconut milk and homemade chicken broth and is full of health boosting super foods!
Healthy Easy Recipe for Bisque
The ginger is a fantastic anti-inflammatory, anti-oxidant rich super spice that helps fight the flu and the common cold.
The broth base supports immune function. It's also full of gut building collagen and glycine.
Making bone broth is a family tradition I learned from my Bubby. But, broth has been used for millennia due to its numerous health benefits.
Superfood Ingredients for Healthy Easy Recipe
Both of these ingredients, ginger, and broth, also heighten the fresh flavor medley of the soup beautifully.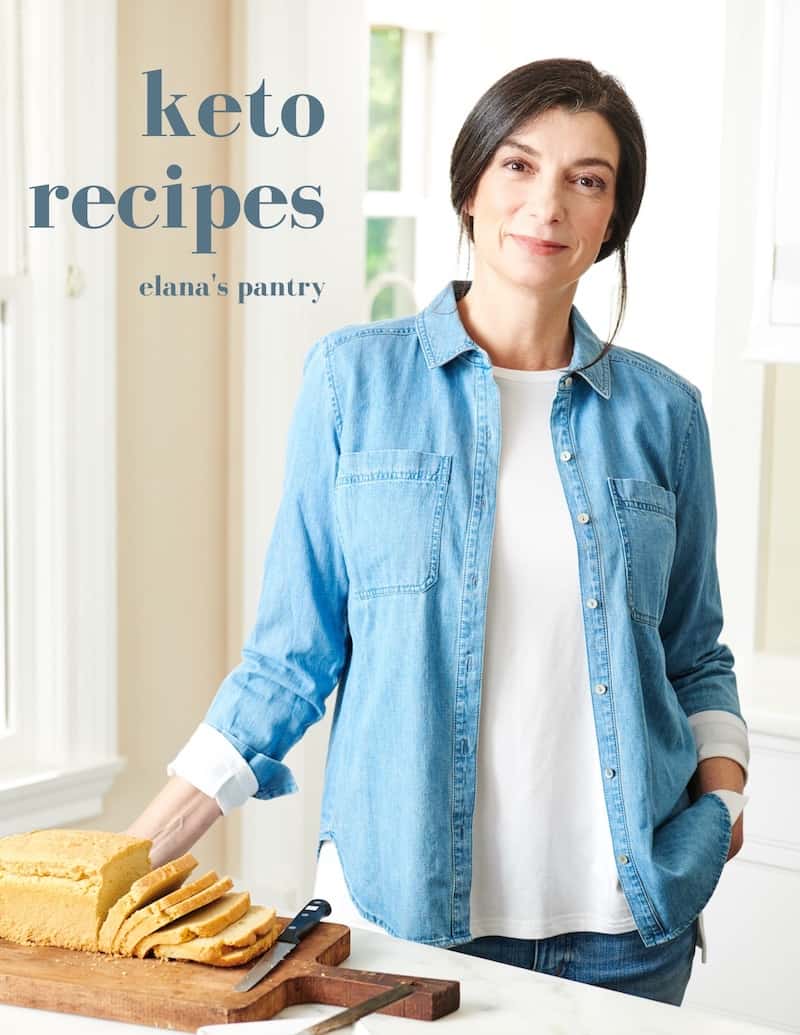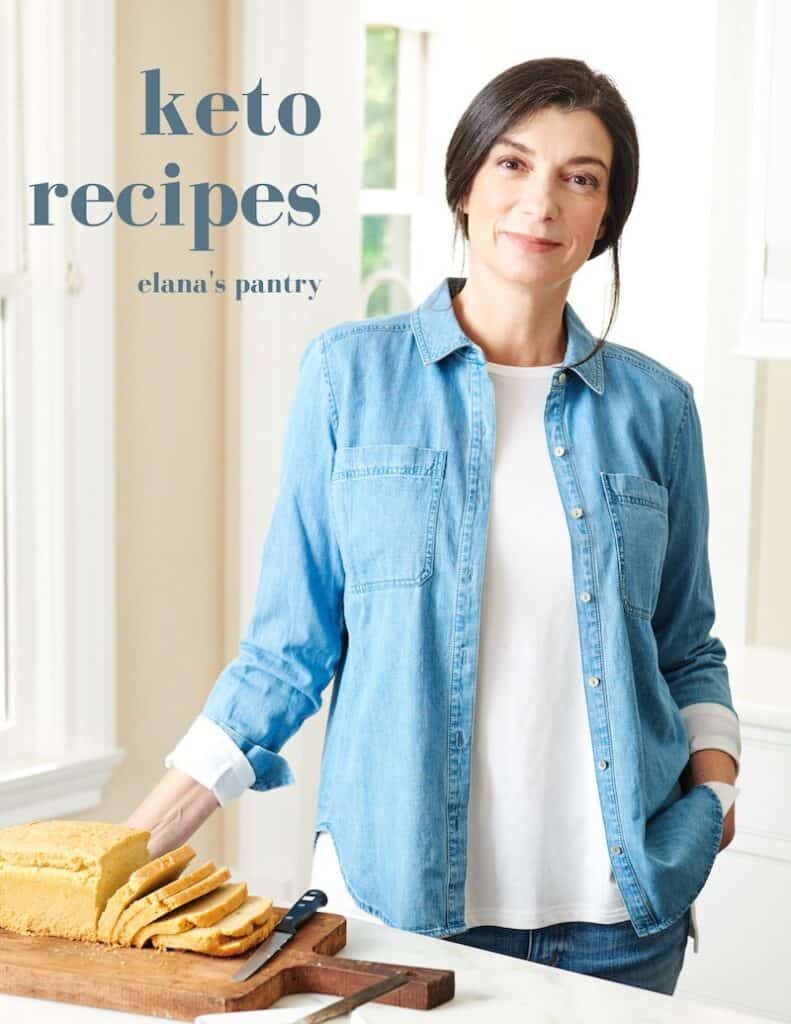 Get My Keto Recipes eBook
Free exclusive eBook, plus recipes and health tips, delivered to your inbox.
This is one of those recipes for low carb soups that's both healthy and delicious! I know you'll savor every spoonful.
Dairy Free Pumpkin Bisque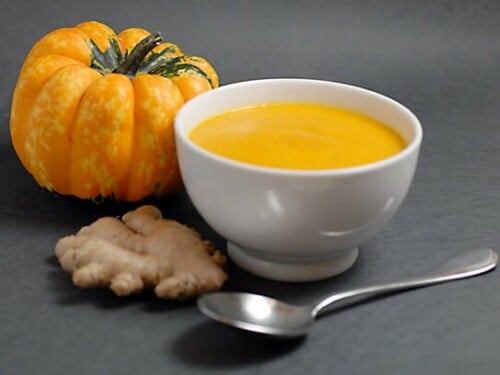 Print
Email
Pin Recipe
Instructions
In a

vitamix

, combine pumpkin, chicken stock, and coconut milk

Process on high until smooth

Blend in lemon juice, ginger, salt, and stevia

In a 4 quart soup pot, bring mixture to a boil, reduce heat until desired consistency

Serve
Equipment
Types of Pumpkins for Dairy Free Pumpkin Bisque
Did you know that pumpkins are a type of winter squash?
While I love using carnival pumpkin, kabocha pumpkin, and pie pumpkin for this recipe, I have also made it with other types of winter squash like butternut and delicata, and it is just as good.
Gluten Free Soup
I'm super passionate about creating gluten free recipes that everyone will love. That's not always easy when it comes to finding celiac safe soups.
Unfortunately, eating soup in a restaurant can be a game of roulette when it comes to hidden ingredients. Many soups contain gluten in the form of thickeners and such, so I like to make mine at home.
I love a thick creamy soup that's dairy free, and this Dairy Free Pumpkin Bisque recipe fits that bill perfectly.
Good Soup: What is a Bisque?
Traditionally, bisque is made with heavy cream.
Creating recipes that are gluten free and dairy free is a passion of mine! Using coconut milk instead of the heavy cream traditionally found in a bisque allows this low carb soup to be enjoyed by individuals with multiple diet restrictions.
That makes me a happy camper!
Pumpkin: Fiber Rich Food
Pumpkin is a fiber rich food and the mouthwatering potassium infused star of this gluten free soup.
Adding fiber and potassium to your diet assists with a balanced digestive system and the regulation of blood sugars.
Simple Recipe for Soup
Thankfully, there's not much planning required for this healthy and simple recipe. Dairy Free Pumpkin Bisque is made with 7 super healthy ingredients. All you need to make it is pumpkin, bone broth, coconut milk, ginger, lemon, salt, and if you like, stevia.
During the colder months, I usually have a jar of roasted pumpkin in the fridge or freezer. And I keep homemade broth on hand year round.
Best Bone Broth Shortcut
If you're not a fan of making bone broth, you can use Kettle & Fire Bone Broth as a shortcut.
Recipes for Low Carb Soups
Here are some of my other highly nutritious soup recipes! They all make great additions to dairy free, low carb healthy quick meals.
Soup season is all year round for us, and I'm serving wholesome in a bowl!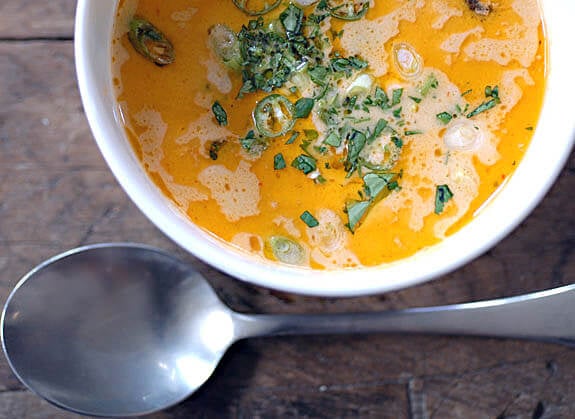 Gluten Free Cream of Chicken Soup
Thai Chicken Soup is a melting pot of sweet and spicy flavors that's ready in under 20 minutes from start to finish.
Made with a rich and creamy base of coconut milk, filled with juicy pieces of chicken, broccoli, and mushrooms, this soup is then spiked with chilies and fish sauce taking your flavor game to the next level.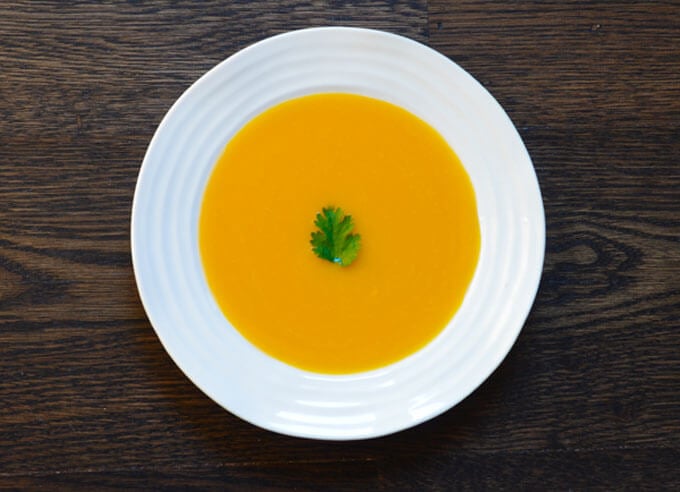 Gluten Free Soups
My Creamy Butternut Squash Soup is a family favorite that my younger son couldn't get enough of growing up.
With only 4 ingredients, butternut squash, onion, and coconut oil, this is a phenomenal broth based soup. The flavor is magnified by the best bone broth base.
Take a look at my How to Make Bone Broth in the Instant Pot recipe. Or try homemade Chicken Stock for all your soup needs!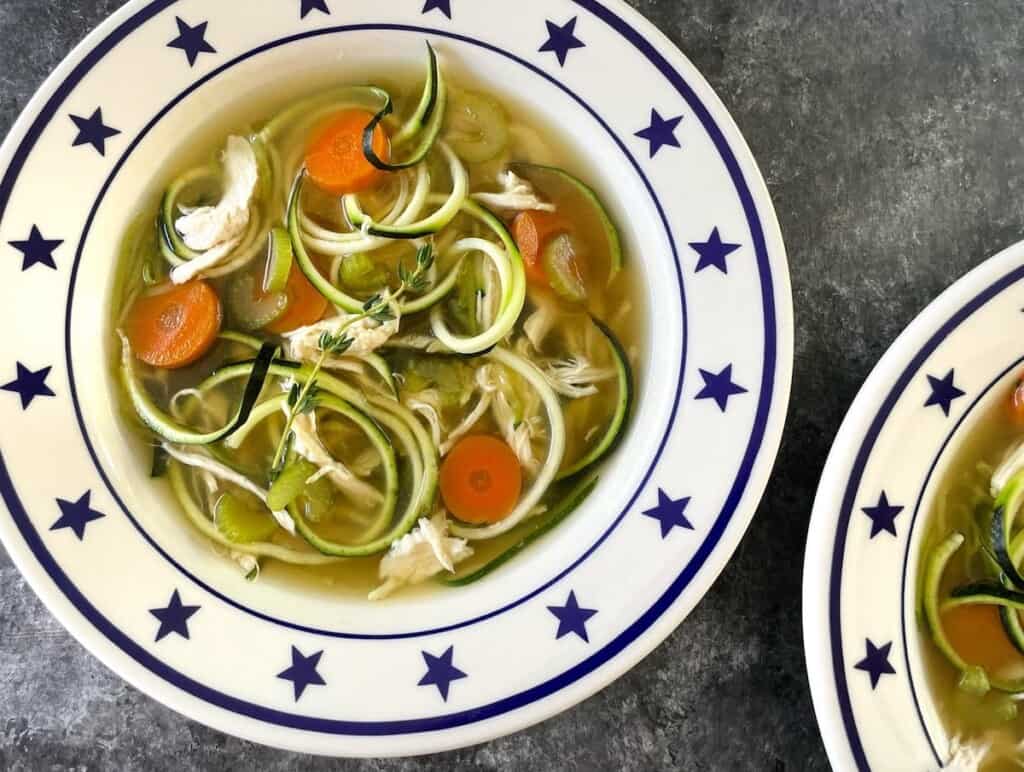 Healthy Types of Soup
Gluten Free Chicken Noodle Soup is my type of healthy and filling comfort food.
Pulled together in under 10 minutes, this recipe with Veggie Noodles is superfood in a bowl with added celery, carrots, and chicken simmered in high protein bone broth.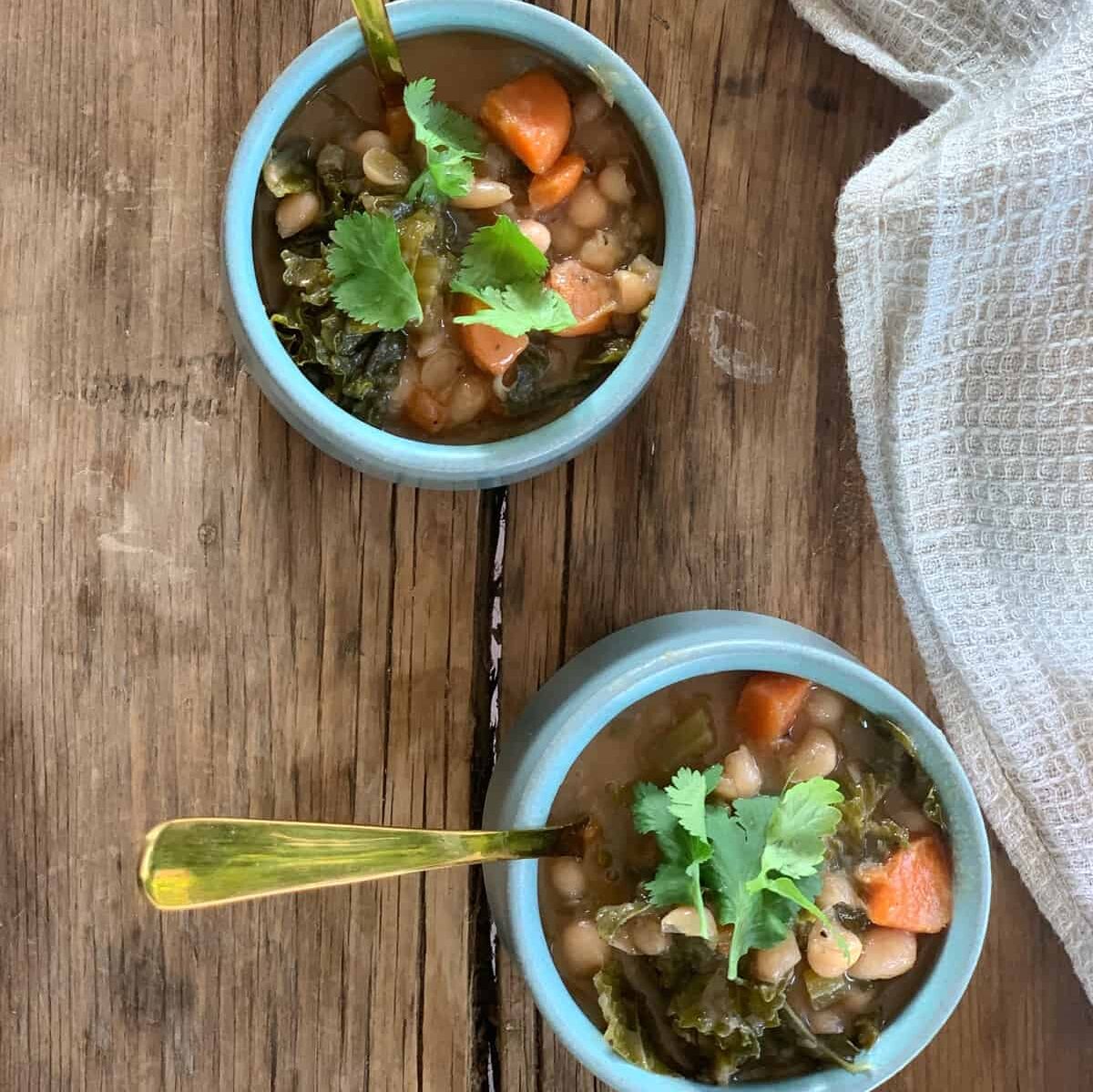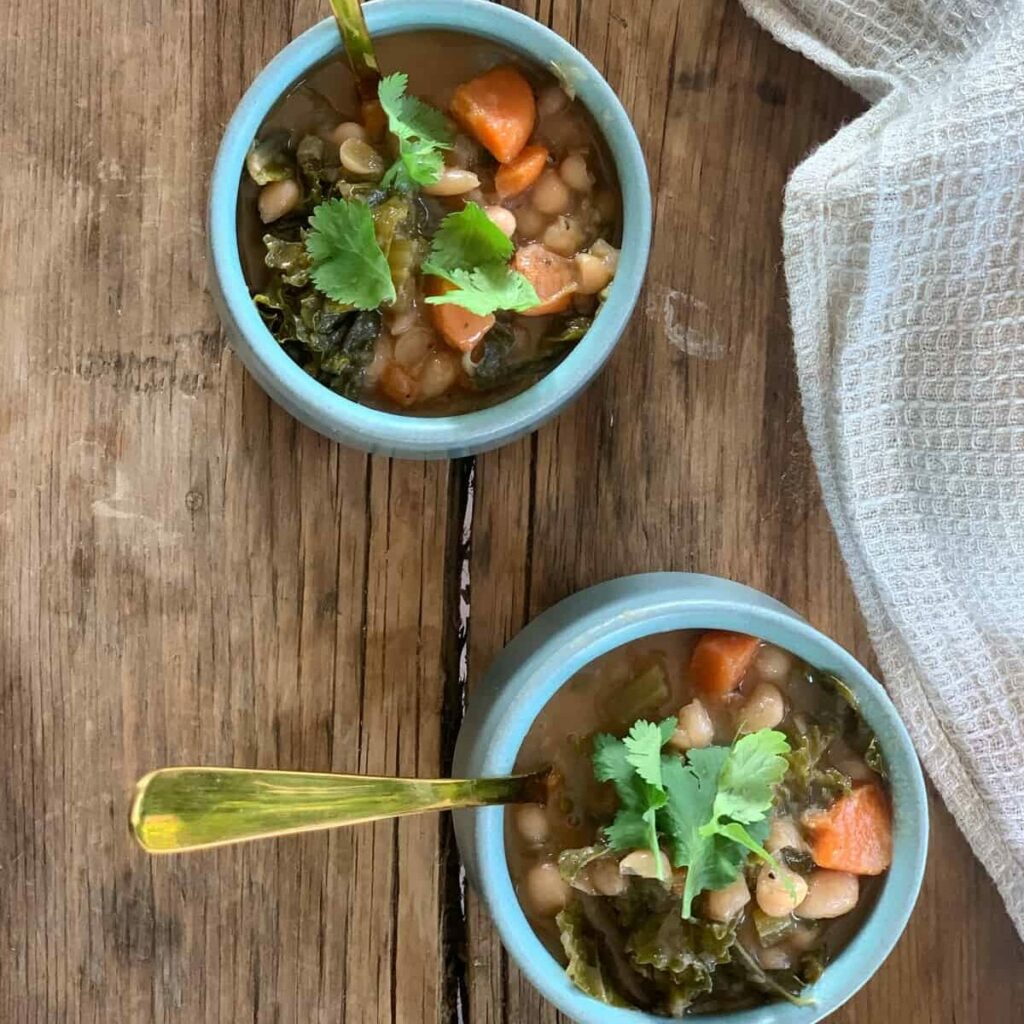 Bean Soup Recipe
Speaking of low carb meals that are easy to make with fortifying ingredients, my Navy Bean Soup checks all the boxes.
With the convenience of an Instant Pot, pulling together this protein rich bean soup is easy peasy.
Made with superfoods beans, kale, carrot, and broth, you'll have perfectly simmered soup in under an hour.
Planning a Healthy Meal
Dairy Free Pumpkin Bisque is a fantastic side dish that complements just about everything.
My priority when planning a healthy meal is using wholesome and nutritious ingredients.
I also want to make sure my dishes are suitable for those with an intolerance to foods, and easy to cook meals come in a close second. Serve Dairy Free Pumpkin Bisque with:
This post is an oldie but goodie from the archives. I first shared this Dairy Free Pumpkin Bisque recipe in 2009.